Real Murders (#1 Aurora Teagarden)
2 journalers for this copy...
Someone is killing the crime buffs of the Real Murders Society in Lawrenceton, Georgia. A librarian, Aurora Teagarden, sets out to catch the brutal murderer after fellow club members end up as victims. The uncanny resemblances to famous crimes challenge Roe and her two admirers, policeman Arthur Smith and mystery writer Robin Crusoe, to pursue the criminal. The lighthearted, witty handling of characters contrasts with the heightening suspense as Aurora seeks clues by searching past mysteries for the killer's identity--until she is caught in the sadistic web of terror herself. Clever pacing along with ample red herrings and judiciously placed clues keep Harris's story moving briskly. Harris draws the guilty and the innocent into an engrossing tale while inventing a heroine as capable and potentially complex as P. D. James's Cordelia Gray.

---
Sent to Cherie today with A Bone to Pick. These are both still on my TBR list.
---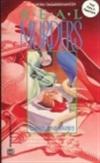 Received this along with a couple of other books from NeedSun. I'll move them near the top of my TBR pile so I can get these two and the other Teagarden books I collected for her on their way soon.
---
This was a very satisfying start to this cozy mystery series. It originally came out in the early 90s, and surprisingly many of the earlier titles are already out of print. Hopefully, with Ms. Harris becoming more popular, some of these older titles will be re-released. I actually had to pay over $10 apiece for mass market paperback copies of books 4 and 5, and I've seen them go for a lot more.

Aurora "Roe" Teagarden is a librarian in a Lawrenceton, Georgia, a small town outside a big city. (I assume Atlanta, but Harris doesn't specify precisely.) Once a month, a few crime buffs from town get together to discuss some of the most famous murderers of the past. They call their group Real Murders and on the night Roe is scheduled to discuss the Wallace case—which took place back in 1931 England—one of the members of Real Murders, Mamie Wright, is found murdered in exactly the same way Julia Wallace was so many years ago! And that's not the end of it either... apparently, there's a murderer on the loose, whose game is to pattern his crimes after some of the very murders they've been discussing. So obviously, they all figure it's got to be someone in their little group!

Harris does character development quite nicely and as you're introduced to all the characters, you can clearly see them in your mind, and often think of someone you know who fits a similar description. Who is behind all the murders happening in the small town is a surprise right up until the very end. And in typical cozy fashion, the members of the community most affected by all this are just as important as the police—one of whom is actually a member of Real Murders anyway—in solving the case.

I look forward to reading the rest of the Aurora Teagarden Mysteries!


This will be heading home to NeedSun shortly, along with another bookring I have here for her. :)

UPDATE 23-DEC-2006: Mailed to NeedSun on 26-Dec-2006 via Airmail Letter Post.
---
Thank you so much for the great bookmark and the lovely Season's greatings. You are such a doll, Cherie! XOXOXO

The package you sent probably arrived sometime last week but noone picked up the mail until today. I have been sick since mid December and haven't even had the energy to read, which says alot. If you want to arrange the book spiral for these books, that would be great with me. If you don't have time, I can do it. Please let me know.
---
I found the beginning to be a little slow going. I read and reread parts of it to try to remember names and descriptions because so many people were introduced at the same time. Towards the end, I couldn't put the book down because I did not have any idea who the murderer was and just had to find out.

This book will travel as a book spiral.
---
---
Sent by air to Cathesput today. Enjoy!!!

Let the ring begin.
---
Well, sadly this book has been declared lost in the mail. There may be hope because Cathepsut has received some books after a three month dry spell. Someone will order it when it gets reissued in Dec this year and the ring will continue.
---
You can find the replacement journal for the book that was lost in the mail here:
Real Murders
---