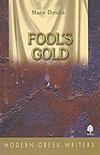 Fool's Gold
Registered by

Delphi_Reader

of
Δελφοί - Delphi
,
Fokida
Greece on 1/28/2020
2 journalers for this copy...

Journal Entry
1
by

Delphi_Reader

from
Δελφοί - Delphi
,
Fokida
Greece on Tuesday, January 28, 2020

This book starts its journey with BookCrossing from Delphi, Greece
______________________________________________________
"My father, thunderstruck, was demanding to know: "But when? This is madness! Impossible." When at last he replaces the receiver in a grand Shakespearean manner - my father has it in the blood - he broke the news to us: Dictatorship. My mother cried out and collapsed in a heap on the sofa. Calliope the maid, as part of her duties, always manages to sense the right moment for a restorative coffee, and set off for the kitchen. My father repeated: "Dictatorship, do you hear!" I stared at him, shaking off sleep.
This is how Myrsini Panayotou, an Athenian girl about to start university, learns of the coup d'etat that brought to power the infamous dictatorship of the "Colonels" in her country in the early hours of Friday, 21st April 1967. The child of a well-to-do family, Myrsini enthusiastically joins the underground resistance, making common cause with a varied cast of characters from backgrounds very different from her own. After an early failed love affair, she gets engaged to George, a political prisoner, only to find her human instincts increasingly difficult to reconcile with her idealistic philosophy once he is released. The story moves towards its climax as Myrsini becomes involved in the bloody events of 17th November 1973, when tanks were used to evict students from the Athens Polytechnic. At the same time the fortunes of Myrsini's family form a backdrop at once touching and bizarre to an impressionable girl's unflinching search for a true identity, both for herself and for her country.
Fool's Gold is a sparkling novel by a talented writer, one of the foremost of a generation which grew up in the shadow of the events Maro Douka describes. "
~~~~~~To the person who found this book:~~~~~~
Welcome to BookCrossing.com, where we are trying to make the whole world a library!
If you have not already done so, please make a journal entry so we know this book has found a new home. Drop a few lines on where and how you found this book and what you thought of it. You don't need to join BookCrossing and you can remain completely anonymous. However, I encourage you to join so that you can follow this book's future travels. It's fun and free, and your personal information will never be shared or sold.
This book is now yours, and you can keep it if you choose, although I would love you to read and then share it. You can pass it on someone you know or release it once again in the wild, leaving it on a park bench, a phone booth, a hostel lobby...wherever you think it's suitable for the book to continue it's journey. If you pass it along, please make a release note to let others know where you left it.
I hope you enjoy the book!
---

Journal Entry
2
by

Delphi_Reader

at
Δελφοί - Delphi, Fokida Greece on Saturday, June 13, 2020

This book was first published in 1979, when the events it describes were very recent. Maro Douka tries to paint the feel of the era through the view point of Myrsini, a rather confused young woman coming from a troubled upper middle or upper class family.
Up to an extend I liked the effort of the author to create a character far from the cliche working class left wing fighter. Myrsini turns to the Left without having strong political beliefs or after contemplating really a lot on political matters. She does it mostly as an effort to find her self and to break her bonds with her parents and the people surrounding her family. She realises how superficial her environment is and I like that she often has the clarity to see how superficial the people on her adopted environment are too. She sort of sees when people have different motives for what they do and say other than the ones they claim, although this is how she often behaves too. Up to an extend I appreciated that the author doesn't completely fall on cliches, focusing only on the demonstrations, riots, tortures of the era. There were people who became actively involved on the events, without been so black and white on their opinions and character as we tend to believe nowadays. I liked that the author describes the "climate" of those years with the never ending political conversations, the disappointed older generation of leftist fighters, the younger generation seeking some kind of revolution, but also she describes the everyday problems, the struggle of people to make a living, to find a work or find true love or to marry off their simblings or more down to earth matters.
What I didn't like was that Myrsini her self was rather blunt in a way and in a course of several years she shows little character development. She claims she get a better understand of people and of her self, but I didn't see this. Her relationships with her family people and with her new comrandes and partners are dull and confusing while she never really defines what she thinks or feels for them or how to handle their interactions. She accuses others for hypocrisy, but she isn't much better her self. Meanwhile, the author doesn't seem to include even one solid character on the scene. All old honorable men are broken and in poor health, the ones that made it a bit better in life are all corrupt or airheads or want to bed Myrsini, the women are weak or airheads or too stubborn to carry a decent conversation at any time.
Myrsini in reality never gets to mature or know her self even at the end of the book, while her neverending navel-gazing, her dreams and fantasies get too boring. The book had potential and some parts are captivating, but all in all I felt it never took off. Maybe when it was first published, people could still identify strongly with some of the characters, or indentify some characters as what they strongly detested and opposed to. Reading this nowadays, I think it's kind of a mixed bag. Rating this somewhere betweern 6 and 7 out of 10, rounding up to 7/10.
PS: I think that Roderick Beaton did a very decent translation, but a bit dated too. For example even the first names come on their English equivalent, eg Yiannis is never Yiannis on the text, it's John, Yiorgos is George etc. Furthermore, the translator had to be inventing due to lack of foot notes.
For example the old song Βεργούλες (~ little wooden sticks) goes
Τα δυο σου χέρια πήρανε βεργούλες και με δείρανε (~ Your two hands took wooden sticks and they beat me) , translator gives it as "You picked up sticks in both your hands and beat me just for kicks"
or the old protest slogan Ελλάς-Γαλλιά-Συμμαχία= Greece-France- Alliance becomes "Greece-France-Allies for Peace"
or Panepistimiou becomes "University street".
This brings me to my pet peeve: This kind of book can be too local for an international crowd to understand without some footnotes. The historical note of the publisher on page 313 helps somehow, but comes too late. The reader didn't even know it's there before finishing the book. And it's not enough to enlight the reader on various concepts, words and references throughout the book. No problem to me been Greek, but I wonder what about a random reader?
---

Journal Entry
3
by

Delphi_Reader

at
By Mail, A RABCK -- Controlled Releases on Sunday, June 21, 2020
Released 1 mo ago (6/20/2020 UTC) at By Mail, A RABCK -- Controlled Releases
CONTROLLED RELEASE NOTES:
---
Journal Entry
4
by

claudia_amorim

at
Donabate, Co. Dublin Ireland on Tuesday, July 07, 2020
It arrived here in Ireland. Thank you very much! I haven't read any modern Greek writers so I'm looking forward to exploring this!
---