crimson-tide
Age 20
Joined Friday, September 12, 2003
Recent Book Activity
| Statistics | 4 weeks | all time |
| --- | --- | --- |
| books registered | 1 | 3,500 |
| released in the wild | 2 | 2,068 |
| controlled releases | 0 | 1,131 |
| releases caught | 1 | 310 |
| controlled releases caught | 0 | 921 |
| books found | 2 | 1,332 |
| tell-a-friend referrals | 0 | 55 |
| new member referrals | 0 | 72 |
| forum posts | 4 | 2,445 |
Extended Profile
Thanks for taking the time to visit my bookshelf.

"The truly cultured are capable of owning thousands of unread books
without losing their composure or their desire for more."
~ ~ Gabriel Zaid



------------------------------------------------------------------------------



I read a wide variety of books; even so, not all the books here on my shelf reflect my taste in reading as I often obtain books purely for release.

For other books in my personal collection that are not yet registered on BookCrossing see my library catalogue on LibraryThing

If you can't contact me by PM for some reason, my email address is helen.s49 at gmail dot com




"To read is to live more and to live better."
~ ~ Carlos Ruiz Zafon




------------------------------------------------------------------------------



My BookCrossing Wish List
This is not meant to be a 'gimme' list, but a collection of books I think look
interesting and would be happy to read one day if they happened along.
And it is a deliberately long list - to help you folks out there who play along
on the tag games, exchanges, sweeps and all those other fun things
. . . where a decent sized wishlist makes life so much easier.
My address buddy is jeniwren.
So please contact me if you'd like her address for a surprise RABCK
- and she would be happy to give you my address if you wish to surprise me . . . ;-)
------------------------------------------------------------------------------
Accurate Release Statistics
: as at 13th September 2023.
2075 wild releases - all wild releases are true wild releases
(more than the official # above as some caught before release)
1127 early controlled releases made by journal entry only (when that was the only option).
1131 later controlled releases through the system.
So my total release number is now 4323.
Catch Rate:
342 catches from 2075 wild releases ------->
16.5%
LIBRARYTHING BINGO DOG FOR 2023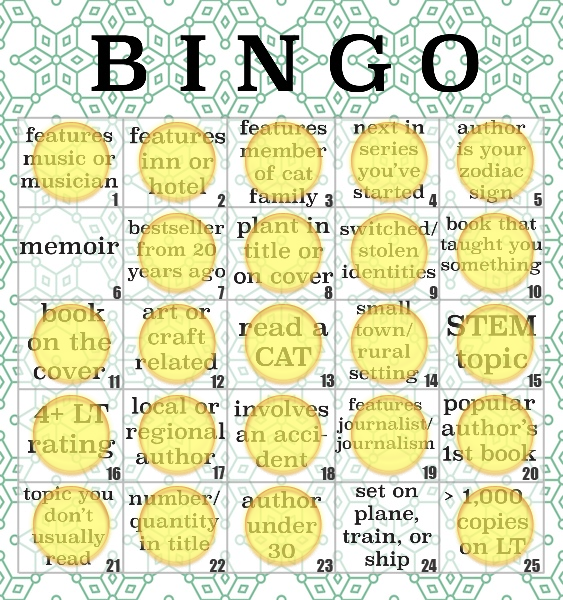 1. Features music or a musician -
The Museum of Modern Love by Heather Rose
2. Features an Inn or Hotel -
A Gentleman in Moscow by Amor Towles
3. Features one of the cat family -
Confession of the Lioness by Mia Couto
4. The next book in a series you've started -
Blue Lightning by Ann Cleeves
5. An author who shares your zodiac sign (Libra) -
The Warlock by Michael Scott
6. A memoir
7. A bestseller from 20 years ago (2003) -
Shutter Island by Dennis Lehane
8. Has a plant in the title or on the cover -
The Stone Diaries by Carol Shields
9. A book with switched or stolen identities -
Third Girl by Agatha Christie
10. A book that taught you something -
The Shadow King by Maaza Mengiste
11. Has a book on the cover -
Sir Ladybug and the Bookworms by Corey R. Tabor
12. Features something art or craft related -
The Labyrinth by Amanda Lohrey
13. Read a CAT -
Great Expectations by Charles Dickens (February ClassicsCAT)
14. A small town or rural setting -
Canticle Creek by Adrian Hyland
15. A STEM topic -
Louis Pasteur by Maria Isabel Sánchez Vegara
16. Rated 4* or more on LT -
The Regeneration Trilogy by Pat Barker
17. An author local to you -
Minimum of Two by Tim Winton
18. Involves an accident -
The Fell by Sarah Moss
19. Features a journalist or journalism -
Union Jack by Val McDermid
20. A popular author's first book -
Everything is Illuminated by Jonathan Safran Foer
21. A topic you don't usually read -
Best Poems of the Brontë Sisters by Charlotte, Emily and Anne Brontë
22. Title contains a number or quantity -
The Seven Moons of Maali Almeida by Shehan Karunatilaka
23. A book by an author under 30 -
Child 44 by Tom Rob Smith
24. Set on a plane, train or ship
25. More than 1000 copies on LT -
The Adventures of Huckleberry Finn by Mark Twain
LIBRARYTHING BINGO DOG FOR 2022 - COMPLETED
1. An award winning book -
Home by Marilynne Robinson
(Orange Prize for Fiction 2009)
2. First published in a year ending with a 2 -
Paydirt by Garry Disher
(1992)
3. A modern retelling of an older story -
A Thousand Acres by Jane Smiley
(King Lear)
4. A book you'd love to see as a movie -
Hag-Seed by Margaret Atwood
5. A book that features a dog -
The Hundred and One Dalmatians by Dodie Smith
6. The title contains the letter Z -
Jocelyn Osgood in Xylophones Above Zarundi by Geoffrey McSkimming
7. Published the year you joined LT (2008) -
Breath by Tim Winton
8. A book by a favourite author -
The Way It Is Now by Garry Disher
9. A long book (long for you) -
Life After Life by Kate Atkinson
10. A book you received as a gift -
The Virgin and the Gipsy by D. H. Lawrence
11. The title contains a month -
Moominvalley in November by Tove Jansson
12. A weather word in the title -
Hard Rain by Mark Edwards, Lloyd Timberlake & Bob Dylan
13. Read a CAT -
The Yield by Tara June Winch
(January AuthorCat - Indigenous Authors)
14. Contains travel or a journey -
In Patagonia by Bruce Chatwin
15. A book about sisters or brothers -
The Sisters Brothers by Patrick deWitt
16. A book club read (real or online) -
A Passage North by Anuk Arudpragasam
17. A book with flowers on the cover -
The Bastard of Istanbul by Elif Shafak
18. A book in translation -
Suite Francaise by Irene Nemirovsky
19. A work of non-fiction -
Yellow Notebook by Helen Garner
20. Where a character shares a name of a friend -
A Symphony of Echoes by Jodi Taylor
(Helen)
21. A book set in a capital city -
Damascus Nights by Rafik Schami
22. A children's or YA book -
The Journey by John Marsden
23. A book set in a country other than the one you live -
Mayflies by Andrew O'Hagan
24. A book by an LGBTQ+ author -
Out of Bounds by Val McDermid
25. A book with silver or gold on the cover -
Living in the Maniototo by Janet Frame