Sleepwalk
Registered by
MissQ
of
Fredericton
,
New Brunswick
Canada on 3/16/2003

This Book is Currently in the Wild!
2 journalers for this copy...
It's been a while since I read this one but I typically like Saul.

Offered on BookRelay.

About the story:

Borrego looks like an ordinary New Mexico town: it borders an Indian reservation, its teenagers are bored and restless, and its only industry is the outdated oil refinery. But someone has a plan to shake up Borrego that involves controlling the minds of the local residents. When Judith Sheffield is asked to return to her sleepy hometown to teach high school math, she discovers that the students' mandatory flu shots don't really contain flu vaccine. The teacher joins forces with refinery worker Frank Arnold; his teenage son, Jed, whose mother belonged to the neighboring tribe; and Brown Eagle, the boy's grandfather, to find out what and who is behind the flu-shot edict and an equally mysterious takeover bid for the oil refinery.

There are compelling scenes in which Brown Eagle introduces Jed to Native American mysticism, and the novel's climax involves a spectacular display of man restoring nature to its rightful place--after having almost destroyed everything in the process. Saul's ( Creature ) suspenseful tale leaves the reader with no doubt on the question of who wins and who loses in the struggle of good against evil.
---
Accepted on relay site by Jaremeister. Will be sent off soon.
---
Sent to Jaremeister today. Enjoy!
---

Journal Entry
4
by

jare

from
Port Richey
,
Florida
USA on Friday, March 19, 2004
Came in the mail today, thank you so much! I love a good horror story that takes place in my homestate.
---

Journal Entry
5
by

jare

from
Port Richey
,
Florida
USA on Tuesday, October 31, 2006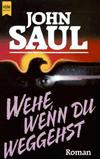 I still haven't read this book, but it's on my short-list TBR... found a German cover of the book today and wanted to add it to this journal.
---

Journal Entry
6
by

jare

from
Port Richey
,
Florida
USA on Saturday, March 24, 2007
Finished reading this last night. I have mixed feelings about the book. It was good, but not great. Saul is a great storyteller, no doubt about that. I guess it wasn't so much the story that I didn't like but the fact that there were some continuity errors (for instance, a kid was in the teacher's first period class with his buddies at one point, but later in the book, the teacher was noticing during her third period class that he was absent). Plus, it really irks me when an author doesn't do his homework. The book took place in New Mexico, but the geography was all wrong. The town was supposedly close to Santa Fe, and the characters talked a lot about when they wanted to get out of town, they would go to Santa Fe or to Las Cruces (which would realistically be about 6 hours from that area). Oh, and a scene in Los Alamos at a lab talked about how the lab sat in the middle of a desert, when Los Alamos is not desert terrain, it's in the mountains. Ok, rant done. That aside, I really did enjoy the book and will read some more of Saul before I form a solid opinion on him. To be released soon.....
---

Journal Entry
7
by

jare

at
Sky City Travel Center in Acoma, New Mexico USA on Saturday, March 24, 2007
Released 14 yrs ago (3/24/2007 UTC) at Sky City Travel Center in Acoma, New Mexico USA
WILD RELEASE NOTES:

RELEASE NOTES:
Left the book at the gas pumps. Enjoy!
Released for guinaveve's
Keep Them Moving Challenge Of 2007
Welcome to Bookcrossing!
I'm glad that you have found my book. Please take a moment to leave a comment about where/when you found it and if you read it, let me know what you thought. You may remain
anonymous
if you so choose. This book is yours to do with as you please. You have every right to keep it or, in the spirit of Bookcrossing, give to a friend or release in the wild elsewhere. If you decide to sign up, please be so kind as to put Jare as the person who referred you.
---