Tiergeflüster - Tierbewusstsein im Netzwerk des Lebens
2 journalers for this copy...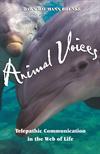 Orig.-Titel: Animal Voices - telepathic communication in the web of life
Dawn Brunkes Aufzeichnungen von Gesprächen zwischen Mensch und Tier sind eine Aufforderung, uns von vielen Vorurteilen über das Bewusstsein der Tiere zu verabschieden. Sie sind eine Einladung, das Spielerische, Zärtliche, Tiefgründige, aber auch Spitzbübische der Tiere in unser Leben zu lassen und die Verbundenheit mit allem Seienden zu erfahren. Und sie zeigen, dass sich eine Tür zu den tieferen Schichten unseres Selbst auftut, wenn wir den Mut haben, uns auf die Kommunikation mit Tieren einzulassen.
Die Helden und wichtigsten Mitarbeiter des Buches sind die Tiere selbst. Katzen und Hunde, Löwen und Lamas, Meeressäuger, Vögel und Insekten offenbaren sich als Wesen mit eigenen Gedanken, Gefühlen und spirituellen Gründen für ihr Hiersein auf diesem Planeten. Indem Dawn Brunke den Tieren eine Stimme verleiht, knüpft sie an den alten schamanischen Dialog mit dem Tierreich an, der unseren Vorfahren einmal eine Quelle der Weisheit und Freude war.
Ich möchte das Buch als Ray weiter geben. Teilnehmer:
federsee (D)
houdinigirl (D)
akireyvonne (D)
…
Ende: Wanda-Buch (D)
---

Journal Entry
2
by
PrincessRainbow
at
Zirl, Tirol Austria on Tuesday, July 09, 2019
Das Buch ist per Hermes auf dem Weg zu federsee (Deutschland).
---
... und heute gut angekommen. Vielen Dank fürs Schicken!

Es ist ein sehr umfangreiches Buch, ich bin gespannt ...
---