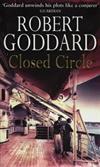 Closed Circle
4 journalers for this copy...
"The year is 1931. The new and luxurious transatlantic liner Empress of Britain is on her eastward passage. Among the first-class passengers on board are two English confidence tricksters, making a discreet exit from a little awkwardness they have left behind them in the United States. A chance meting on deck brings them a tempting new target in the shape of Miss Charnwood and her niece, the beautiful Diana, only child of the immensely wealthy Fabian Charnwood."
---
A book full of twists and suspense, that I will reserve for the maritime sweepstakes.
---
Journal Entry
3
by
Harobed82
at
Libération contrôlée, -- By post or by hand/ in person -- France on Thursday, October 12, 2017
Released 2 yrs ago (10/12/2017 UTC) at Libération contrôlée, -- By post or by hand/ in person -- France
CONTROLLED RELEASE NOTES:
Sent to the winner or decoy of the maritime sweepstakes.
Enjoy! :)
---

Arrived in Cornwall today thank you for sending this to me
---

Really enjoyed reading this book, I liked the fact tha there where lots of twists and turns, plus the suspense on what would happen at the end
---

Congratulations, you have picked up a travelling book!
If you have a moment, we'd love you to let us know you have the book as we're keen to follow its journey. You can even post a review when you've read it before passing it on to the next lucky person.
Happy reading!
Not sure what to do? Follow these steps!
1) You may continue as an Anonymous Finder. Or, Register as a member , then you too will receive future journal entries on this book and track its journey around the world!
2) Make a journal entry on this book to let us know how you found it!
3) If you choose to read the book, please make another journal entry when you finish it to let us know what you thought!
4) Ready to pass the book on? Click on "make release notes" to let us know where it's going! Leave the book in a public place or give it to a friend!
***Please Note***
When re-releasing this book please be aware that airports are not a good place to leave books unless they have a specific book exchange shelf or area, due to security problems, so they may well just be disposed of.
**** Also charity shops may well discard books that have been labelled in any way and they mostly chose only the books in the very best condition to place on their shelves and discard the rest-so another bad release option. ****
---

Thank you for the book. It seems like a good read. I love twists and suspense.

----------------------------
Updated Jun 30, 2018

I also enjoyed reading this page turner, very pleasantly surprise by this author, who is new to me. The book was quite a ride with all the twists and surprises.
---

Journal Entry
8
by

mcsar

at
RABCK Winner, RABCK Sweepstakes/Drawing -- Controlled Releases on Friday, July 06, 2018
Released 1 yr ago (7/6/2018 UTC) at RABCK Winner, RABCK Sweepstakes/Drawing -- Controlled Releases
CONTROLLED RELEASE NOTES:
On its way to the winner of the Maritime Sweepstakes. I hope you enjoy this mystery.
---

Journal Entry
9
by

Bookworm-lady
at
Madrid, Madrid Spain on Saturday, August 04, 2018
What a well-travelled book!
I love the vintage look of its cover, and the plot seems promising.
Thank you so much, mcsar! :)
---