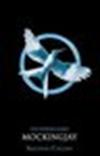 Mockingjay
1 journaler for this copy...

"Katniss Everdeen has survived the Hunger Games twice. But she's still not safe. A revolution is unfolding, and everyone, it seems, has had a hand in the carefully laid plans - everyone except Katniss.

And yet she must play the most vital part in the final battle. Katniss must become their Mockingjay - the symbol of rebellion - no matter what the personal cost."

Fartei-me de chorar, praguejar, ficar com o coração nas mãos e, por vezes, com uma vontade enorme de arrancar a Katniss das páginas e enchê-la de pancada!!
Este último livro é, sem dúvida, o culminar de tudo o que acontece nos anteriores. A mudança pura e crua dos personagens como consequência de tudo o que passaram. E, embora eu não estivesse mimamente preparada para isso, foi realmente perfeito. Até a Katniss na sua constante loucura e quase a viver no hospital durante todo o livro foi perfeito.
Chorei baba e ranho com algumas mortes, mas o pior mesmo mesmo foi mais para o fim. Eu que passei o tempo todo a fungar desde a queda do Capitólio, quem leu sabe bem porquê (fiquei chocada), até ao fim. Até ao renascer das cinzas da Katniss.

Fiquei fã desta autora, desta trilogia e de toda a história. Adorei tudo!!
---