March 11, 2007
[This occasional newsletter is sent to members of BookCrossing.com. See the
bottom
of this newsletter for simple removal instructions.]
---
Don't Miss Your Chance To Be One of the First to Hear!

Circle April 20-22 on the calendar and make your plans to get to Charleston, SC so you can be in-the-know and learn first hand about the next chapter of BookCrossing directly from the Management Team themselves. And you'll have plenty of time to give feedback and your hopes, dreams and wishes for the site, plus hear the survey results. But time is limited to register and to get reduced hotel rates, so be quick! The room rate at the Convention site hotel goes up, up, up March 20 and after March 31, you'll have to pay a late fee for registering for the actual convention. So save your spot and save some cash! Register today! Information available at CharlestonBookCrossing.com where you can click on the Convention link on the right side bar for more information.
---
And the Winners Are...

Sometimes "thanks" just doesn't seem to be enough. We are incredibly grateful for the feedback thousands and thousands of BookCrossers sent our way via our recent survey, through the contact us link and in the forum. (And yes, we are grateful when you tell us your gripes as well as the good stuff.) It's been a fascinating exercise and we are looking to see how we can fix what needs fixing, add new and interesting features, and maintain all that is good about BookCrossing. Some things we can do quickly; some will take more time. But rest assured that we want to help make it easier for you to get out there, set books free, and make the world a library. Survey results will be presented at the North American/Anniversary Convention in beautiful Charleston, South Carolina. Finally, in our minds, all BookCrossers are winners. No doubt about it. But, in this case we've got a few special folks in mind. We drew eight random names from all those who answered our survey and are very pleased to present wings to Towandaaa, hema-verf, PokPok, CynthiaA and CdnBlueRose. CanberraPenny and crrcookie have each won a $50 Gift Certificate from our Supply Store. And finally, we'll be sending an iPod to (Drum Roll)VVilliam. Congratulations to all!
---
Spring Savings in the Supply Store

The Supply Store Manager has gotten Spring Fever early, which means great opportunities for you to stock up and save. Our exclusive BookCrossing postcards can now be bought individually at $1 or 3 for $1.75 (our choice of which card(s) to send when you buy three. Let us surprise you!) Or you can snazz up your keys with our leather key fob now just $4.95 while they last. Our wine charms and earrings are also on special. Finally, save loads on our single strap backpacks and our roomy Ultimate flap packs — the ultimate way to tote your books to your next release or gathering. Shop now! Offer good while supplies last or until our Store Manager regains her senses! P.S. Don't forget to check out our great new Ballycumber magnets, our lanyards to hook your ID badge or hold your keys and our glasses holders so that you'll never lose those glasses again! And for that young BookCrosser-to-be in your life, be sure to scoop up one of our scoop neck Girl's T's.
---
Give The Gift That Keeps On Giving: RNIB

Just a quick update to show what a difference BookCrossers can make. You may recall that in the last issue of the Newsletter, we ran an article about how British BookCrossers have been raising money to put towards the cost of a talking book produced by the Royal National Institute of the Blind. Word has it that they have now collected £1074 thanks to BookCrossers like you. They are trying to reach a target of £1500 to go towards the cost of funding an entire book for RNIB and have extended their deadline until the end of March. Please consider donating at BookCrossingRNIB. For more information on RNIB or if you feel inspired to fundraise you can contact Martin Harris at RINB via a private message to MartinHarrisRNIB.
---
Lights! Camera! Action! Announcing Our New Video Clips Page!

We've always known BookCrossers are stars, but now we have absolute proof! Thanks to the miracles of digital video and YouTube, we've rounded up clips of BookCrossers across the world doing that BookCrossing thing! Now you, too, can join BookCrossers at Meetups, flashmobs, releases, special events and more! Do a little armchair traveling and visit some friends via video. Visit this page, which you can also find under the buzz on the left side bar, to see more BookCrossers in action. And if you like the idea, much as we'd like to take credit, the idea came from you when you gave us feedback on the site. Thanks so much! If you have more great ideas, and haven't taken our survey, click on over and tell us what you think or tell us via our contact us link. We're listening! (A special dank u wel to Moem in The Netherlands for putting Ballycumber in the Director's chair!)
---
Wish The Cat a Happy 50th and Promote Literacy

Who'd have believed it? The Cat in the Hat is 50! There are loads of ways you can join in the celebration for that infamous Cat in the Hat — Hop (on Pop) over to the official Suessville.com site where you can send an e-card to the fiesty feline. Random House Children's Books will donate one new book to First Book (one of our BookCrossing Partners) for each e-birthday card that is sent to the Cat and a book (up to 1,000,000 books) for any Seuss Random House Children's Book purchased between January 9, 2007 and May 1, 2007. Even the cautious goldfish would say "Yes! Yes!" to this one.
And while you're there, maybe wish a happy birthday to Thing One and Thing Two. (pictured: Reading Dr. Seuss by Karen Barton, which was featured on our 7th edition Bookplate back in 2004. Though this plate is no longer available, there are loads of equally fabulous ones at our Supply Store.)
---
BookCrossing Convention in Charleston Filling Up Fast! Reserve Your Spot and Meet the Founders!

Come to beautiful Charleston, South Carolina April 20-22 and celebrate BookCrossing's 6th birthday at the North American Convention! The Founders of the site will be there as well as a few hundred of your favorite BookCrossers. Register now and reserve your spot in the festivities. There's a fabulous program planned and lots of exciting BookCrossing news and updates will be revealed and plenty of extra activities and fun stuff to do, too. Space is limited, so don't wait; don't hesitate. Y'all come on down!
---
News and New BookCrossing Bookplate in the Supply Store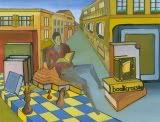 Brand new in the Supply Store is our 17th edition bookplate label, In My Dream by Romanian-born artist Anton Octavian. Let your books share in the dream of BookCrossing as they travel. Be part of the vision and make the world a library! And while you are over visiting the store, be sure to check out all the fabulous items there, from Release Kits,Bookmarks, T-shirts to Wings.
Be sure to make a note (maybe on our great BookCrossing Notepads?) that after March 1, 2007, our price break points for free shipping will be going up to to $75 US and $95 International. We've kept them as low as we could for as long as we could, and regret that we have to make this change, but since the purchases from the supply store are what keeps the site up and running, we hope you'll understand. Every purchase and donation you make at our Supply Store directly supports the BookCrossing movement, helping to cover costs for the hardware, software, bandwidth, and of course humans to keep the site and database running smoothly. Thank you again for your support.
---
MY BOOKCROSSING VALENTINE
A date with my first book in the wild
by Laura Petzer (lauzy)
Just for a minute I'd ask you to switch off the music around you, switch out the colours and reflections floating by and join me on quiet abandoned beach in Hervey Bay Australia. It's a grey day, quite gloomy really, not the most "pretty" of Valentine's Days and yet I feel I must walk on the beach. So, slipping off my sandals and clutching my strawberry smoothie, I venture out onto this quiet stretch of sand, unsure as to why I'm here but certain that I am in the right place. I notice a backpacking couple wandering past and think to myself, "oh well, another single Valentine's day - surprise, surprise", and avert my eyes lest I disturb their time together as they stroll down the sandy strait. As I step over the huge storm drain running back into the ocean, a flapping image creeps into the corner of my eye. Being intrinsically curious I follow up on this quick glimpse and find a book - absolutely soaked through - perched on the edge of the drain pipe. My frst reaction? Stop the couple, they've left something! Before I could even start calling out to them, something made me glance down at the book's cover, and there in the right hand corner is a "travelling book" label, barely hanging on as this book has clearly been through a couple of storms and a few waves. My heart begins pattering away as I realise that this was one of those "meant-to-be" moments that we read about and that I have so often dreamt about...serendipity....
[read it all at http://www.bookcrossing.com/articles/2590]
---
IN THE DUMPS
How I found books and didn't break my budget
by watermelons
I love to read. That's a fact. But I am a student and on a tight budget. The local library is my friend, but the books are only loaners. It's just not the same as having my own books. ...
[read it all at http://www.bookcrossing.com/articles/2592]
---
SHE'S RUN OUT OF BOOKS TO READ
Where do I find books
by joyfulchild
"What's up with her, she seems restless?"...
[read it all at http://www.bookcrossing.com/articles/2594]
---
504 BOOKS DONATED

by daffodilqltr
Whew! It's been a long year. But interesting. And at times fun, disappointing and frustrating. But, in the end, very satisfying. It all started in February 2006 when I dropped off my annual batch of Valentines for Vets (which in itself is a fun and interesting project, especially if you make them yourself)....
[read it all at http://www.bookcrossing.com/articles/2600]
---
NEW WORLD DISCOVERED
Take Me - Do You Dare
by Slik-Bic
I always thought apples fell from trees. After all, Sir Isaac Newton couldn't be wrong - could he? Imagine my amazement when I found a book could fall from a tree! Yes, there it was in its little plastic bag just waiting for me to take it. I approached cautiously (you never know what might happen if a book has just been released into the wild). It stayed calm so I picked it up. I'd never seen anything like it. A personal message saying "Take Me" on the outside assured me this was a tame book. On investigation it appeared the book was from bookcroosing.com and some kind soul had released it back into the wild for future adventures....
[read it all at http://www.bookcrossing.com/articles/2603]
---
CREATING A BOOKCROSSING YAHOO! GROUP
A Step-by-Step Tutorial
by Larry Spinak (gryffud)
Part of the fun of BookCrossing is getting together with other members in your neighborhood. Itís wonderful to swap stories, share wild-release techniques, and get together with other book lovers and just talk about books....
[read it all at http://www.bookcrossing.com/articles/2608]
---
CALL FOR WRITERS

Want to write for BookCrossing? If your article is accepted, you could see it featured here in the next newsletter. What topics do we need? Anything about books, reading, or BookCrossing — tutorials, release and catch stories, well-traveled book stories, funny BookCrossing experience stories — you get the idea. Write it up, then submit it here:

http://www.bookcrossing.com/articles/submit




---
Top 10 Countries All-Time
| | |
| --- | --- |
| USA | 230,777 (43%) |
| UNITED KINGDOM | 56,096 (10%) |
| CANADA | 36,107 (7%) |
| GERMANY | 36,067 (7%) |
| SPAIN | 26,983 (5%) |
| AUSTRALIA | 24,548 (5%) |
| ITALY | 17,379 (3%) |
| FRANCE | 11,784 (2%) |
| NETHERLANDS | 9,239 (2%) |
| PORTUGAL | 7,212 (1%) |
Top 10 Countries Last Week
| | |
| --- | --- |
| USA | 594 (37%) |
| UNITED KINGDOM | 257 (16%) |
| GERMANY | 109 (7%) |
| CANADA | 86 (5%) |
| AUSTRALIA | 66 (4%) |
| ITALY | 60 (4%) |
| NETHERLANDS | 60 (4%) |
| SPAIN | 40 (3%) |
| FRANCE | 36 (2%) |
| SWEDEN | 26 (2%) |
---
Wild books released by our members are being caught all over the world, every day! Our site watch forum is where members post news of great wild book catches. Here are some of the best from the last few days...

One of my in-the-park releases checks in, 9 months later:
http://bookcrossing.com/---/3213726
by GoryDetails
Another 2003 release just caught!
http://bookcrossing.com/---/816093
by PrettyPoodle
Three-plus years later, one of seealliread's releases is caught...
http://www.bookcrossing.com/---/986186
That's a long wait without a catch; hope seealliread still has the same email and sees the JE!
by GoryDetails
What an extraordinary week!
This is a really amazing week. Not only have I been listed third in the leaders board for the most registered books but it looks like I was really lucky with my wild releases!
28.02.2007
Wild Catch and new member
http://bookcrossing.com/---/4864127
27.02.2007
Wild catch and new member
http://bookcrossing.com/---/4864018
Wild catches even before I could write a release alert and a new member:
http://bookcrossing.com/---/4851285
http://bookcrossing.com/---/4851242
26.02.2007
And just another wild catch
http://bookcrossing.com/---/4855041
24.02.2007
Wild catch:
http://bookcrossing.com/---/4859983
http://bookcrossing.com/---/4851210
by Diamondlucy
it reappeared after 2 years!
I vividly remember watching this one be caught, and then nothing ever came of it. Here it is almost two years later and it shows up again. This totally made my day
http://bookcrossing.com/---/1660036
by barefootrain
4.5 years later, the book is caught!
http://www.bookcrossing.com/---/350803
I just saw this on the "recently caught" bar and had to draw some attention to it. That's so cool!
by ajsmom
"This club is a great idea!"
Tandem release finds at least one keen reader. (I think the BF is just going along with AF on SF: http://bookcrossing.com/---/4860191.)
by Shard02
From one end of the earth to another
Here's an interesting one- a book that none of we Australian/New Zealand BookCrossers really cared for. We'd journal it and put it back on the hostel shelf, hoping someone would come along and love it.
And they did.
And it travelled and travelled and travelled and wound up with...
...another group of BookCrossers in Britain! http://bookcrossing.com/---/2842629
by Skyring
An early release checks in after nearly 3 years
After 3 Bookcrossers, 2 AFs, and a new member, this 2002 release of mine checks in again after nearly 3 years-
http://bookcrossing.com/---/364177
by MaryZee
A great catch! From Greece, to Italy, to Australia!!!
http://bookcrossing.com/---/4676312
*happy-dance*
by deadendmind
"An old game I haven't played for years. Now I'm back!"
http://bookcrossing.com/---/4851619 Nice catch for Atropa.
by Potok-fan
Finder rescued it from a ravine, restored it, read it, joined BC and
released it far away. I'd say it's a perfect catch for petaloka!
http://bookcrossing.com/---/3736356
by time-traveler
---
All of our newsletters, including this one, are archived on the web at http://www.bookcrossing.com/newsletterarchive.
---
This newsletter is sent only to members of BookCrossing.com. If you would prefer to not receive this newsletter in the future, you can change your newsletter preference anytime by visiting: http://www.bookcrossing.com/newsletterpref/.