News from the Store: BCday Supplies now available
February 21, 2020
The new BookCrossing Day supplies for 2020 have just arrived in the
Store
! Necoconeco's winning design shows an OBC in the forest, stocked and used by colourful troll-like creatures, in a hollow tree. We love this idea, it's very creative! There are matching round stickers for that extra festive touch.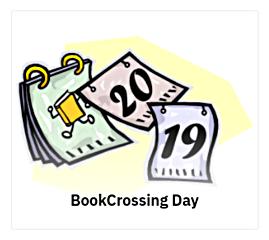 You'll find the bookplates and stickers in the section for your language, and even more additonal languages (and the previous years' round stickers) in the special, temporary
International BookCrossing Day section
.
If you're looking for a bargain, browse all pages of that section, because some of the round stickers from earlier editions are on sale, while stocks last!
New for this year is a bookplate in Chinese. That makes it fourteen languages that we're now offering for this special occasion.
Don't wait too long to order your BookCrossing Day goodies. We need time to get them out to you before April 21st, so they will disappear from the Store on March 24. If you live outside of the EU, order them before March 15 to be on the safe side. Happy shopping and happy BookCrossing Day!