BookCrossing Bingo
January 1, 2019
It's 2019 and time for some fun! Introducing BookCrossing Bingo!
Jump in at any time during 2019, and play for a line, or go for the full house.
You can post your progress over in the
Fun & Games forum
.
We've also created the #BookCrossingBingo hashtag for those on social media.
There's no prizes for the first person to call "Bingo", this is purely for fun.
Here's your bingo card. You can also
download it as a PDF
. Explanations are below.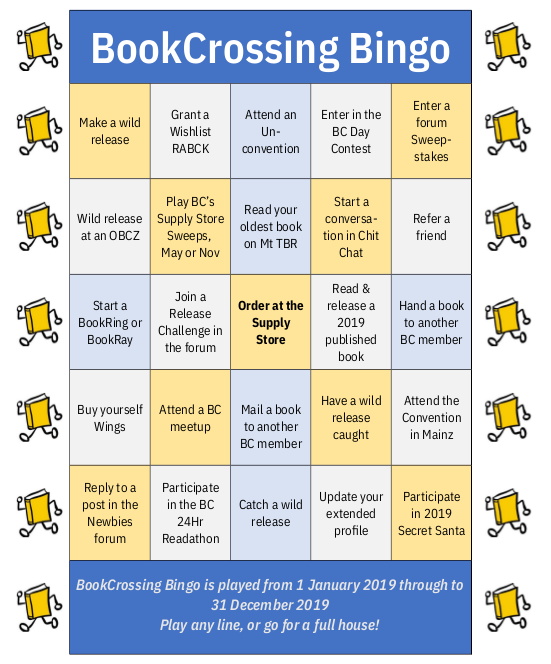 Make a wild release
BookCrossing's very essence is about the wild releasing of books. Placing a book someplace for some person to find is what we call a wild release.


Grant a Wishlist RABCK

Wishing for a special book is nothing new for us. You can find who is wishing for one of your books by clicking on the
Global Overview for this book
link and then the 'click here' next to
Wishes for this book
. Simply send a private message to the member you want to share your book with, asking for their address.


Attend an Unconvention

Although the 2019 Official BookCrossing Convention will be held in Mainz, if you head to the
Conventions and Meetings
forum, you will find Un-conventions pop up in other parts of the world which may be logistically easier for you to attend.
Enter your design in the BookCrossing Day Contest

The annual International BookCrossing Day Contest will be held in January, giving you opportunity to showcase your creative skills in designing a Bookplate. The winner will receive a pack, on the house, and various other BookCrossing goodies! Plus, BookCrossing members all over the world will be able to buy your label in the Store. Keep an eye out for this in January in the
BookCrossing
Site Announcements
forum.
Enter a forum Sweepstakes

A large part of how books are exchanged between our members is by way of a multitude of different Sweepstakes hosted by our members in the
(Not-So-) Random Acts of BookCrossing Kindness
forum. There are international ones, as well as ones held in specific geographical locations. Although most are hosted in the (Not-So-) Random Acts of BookCrossing Kindness forum, they are also held in the specific country/language forums.
Wild release at an OBCZ

An Official BookCrossing Zone [OBCZ] is a place where a BookCrossing member, sets up a box, shelf, corner, etc. to become a centralized location for exchanging books. You can find where these are located in the
Go Hunting Pages
and they are distinguished by a Ballycumber icon.
Play the BookCrossing's Supply Store Sweepstakes

Member J4shaw hosts a Support BookCrossing's Supply Store Sweepstakes twice a year (May and November) in the
(Not So-) Random Acts of BookCrossing Kindness
forum, which raises well needed funds for BookCrossing.
Read your oldest book on Mount TBR

This one is pretty self-explanatory, however for those needing to figure out exactly which book has been languishing on Mount To Be Read the longest, head to your bookshelf and select "To Be Read' form the drop down menu. Set your possession filter to "in hands" and sort by "recently released" and in "ascending" order. The book at the top of that list is the book that has sat on your Mt TBR the longest.
Start a conversation in Chit Chat

Readers love to talk with other readers, right?
Chit Chat
forum is the place to enjoy conversation with other BookCrossers.
Start a new thread with a topic of your choice, but make it non bookish related, as that is for Book Talk.
Refer a friend

Whether it's from someone who has caught one of your wild releases and quoted you as being their referring member, or someone who clicks on the link in a
tell-a-friend
email that can be sent from the Community tab, as soon as it shows in your stats that you referred someone in 2019, you can tick off this one.
Start a BookRing or BookRay

The coordination of group book sharing happens in the
Bookrings, Bookrays, and Bookboxes
forum. Send one of your books on a domestic or international journey for other members to enjoy.
Join a release challenge
Take part in a book-releasing adventure, be it one you create yourself, or an existing one created by another member, you'll find them in
Release Challenges
forum.
Make an order at the Supply Store

Click on over to our wonderful (and secure)
Supply Store
! There you can find all sorts of BookCrossing supplies and goodies. Every purchase directly supports the BookCrossing movement, helping to cover costs for the hardware, software, bandwidth, all to keep the site and database running smoothly.
Read & release a 2019 published book

Another rather self-explanatory one. Read a book that has been published in 2019 and release it in any way you see fit.


Hand a book to another BookCrossing member

A "controlled release" is when you give or send a book to a specific individual. In this instance we want you to physically give another BookCrosser a book, hence the 'hand' part.
Best place for this is at a
BookCrossing meetup
, but we expect some people will be able to tick this one off if they're part of the lucky ones attending the
Convention in Mainz
.
Buy yourself Wings

The Wings program lets you show your love & support for BookCrossing. Buy some
Wings
at the Supply Store.
Attend a BookCrossing meetup

The
Conventions and Meetings
forum is the place where people announce planned meetups in various locations around the globe. If you don't see one in your area, go ahead and organise it yourself to bring others together.
Mail a book to another BookCrossing member
Sending a book to another BookCrosser via mail ticks this one off. It is your choice if you count this as being a book you mail as part of an exchange, or to a sweepstakes winner, or you can choose to carry this out as being independent to anything else.
Have a wild release caught

A "caught" release is a book for which someone else has made a journal entry after you released it. The holy grail for many members is having one of their wild releases "caught".
This one is a tough one, we know, but very much deserves its place here.
Attend the Convention in Mainz

2019's Official Bookcrossing Convention will be held in Mainz, Rhineland-Palatinate, Germany. Dates are 26 – 28 April.
Reply to a post in the Newbies forum

Our
Newbies
forum exists for new members to post
their new member questions. We encourage our members to jump in to help Newbies learn the ins-and-outs of BookCrossing.
Participate in the BC 24HrReadathon

The first
BookCrossing 24 hour Readathon
will be held on Sunday April 14th, 2019!
Catch a wild release

Hunt for books the BookCrossing way! The
Go Hunting
pages are a list of countries with books in the wild! After registering and releasing a book, members have the option of making Release Notes, specifying where exactly (or approximately) they left a book. You can browse through these active releases, by Country, State, City, and Crossing Zone.
Update the content on your extended profile

BookCrossers enjoy getting to know other BookCrossers and it is not always feasible to do this in person. Giving some information about you, and also your reading habits in your extended profile is a great way for others to know a little bit about you.
You can do this by
editing your profile
.
Participate in 2019 Secret Santa

Some time in November you will start to see the Secret Santa posts in the
(Not-So-) Random Acts of BookCrossing Kindness forum.