Qué bueno! A BookCrossing Milestone: Over 30,000 Books to be Released in Spain
November 11, 2010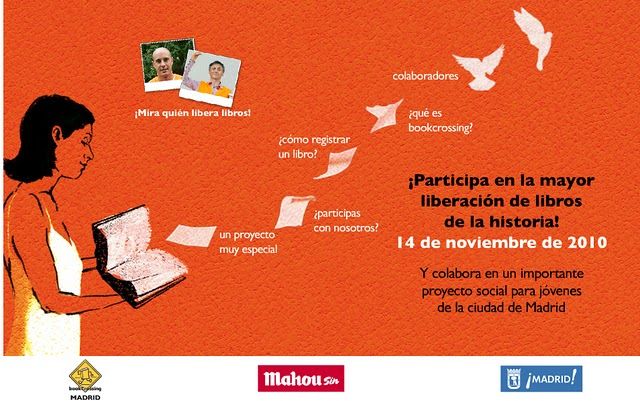 On November 14, 2010, more than 30,000 books were released in the capital city of Madrid, Spain, making for the largest single mass release in BookCrossing history. "I am honored to have been a part of this fantastic initiative spearheaded by the Town Hall of Madrid and Mahou," beams Juan Pablo Colás, Lead Coordinator of the ambitious project. The program was presented at the Palais des Telecommunications by the Mayor of Madrid, Alberto Ruiz-Gallardon; the Mayor explained that the inspiring effort, requiring the collaboration of more than 5,000 citizens and volunteers, was about bringing the people of Madrid together and emphasizing the importance of volunteering.
This mass release involved a well-organized team of 600 volunteers using 30 vans to disseminate the literature in strategic places around the city. The effort has attracted the tremendous support of popular singers, actors, models, journalists, humorists, writers, judges and sportsmen - all of whom have dedicated their favorite book to the cause. And the giving doesn't end there: For every book registered and released before April 24, 2011, Mahou and the Madrid Town Hall will generously donate 3 euros to a reinsertion program to help young people at risk of social exclusion.
Due to mass media coverage and the ensuing awareness of BookCrossing in Spain, the country's BookCrossing membership stats have experienced a significant uptick. You can read more about the event
here
, and can track progress
here
. We wish all involved the best of luck!