Do YOU have a press contact?
September 25, 2008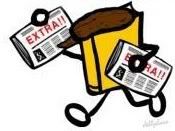 As BookCrossing grows in size and becomes a bigger player in the world, we'd like to try to channel interview requests through our headquarters so that consistent information is being given to the press. If you're contacted by a member of the media, please encourage them to contact our CEO, Bruce Pedersen, at bruce AT bookcrossing.com or via a private message through his BookCrossing shelf (
bruce
). We love that our members are so excited to share the word, and we want to make sure the most current information about BookCrossing goes out to the media. If you let us know you sent the press our way and an article results, we'll be sure to grant you wings for helping us out. (And no, this is not an ego thing with Bruce -- we tattooed "humility" on his arm last weekend...) Simply send the info or a link to us via the
Contact & Support
link found at the bottom of every page on the site (be sure to choose the fourth option "This is just FYI - no need to reply to me") and we'll do our best to get you the plusses you deserve.