writergrl
Age 41
Joined Friday, December 26, 2003
Recent Book Activity
| Statistics | 4 weeks | all time |
| --- | --- | --- |
| books registered | 0 | 82 |
| released in the wild | 0 | 32 |
| controlled releases | 0 | 0 |
| releases caught | 0 | 5 |
| controlled releases caught | 0 | 0 |
| books found | 0 | 21 |
| tell-a-friend referrals | 0 | 6 |
| new member referrals | 0 | 1 |
| forum posts | 0 | 54 |
Extended Profile
Hello and welcome to my bookshelf!
I am a college student, editor, and writer, and when I'm not busy with those things I sometimes read books. My tastes include autobiography/memoir, political, essays, fantasy, religion/spirituality, history, and general highbrow fiction. I guess that covers a lot of ground. I tend to read mostly women writers, but I'm trying to branch out. Recently I've started reading the first book in the Lord of the Rings trilogy, a series I'd avoided because there were few/no female characters, but a woman at work really loves the books, so I thought I'd give them a try. They're not as emotionally engaging for me as the Harry Potter books, but they are better written.
I like memoirs by writers because I get a glimpse into their creative process as well as how people live their everyday lives. I also collect books on writing, such as "Writing Down the Bones" by Natalie Goldberg, but I'm not willing to give them up.
Books I'm Currently Reading
The Fellowship of the Ring, J.R.R. Tolkien
Small Wonder, Barbara Kingsolver (bookring)
The Talking Earth, Jean Craighead George
Hope's Edge: The Next Diet for a Small Planet, Francis Moore Lappe
The Open Space of Democracy, Terry Tempest Williams
Book Lust (and More Book Lust)
If you are interested in one of my books, I would be willing to trade if you have something I'd like to read. But I won't send books out for nothing in return, because shipping costs are too expensive. The exception is if you're in the Albuquerque area and I can hand you the book at a meetup or other get-together.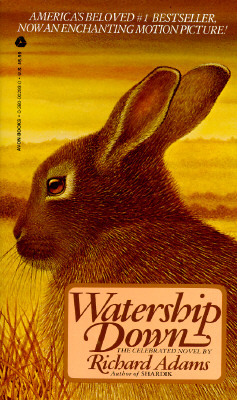 You're
Watership Down
!
by Richard Adams
Though many think of you as a bit young, even childish, you're
actually incredibly deep and complex. You show people the need to rethink their
assumptions, and confront them on everything from how they think to where they
build their houses. You might be one of the greatest people of all time. You'd
be recognized as such if you weren't always talking about talking rabbits.


Take the
Book Quiz
at the
Blue Pyramid
.
I haven't read "Watership Down" but I saw a cartoon based on the book when I was a kid and found it disturbing that the rabbits fought and killed each other.
Bookrings I Started:
The Onion Girl
, by Charles deLint
The Color Purple
, by Alice Walker
Cunt: a declaration of independence
by Inga Muscio
The House of the Spirits
by Isabel Allende
Janet Frame: The Complete Autobiography
Bookrings/Bookrays I Participated In:
To Be Read
Small Wonder
The Magic Circle, Donna Jo Napoli
Howl's Moving Castle, Diana Wynn Jones
Cat Journal
Dakota, a Spiritual Geography
A Muggles' Guide to the Wizarding World: Exploring the Harry Potter Universe
Elfquest: The Grand Quest, Volume One, by Wendy Pini
Daughter of Fortune
by Isabel Allende
Jack of Kinrowan, Jack the Giant Killer, and Drink Down the Moon
, by Charles De Lint
Have Books Now
Small Wonder, Barbara Kingsolver
Read and Sent On
The 9 Emotional Lives of Cats: a Journey into the Feline Heart
by Jeffrey Mouss
Reasons to Be Cheerful
by Mark Steel
What Are You Looking At? The First Fat Fiction Anthology
The Red Tent
, by Anita Diamant
Janet Frame: The Complete Autobiography
, by Janet Frame
Me Talk Pretty One Day
, by David Sedaris
Reading Lolita in Tehran
, by Azar Nafisi
So You Want to be a Wizard
by Diane Duane