peaceangel
Age 77
Joined Friday, September 19, 2003
Recent Book Activity
| Statistics | 4 weeks | all time |
| --- | --- | --- |
| books registered | 0 | 1,956 |
| released in the wild | 0 | 1,431 |
| controlled releases | 0 | 175 |
| releases caught | 0 | 323 |
| controlled releases caught | 0 | 47 |
| books found | 0 | 505 |
| tell-a-friend referrals | 0 | 260 |
| new member referrals | 0 | 30 |
| forum posts | 0 | 431 |
Extended Profile
Belfast and Northern Ireland Bookcrossers
et al, let me introduce myself!
I helped for many years, until Covid19 hit us, to organise the BCNI Northern Ireland Yahoo Group, and attended several BC conventions, as below. Some members of the group still meet up occasionally, but not in the same organised way. We will discuss the way forward now, and let folks know our next step forward asap!
alt="BookCrossing UK Unconvention 2009 Edinburgh: I was there" border="2" align="right">

www.goodreads.com/---/widget2.swf" quality="high" wmode="transparent" FlashVars="id=1828965&shelf=read&title=Norah's bookshelf: read&sort=date_added&order=d&params=amazon,,dest_site,">

www.goodreads.com/---/1828965"
target="_blank">
www.goodreads.com/---/widget_logo.gif" title="my goodreads profile" width="190" />
Bokcrossing has really helped me start to organise my books and my reading, as well as finding a new way to carry out 'random acts of kindness'.
< >My Wish List
Currently reading
See link to Goodreads site from now on!
Previously read
Oct 08 Between the Monster and the Saint by Richard Holloway 8
sep 08 The Book Thief by Marcus Zusac 10!
Jul 08 The Shack by Wm 6 returned to owner
Apr 08 Everything Must Change by Brian D. McLaren 7
Jun 08 Untorn Tickets by Paul Burke 6 wild released in Co Donegal
Mar 08 As it is in Heaven by Niall Williams 8
Jun 08 One More River by Lynne Reid Banks
May 08 Random Acts of Heroic love by Danny Scheinmann 9
May 08 Lovely Blue Eyes by Arnost Lustig - left in Prague
Apr 08 The Clock Winder by Anne Tyler 8 - slow-moving but revealing
Mar 08 The Mermaid Chair by Sue Monk Kidd 8 - released at Convention
Apr 08 By Grand Central Station I sat Down and wept by Elizabeth Smart 9
Feb 08 WWJ Deconstruct by John Caputo 8 - for permanent collection
Mar 08 Mrs Kimble by Jennifer Haigh 8 - seems to have gone walkies...!!
Mar 08 The Call of the Weird by Louis Theroux 7 released in Spain
Feb 08 Dead Air by Iain Banks 7 - released at Convention
Sep 07 Asleep by Banana Yoshimoto 5 - not my type of book
Jan 08 Over by Margaret Forster 6 - for my brother
Jul 07 The Speech of Angels by Sharon Maas 8 - sweet but interesting
Aug 07 Ex and the City by Alexandra Heminsley 6 for release
Aug 07 Dirk Gently's Holistic Detective Agency by Douglas Adams - Released at Greenbelt
May 07 The Day of the Triffids by John Wyndham
Aug 07 True Faith by Garth Ennis - released at Greenbelt
Jul 07 Live Alone and Like it by Marjorie Hillis - released to neighbour
Jul 07 Sea Glass by Anita Shreve 9
Sep 06 How (not) to Speak of God by Peter Rollins
Jul 07 The Rich and the Profane by Jonathan Gash 8 - to Babs at caravan
Jul 07 Round Ireland with a Fridge by Tony Hawkes 9 so funny! - for release
Jul 07 How (not) to speak of God by Pete Rollins 9 -tough but thought provoking
Jul 07 How to be good by Nick Hornby 8 funny and thoughtful, for release
Jun 07 Surrender the Pink by Carrie Fisher
Jun 07 Marrying the Mistress by Joanna Trolloppe - released in Donegal!
May 07 Rat! by Michelle Lovrin - to be released... where?
May 07 Miss Garnet's Angel 9 - released to rainbow3 at micro-meetup!
Apr 07 Ludmila's Broken English by DBC Pierre 8 - to Terence
May 07 90 Minutes in Heaven by Don Piper 7 - for Arthur and Liz
May 07 Through a Glass Darkly by Jostein Gaarder 9 - for Arthur and Liz
Apr 07 You look nice today by Stanley Bing - abandoned to Esporta OBCZ
Apr 07 The Lake in the Woods by Tim O'Brien
Apr 07 Mutant Message Down Under by Marlo Morgan, lent to Helen
Mar 07 The Quiet American by Graham Greene
Mar 07 A Heretics Guide to Eternity by Burke
Feb 07 The Songlines by Bruce Chatwin
Feb 07 A Town Like Alice by Nevil Shute (re-read) release in Oz!
Jan 07 The Fine Art of Flirting by Joyce Jillson
Jan 07 Feel the Fear and do it Anyway by Susan Jeffers, released to Jennifer
Jan 07 Never let me go by Kasuo Ishiguro 7 - scifi
Jan 07 The Vagina Monologues by Eve Ensler - released to fleurdelys
Oct 06 Staying Sane by Raj Persaud 4 - didn't finish, returned to owner
Nov 06 Shadow of the Wind by Carlos Ruiz Zafon 9 - fantastic!
Nov 06 How to Shit in the Woods by Kathleen Meyer 7 - words fail me!
Nov 06 The Notebook by Nicholas Spark - great!
Oct 06 Losing it by Jane Asher - pretty good
Oct 06 Lost in the Forest by Sue Miller 7 -thoughtful, slow-moving
Sept 06 Memoirs of an Invisible Man - interesting 7
Aug 06 The Crow Road by Iain Banks -excellent! 8
Apr 06 Get up Off your Knees, Preaching the U2 catalogue - released to Pete
March 05 Jake's Thing by Kingsley Amis - old-fashioned, small print, may not finish, but had another go Aug 06!! Pages fell out!
Aug 06 The Girl in a Swing by Richard Adams 9
Jul 06 Frozen Music by Marika Cobbold 8
Jul 06 The Collected Thoughts of Clarkson 5
Jul 06 Change the World for a Fiver 8
Jul 06 Nora, Nora by Anne Rivers Siddons 8
Jul 06 Mozart's Journey to Prague by Edouard Mourike 8
Jul 06 Elizabeth and her German Garden 9
Jul 06 The Gingerbread Woman by Jennifer Johnston 8
Jul 06 Bonjour Tristesse by Francois Sagan 9
Jun 06 Grace Notes by Bernard McClaverty 8
Jun 06 Beatrice by ? 8
Jun 06 Balzac and the Little Chinese Seamstress by Dai Sijie 7 strange...
May 05 The Water Babies by Charles Kingsley - gothic burlesque hyperfiction
may 06 Out of the Ashes by Michael Morpurgo 8 - a real weepie!!
May 06 The Longings of Women by Marge Piercy 9 - great!!
May 06 Bitterroot Landing by Sheri Reynolds 9 - Brilliant! Pure poetry!
May 06 Atomised by Michel Houellebecq 7 - Dark, strange book, but interesting
Apr 06 The Choir by Joanna Trollope - not my sort of book but I love choirs
Mar 06 A Clockwork Orange by Anthony Burgess 9 - highly recommend!
April 06 A Year in Marrakesh by Peter Mayne 7 - somewhat outdated
Feb 06 The Parables of Peanuts by Robt L. Short
Feb 06 Suspicion and Faith - for a Lent Course: Atheism for Lent!
Mar 06 Find Me by Rosie O'Donnell - Arkansas Bookbox 7
Mar 06 The unbearable lightness of being by milan kundera 0 did not finish it
Mar 06 Me & Emma by elizabeth flock 7 tragic
Jan 06 Five Quarters of the Orange by Joanne Harris
Feb 06 The Lovely Bones by Alice Sebold
Jan 06 One Day in the Life of Ivan Denisovich by Aleksandr Solzhenitsyn 7
Jan 06 Breakfast at Tiffany's by 8
Jan 06 Surfacing by Margaret Atwood 7
Jan 06 Truth and Consequences by Alison Lurie
Dec 05 The Life of Pi - brilliant! 9
Dec 05 Things Fall Apart by Chinua Achebe 6
Dec 05 A Man called Dave - Dave Pelzer - surprisingly, enjoyed this! 8
Nov 05 Twopence to Cross the Mersey by Helen Forrester - sad, true story 7
Nov 05 Go Tell It On the Mountain by James Baldwin 8
Oct 05 The Binding Chair by Kathryn Harrison, caught at meetup 7
Oct 05 The Curious Incident of the Dog in the Night-time -got as a trade for Proust3 8
Sept 05 Immortal Queen by Elizabeth Byrd - re-read after many years, released at Oct meetup. 9
Sep 05 Taking the Forbidden Road by Evelyn James - 1950's N.I. mixed marriage - International bookswap
Sep 05 Virtual Stranger by Emer Gillespie - released in London
Aug 05 In Search of Stones by M Scott Peck - heavy going...didn't finish
Aug 05 Audiobook The Eyre Affair by Jasper FForde from Andersonstown Library
Aug 05 Vernon God Little by DBC Pierre, signed by the author! 9 BOOKRING
Aug 05 The Butcher Boy by Patrick McCabe 5 - sent to DBC Pierre
Aug 05 Intimate Lies by Maria Barrett 8 - complicated but readable thriller
Jul/Aug 2005 Perfectly Correct by Philippa Gregory 7- easy reading on the train
July 05 Jake's Eulogy by Nick Cann-1st novel 7, signed by author! BOOKRING
July 05 Cold Heaven by Brian (pronounced Breean) Moore 7 - spooky!!
July 05 Lighthousekeeping by Jeanette Winterson-wonderful!10 lent to sister Sue
June 05 Expiry Date, David Michie 7- pacy thriller, great,I'm a researcher too!
June 05 Special Relationship by Robyn Sisman 8 - good read, lent to Willa
June 05 Lucky Man by Michael J Fox (bio)3, lent to non-BC neighbour Willa
May 05 Liars and Saints by Maile Meloy - unusual, released to Celia in Glos
May 05 The Secret Life of Bees 9- brilliant! sent to Sue in Dublin
Apr 05 The Da Vinci Code 6- fascinating, belongs to son Jonathan, lent to Bob
Apr 05 The Colour of Heaven by James Runcie8- beautiful, released at May meetup
Mar 05 The Time Traveller's Wife 9 - romantic, released to Linski in Dublin
Mar 05 Perfume by Patrick Suskind 8- gruesome, lent to non-BC friend
The Celestine Prophecy(24/11/2004)5 - interesting, released at meetup
Scenes from Havian Life by Jan Morris 3 - strange, relelased
Kiss and Kin by Angela Lambert 8 - good read
Wuthering Heights 8 - classic
The Dubliners and Portrait of the Artist as A young Man by James Joyce
If Nobody Speaks of Remarkable Things 3 - disappointing, released as a trade
To Be Read
:
McCarthy's Bar by Pete McCarthy
Sucking Sherbet Lemons by Michael Carson
The Galssblower's breath by Sunetra Gupta
Moon Tiger By Penelope Lively
Conquer the Information Mountain by Declan Treacy
Released,
:
Nov 06 Emperor of the Air by Ethan Canin
May 06 Conquer the Information Mountain! Esporta Leisure Club
Jul 06 The Collected Thoughts of Clarkson 5 to croc49
Jun 06 Kissing in Manhattan by David Schickler - released to OBCZ
Aug 05 All he ever wanted by Anita Shreve - to MB
Sept 05 Summer's Lease by John Mortimer - released at Heathrow
July 05 Any Human Heart by William Boyd - released on my Paris trip
The Bookseller of Kabul - released at Meetup May 2005
The Great Gatsby by F Scott Fitzgerald - June 2005 in Dr's surgery
How I rate my books:
10 - One of the best books I have ever read
9 - Terrific, couldn't put it down
8 - Very good
7 - Good
6 - Enjoyed most of it
5 - An 'ok' book but I don't recommend it
4 - Mixed review
3 - Poor, lost interest
2 - Don't waste your time
1 - One of the worst books I have ever read
0 - Did Not Finish (DNF)
Having had about 8 major house moves in my life and hauled a lot of books with me each time, gathering more boxes of them each time a relative passes on, the time has now come to sort and dispose, or in other words, release, those gathering dust in the attic. But, hey, I then discover the gems I've been hoarding up there! So some I read or re-read, but most will be released every time I go out in a place where books can be left. This is much more satisfying than lugging boxes down to the Oxfam shop...which I still do, but with BCIDs in every book!
images.quizilla.com/---/1099928306_icturesMAG.jpg" border="0" alt="you're a gaurdian angel">
you're a gaurdian angel. you fight and protect the
people you love and vaule.
what kind of angel are you?
brought to you by
Quizilla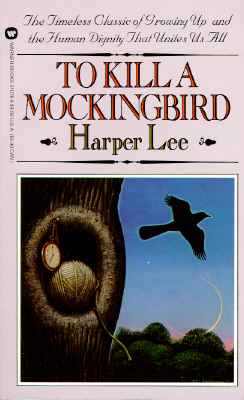 You're To Kill a Mockingbird!

by Harper Lee

Perceived as a revolutionary and groundbreaking person, you have
changed the minds of many people. While questioning the authority around you, you've
also taken a significant amount of flack. But you've had the admirable guts to
persevere. There's a weird guy in the neighborhood using dubious means to protect you,
but you're pretty sure it's worth it in the end. In the end, it remains unclear to you
whether finches and mockingbirds get along in real life.


Take the Book Quiz
at the Blue Pyramid.
images.quizilla.com/---/1060676447_opmermaid2.jpg" border="0" alt="mermaids">
You're like a Mermaid!
?? Which Mythical Creature Are You ??
brought to you by
Quizilla