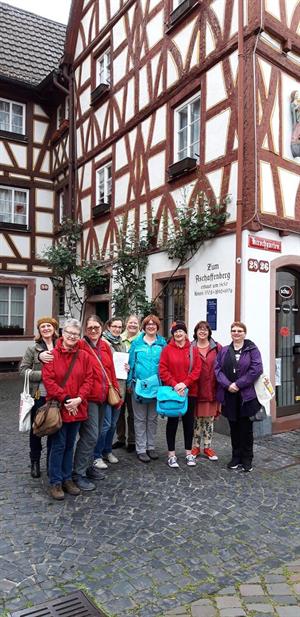 missmarkey
Age 65
Joined Wednesday, May 7, 2008
Recent Book Activity
| Statistics | 4 weeks | all time |
| --- | --- | --- |
| books registered | 0 | 4,228 |
| released in the wild | 1 | 4,314 |
| controlled releases | 0 | 133 |
| releases caught | 0 | 378 |
| controlled releases caught | 0 | 90 |
| books found | 0 | 1,587 |
| tell-a-friend referrals | 0 | 15 |
| new member referrals | 0 | 16 |
| forum posts | 4 | 7,467 |
Extended Profile
I am a (newly retired) Higher Level Teaching Assistant . My favourite subject to teach was of course reading. I would happily sit on the carpet all day and read books to children.
I wild release children's books on a bridge in my village and on a bridge outside the school I taught at for 28 years.
In my spare time I like to get involved in community projects in my village , potter about in my garden and on my allotment, knit and of course I love to read!
I share my home with a lovely cat called Jackson whom I adopted from Cat's Protection. He always finds the warmest seat in amongst the 8 bookcases and the piles of books waiting to be registered.
When my mum passed away suddenly in 2008 bookcrossers worldwide were very supportive.
Shortly after this I made the decision to attend my first convention and travelled to Christchurch, New Zealand in 2009 where I had the most amazing time and met some super people.
Since then I have become a convention junkie!
I have been to the annual Conventions in Christchurch, Amsterdam, Washington DC, Gothenburg, Dublin, Melbourne, Athens , Oslo, Bordeaux and Mainz. I was registered and had bought my plane ticket for The Gold Coast Australian Convention but COVID-19 put a stop to that.
In 2015 I organised a Convention in Oxford and in 2021 I led a Zoom Uncon.
I have been to Uncons in Edinburgh, Swindon, Colchester, Leeds, Birmingham, Loughborough, Ipswich and Northampton, Boston, USA and Bordeaux, France.
I plan to be at the next Convention at Falkirk, Scotland in June 2023. Sadly, I didn't make it to Falkirk but hope to be at the next one.
Bookcrossing has been a brilliant part of my life after I found a BC book hanging on the gate of my allotment ( put there by Molyneux). Bookcrossers are the kindest, most generous group of people I have ever come across and guess what - they all love books and don't mind giving them to you after they've read them.
Long may it continue :):):)
Miss Markey
XX
For NSS I would love any flower or veg seeds. My favourite chocs are Lindor. Thank you.