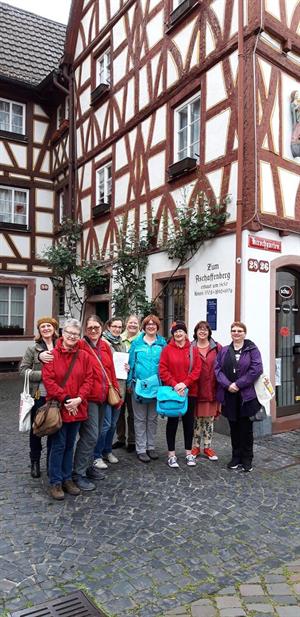 missmarkey
Age 64
Joined Wednesday, May 7, 2008
Recent Book Activity
| Statistics | 4 weeks | all time |
| --- | --- | --- |
| books registered | 0 | 3,892 |
| released in the wild | 0 | 3,939 |
| controlled releases | 0 | 117 |
| releases caught | 1 | 372 |
| controlled releases caught | 0 | 76 |
| books found | 0 | 1,561 |
| tell-a-friend referrals | 0 | 15 |
| new member referrals | 0 | 16 |
| forum posts | 11 | 7,415 |
Extended Profile
I am a Higher Level Teaching Assistant working in Reception (4-5 Year olds). My favourite subject to teach is of course reading. I also run the school library which I'm pleased to say is reopening in September after being closed for 18 months due to Covid. I wild release children's books on a bridge in my village and I am just about to start again after a Covid break.
In my spare time I like to get involved in community projects , potter aboutin my garden and on my allotment, knit and of course I love to read!
I share my home with a lovely cat called Jackson whom I adopted from Cat's Protection. He had been a stray and was pleased to have a home and I thought he would stray no more.... but I thought I had lost him recently when he got into a neighbour's car, took a ride to a town 7 miles away and lived rough for a month before I spotted him on Facebook and rushed over to bring him home.
Up until Oct 2008 I was a carer for my mum. When she passed away suddenly bookcrossers worldwide were very supportive.
Shortly after this I made the decision to attend my first convention and travelled to Christchurch, New Zealand in 2009 where I had the most amazing time and met some super people.
Since then I have become a convention junkie!
I have been to the annual Conventions in Christchurch, Amsterdam, Washington DC, Gothenburg, Dublin, Oxford UK (I helped to organise that one), Melbourne, Athens , Oslo, Bordeaux and Mainz. I was registered and had bought my plane ticket for The Gold Coast Australian Convention but COVID-19 put a stop to that.
I hope that when the world feels better I can go to future Conventions , probably not the Gold Coast but looking forward to Finland.
I have been to Uncons in Edinburgh, Swindon, Colchester, Leeds, Birmingham, Loughborough, Ipswich and Northampton, Boston, USA and Bordeaux, France. Newcastle has now been cancelled twice because of Covid but we hope that will be able to happen in the future.
On a mad whim after joining in with the Toronto bookcrossers online meetup I decided to have a go at organising a Virtual Convention via Zoom. I bought a license and away I went like a loose canon. The results can be seen on the Conventions and Meetings Forum!!! I am pleased to say that it was a success and lots of bookcrossers got together through the medium of Zoom to hear authors, share books and have some good ol' Chit Chat. Now that the UK Uncon has been cancelled I will do another Zoom Uncon in October. Further info will be posted on The Conventions Forum in due course.
Bookcrossing has changed my life! I look forward to the time when I can once again release books and travel to Conventions safely.
Info for the Birthday RABCK. - To support the wonderful Bookcrossing site may I request BC Labels or wings. Thank you :)
I would love to have a butterfly kindness coin but the postage from US is ridiculous. Edited to add that I got one!!!! Thank you to elis-fromSweden who was my NSS partner at The Virtual UnCon, saw my wish and granted it. The kindness and generosity of Bookcrossers is what really makes this community so special. Thank you :)
N.B. I don't like tea. That's all really :)