lmn60
Joined Monday, May 03, 2004
Recent Book Activity
| Statistics | 4 weeks | all time |
| --- | --- | --- |
| books registered | 0 | 2,215 |
| released in the wild | 0 | 2,448 |
| controlled releases | 0 | 220 |
| releases caught | 0 | 751 |
| controlled releases caught | 0 | 106 |
| books found | 0 | 625 |
| tell-a-friend referrals | 0 | 234 |
| new member referrals | 0 | 67 |
| forum posts | 0 | 986 |
Extended Profile
About me!


I am an ex-literature teacher, current school psychologist and an admitted bookaholic. I was immediately excited about the idea of Bookcrossing and am delighted that I'll be able to spread some books around - once I've finished reading them - and if I can bear to part with them!
About my books!
I've got pretty eclectic tastes - my bookshelf doesn't necessarily reflect the books I love most, rather than the ones I'm prepared to part with! I love books that challenge me, give new ideas, entertain and are, most of all, well written! Some of my favourite authors include: Isabelle Allende, Sheri Tepper, Louis de Berniere, Tim Winton, George R.R.Martin, Charles Dickens, Margaret Attwod... oh, I could go on and on!

As of January 2014, my 'catch rate' for the past year is approximately 10% of my wild releases - not too shabby I reckon! This doesn't include releases to Bookbags, Trades, Relays, Meetups or RABCKs
What kind of bookcrosser are you
Your Result: lucky lurker
Yes, you heard of Bookcrossing, and even have joined. maybe you even have looked at the site. But you haven't done anything with it till now. But you will, you say when asked. It's a nice project.
strange looking bystander
PARENTAL
ADVISORY
LMN60 CONTAINS
EXPLICIT LYRICS
From
Go-Quiz.com
2014 - Books read
The Rosie Project - Graeme Simson - 9
The Tough Guide to Fantasyland - Dianna Wynne Jones - 7
Spook - Mary Roach - 9
Somersault - Kenzaburo Oe - 4
My Life So Far - Jane Fonda - 7
Currently Reading....
The Light Between The Oceans - M.L. Stedman
...and currently dipping in and out of....
The Brain that Changes Itself - Norman Doidge
The rating system
This is the scale I use to rate books that I've recently read. It was 'stolen' then adapted from the really useful book rating system on scism's bookshelf.
10: Excellent, at the top of its category. This book has impacted me deeply, challenged me profoundly, or has simply been a pure delight to read.
9: Great book - just a nitpick stands between it and a 10
8: Good, solid book that I would recommend to others.
6-7: Good book.. not necessarily one that I'd re-read or recommend to others, though.
5: Decent, but not for me.
4: Only just OK. Maybe somebody else would like this. I didn't.
3: Barely worth reading. The line between taking it and leaving it is very thin.
2: Has major problems. I don't recommend it.
1: It's hard to imagine anyone liking this book.I didn't finish it!
My 2014 bookrings/bookrays/bookbags*
*PLEASE NOTE I AM TRYING TO LIMIT THESE AT THE MOMENT UNTIL MT TBR GETS UNDER CONTROL. PLEASE DON'T TEMPT ME BY PMing ME TO OFFER ME ANOTHER ONE! I HAVE NO WILL POWER AS IT IS!
My 2014 Challenge....Again!
Having failed miserably in this challenge for the past three years - I'm lining up again with fingers crossed that I can do it! I'm taking part in the
"Reduce my TBR mountain 2014"
personal challenge started by sheepette. I'm starting the challenge on January 1st and am planing to read 30 of the books I've received from other bookcrossers, and I promise that I won't bring another book into the house until I eliminate 3 from the pile. (Unless I REALLY like the book that is... or it's a bargain... or it's a major recommendation or.... Oh, God.. I'm hopeless!)
My list of books is:
A Book to Love - Numerous
A Dirty Job - Christopher Moore
A Rotten Person Travels the Caribbean - Gary Buslik
A Spot of Bother - Mark Haddon
A Thinking Reed - Barry Jones
A Week In December - Sebastian Faults
Across the Nightingale Floor - Liam Hearn
Amazing Disgrace - James Hamilton-Paterson
Amy and Isabelle - Elizabeth Strout
Anansi Boys - Neil Gaiman
Auralia's Colours - Jeffrey Overstreet
Authentic Happiness - Martin Seligman
Black Swan Green - David Mitchell
Blindness - Jose Saramango
Bud: A Life - Bud Tingwell
Chasing the Dime - Michael Connelly
Death and the Dervish - Mesa Selimovic
East of Nowhere - Robert Chalmers
Excursion to Tindari - Andrea Camilleri
Fire In the Blood - Irene Nemirovsky
Fish Who Answer the Telephone - Russell Ash
Gathering Blue - Lois Lowry
Gentlemen of the Road - Michael Chabon
Giant's House - Elizabeth McCracken
Glass Soup - Jonathan Carroll
Gotz and Meyer - David Albahari
Half the Sky - Nicholas Kristof
Hateship, Friendship, Courtship, Love, Marriage - Alice Munro
Head to Toe - Joe Orton
I am woman hear me draw - Judy Horacek
Kiffe Kiffe Tomorrow - Faiza Guene
Live from Golgotha - Gore Vidal
Lucky - Alice Sebold
Max and the Cats - Moacyr Scliar
Me Cheeta - Cheeta
Messenger - Lois Lowry
Mis'ka - M.A. Miller
My Judy Garland Life - Susie Boyt
My Life So Far - Jane Fonda
Nocturnes - Kazuo Ishiguro
Ophelia Joined the Group Maidens Who Don't Float - Sarah Schmelling
Our House in the Last World - Oscar Hijuelos
Payback - Margaret Attwood
Radio Shangri-La - Lisa Napol
Really Unusual Bad Boys - Mary Janice Davidson
Room - Emma Donoghue
Self- Yann Martel
Silent Footsteps - Sally Henderson
Skippy Dies - Paul Murray
Solar - Ian McEwan
Somersault - Kenzabo Oe
Spook - Mary Roach
Super-Cannes - J.G. Ballard
Supergirl - Jeph Loeb
Survivor - Chuck Palahniuk
The Almost Moon - Alice Sebold
The Book of Lost Things - John Connolly
The Boy in Striped Pyjamas - John Boyne
The Brief History of the Dead - Kevin Brockmeier
The Butterfly Tattoo - Philip Pullman
The Confessions of Max Tivoli - Andrew Sean Greer
The Giant's House - Elizabeth McCracken
The Gifted Gabaldon Sisters - Lorraine Lopez
The God of Animals - Aryn Kyle
The Greatest White Trash Love Story Ever Told - Rhett Ellis
The Helmet of Horror - Viktor Pelevin
The Ice Queen - Alice Hoffman
The Incredibly Strange Film Book - Jonathan Ross
The Life and Times of the Thunderbolt Kid - Bill Bryson
The Last Samurai - Helen DeWitt
The Magicians - Lev Grossman
The Monkey's Uncle - Jenny Diski
The Museum of Hoaxes - Alex Boese
The Old Patagonian Express - Paul Theroux
The Plot Against America - Phillip Roth
The Sea - John Banville
The Sixth Lamentation - William Brodrick
The Snack Thief - Andrea Camilleri
The Spare Room - Helen Garner
The Stolen Child - Keith Donohue
The Tough Guide to Fantasyland - Diana Wynne Jones
The Uncommon Reader - Alan Bennet
The Woman Who Walked Into Doors - Roddy Doyle
The Year of the Flood - Margaret Atwood
Then We Came To The End - Joshua Ferris
Weight - Jeanette Winterson
When Books Die - Finlay Lloyd
weatherpixie.com/"
target="_blank">
weatherpixie.com/displayimg.php?... width=124 height=175 border=0 alt="The WeatherPixie">
Miscellaneous silly information about me...of course, as a really truly psychologist I can't recommend these as reliable or valid personality inventories.. but they're lots of fun and strangely accurate........
One of my favourite books of all time... and I'm it!!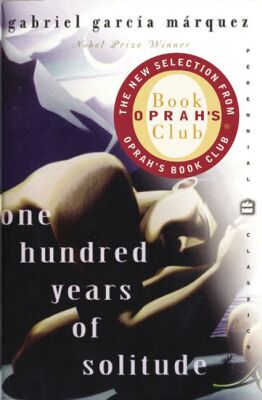 You're One Hundred Years of Solitude!

by Gabriel Garcia Marquez

Lonely and struggling, you've been around for a very long time.
Conflict has filled most of your life and torn apart nearly everyone you know. Yet there
is something majestic and even epic about your presence in the world. You love life all
the more for having seen its decimation. After all, it takes a village.


Take the Book Quiz
at the Blue Pyramid.
Hmmmm... Now here's an interesting insight....
images.quizilla.com/---/1068264699_illaparker.gif" border="0" alt="Dorothy Parker">
Dorothy Parker writes you, you wonderfully urbane,
witty boozehound, you.
Which Author's Fiction are You?
brought to you by
Quizilla
And it appears that Edward Gorey agrees!
www.quizilla.com/---/blue_drk_corner1.gif" style="float: left" height="4" hspace="0" />
www.quizilla.com/---/blue_drk_corner2.gif" style="float: right" height="4" hspace="0" />

What horrible Edward Gorey Death will you die?


You will drink too much gin. Not the worst way to die, but you won't remember too much of your life. Hey, at least you made some people laugh!
Take this quiz!



www.quizilla.com/redirect.php?... target="quizilla">

www.quizilla.com/---/30qzlogo.gif" style="padding:2px;" />



Quizilla |
Join

| Make A Quiz | More Quizzes | Grab Code

However....
You Are 40% Weird
images.blogthings.com/---/weird-3.jpg" height="100" width="100">



Normal enough to know that you're weird...

But too damn weird to do anything about it!

Your Birthdate: April 5
images.blogthings.com/---/birthday.jpg" height="100" width="100">



You have many talents, and you are great at sharing those talents with others.

Most people would be jealous of your clever intellect, but you're just too likeable to elicit jealousy.

Progressive and original, you're usually thinking up cutting edge ideas.

Quick witted and fast thinking, you have difficulty finding new challenges.



Your strength: Your superhuman brainpower



Your weakness: Your susceptibility to boredom



Your power color: Tangerine



Your power symbol: Ace



Your power month: May

And if you're wondering what to get me.... books are ALWAYS welcome!
As an avid traveller I thought I'd include a map of the places I've been in the world.... don't like the look of those white patches though... time to start saving up and booking flights again!
visited 44 states (19.5%)
Create your own visited map of The World
And here's some of the places in the world where my books have wound up - either through trades, RABCKs, or most exciting of all... all on their own as wild releases! Looks like my books are getting to places I've never been!
visited 27 states (12%)
Create your own visited map of The World