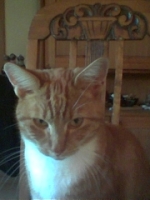 lilars
Age 48
Joined Sunday, January 29, 2006
Recent Book Activity
| Statistics | 4 weeks | all time |
| --- | --- | --- |
| books registered | 0 | 33 |
| released in the wild | 0 | 12 |
| controlled releases | 0 | 1 |
| releases caught | 0 | 9 |
| controlled releases caught | 0 | 0 |
| books found | 0 | 44 |
| tell-a-friend referrals | 0 | 34 |
| new member referrals | 0 | 0 |
| forum posts | 0 | 355 |
Extended Profile
Wenn ihr mich nicht per PM erreicht bitte eine E-Mail an lilars@loeschmichunddenpunkt.bigfoot.de, danke.
Mein erster Buchring
Die-Prophezeiungen-von-Celestine
erweitert mit dem 2ten Band:
Die-zehnte-Prophezeiung-von-Celestine
Ich war mit meiner Frau "Baltruma" schon auf einigen Treffen in Leer, Aurich und zwei in Oldenburg (um Weihnachten 05, April 06). Meine Interessen sind vor allem Computer, Schach, ebenso Krimis und nette Bücher wie beispielsweise Harry Potter, Tintenherz, aber ich muss zugeben ich bin eigentlich kein "großer" Leser, sondern ich suche und liebe Hörbücher, ab und zu lese ich mal Kurzkrimis in Büchern, sonst viel im Internet oder Zeitschriften.
Have been at some meetups, with my wife Baltruma. My interests are computer, chess, but also thriller and nice books like Harry Potter, but i am not a reader :-) I love to hear audiobooks.