kalise
Joined Tuesday, January 08, 2008
Recent Book Activity
| Statistics | 4 weeks | all time |
| --- | --- | --- |
| books registered | 0 | 81 |
| released in the wild | 0 | 42 |
| controlled releases | 0 | 93 |
| releases caught | 0 | 20 |
| controlled releases caught | 0 | 73 |
| books found | 0 | 68 |
| tell-a-friend referrals | 0 | 44 |
| new member referrals | 0 | 1 |
| forum posts | 0 | 106 |
Extended Profile
I am a book lover, writer, and mother of three children: a girl, a boy and a newborn (boy). We also own a cat and a dog. It's a lively, but cheerful household!

My bookshelf doesn't reflect my reading taste, which is wide and eclectic. I cannot pinpoint a single writer as the one and only favorite writer, as I have many! I definitely enjoy reading an occasional light romance novel for entertainment, and you will notice that most books on my shelf are chicklit and historical romance novels, which I like to trade in. But my heart really belongs to the Classics, especially Romantic and Victorian Literature; Postcolonial, Asian and South American Lit. I don't have any of these books listed here because they are so many, and they belong to my permanent collection. I don't often read Fantasy but the ones I read I truly enjoy (Juliet Marrillier and Marion Zimmer Bradley). I don't ever touch Science Fiction. Love reading non-fiction history books of all ages and eras. Maybe an occasional paranormal, when I am in the mood, because vampires are amusing! Memoirs of truly inspiring people. Books that explore the more spiritual side of life. Books on the craft of writing, which is another one of my passions. Cookbooks. Never crime and thrillers, which just bore me. My ultimate passion: Children's Literature! I am a Harry Potter fan, but no one can exceed the one and only Astrid Lindgren…
**
I don't mind trading in my available books, just PM me anytime.
Even more available books are found in my
Bookmooch Inventory
! These are available for mooching or trading.
**
I received RABCKs from: Kako27 (Secret Santa 2008), snufkin81, shnedwards, lauraloo29, lukutuoli, marijketje
Ray-it-Forward RABCK's from: ApoloniaX, lukutuoli, Totje2
A very special and generous Child RABCK from footymadgill made the day of our kids!
THANK YOU ALL for your generosity!!!!
**
Participating in
Int'l Secret Santa
2nd Chick Lit/Romance Novel First Sentence VBB
Bookrings I am waiting for:
Mistress of Rome
,Kate Quinn
Reading Lolita in Tehran
, Azar Nafisi
To say nothing of the Dog
, Connie Willis
The Scapegoat
, Daphne DuMaurier
Bookrings, rays and exchanges I have finished and sent on:
Eleven Minutes
,Paulo Coelho
The Island beneath the sea
, Isabel Allende
Lolita
, Vladimir Nabokov
Historical Fiction Exchange
A Thousand Splendid Suns
, Khaled Hosseini
Cranford
, Elizabeth Gaskell
Surprise BookXerpts
, Chicklit/Romance
International Secret Santa
The Seven Sisters Series by Christine Feehan - Spiral:
Magic in the Wind
Twilight Before Christmas
Oceans of Fire
Dangerous Tides
Safe Harbor
Turbulent Sea
Hidden Currents
Lord Perfect
, Loretta Chase
Mr. Impossible
,Loretta Chase
Fried Green Tomatoes
,Fannie Flagg
The Thirteenth Tale
, Diane Setterfield
Black Thorn, White Rose
,Ellen Datlow & Terri Windling
Tales of Beedle the Bard
,J K Rowling
Can't wait to get to heaven
, Fannie Flagg
The Constant Princess
, Philippa Gregory
Sugar Daddy
,Lisa Kleypas
The Painted Veil
,Somerset Maugham
What happens in London
,Julia Quinn
Sex with Kings:500 Years of Adultery, Power, Rivalry and Revenge
, Eleanor Herman
Life of Pi
,Yann Martel
The International Chick Lit Sweepstake
The Witch of Portobello
,Paulo Coelho
Committed
,Elizabeth Gilbert
Snow Flower and the Secret Fan
,Lisa See
The Enchantress of Florence
, Salman Rushdie
The Death of Vishnu
, Manil Suri
The Library of Shadows
The hidden world of Islamic Women
,Geraldine Brooks - - STALLED, then replaced
here
The White Queen
, Philippa Gregory
Secret Daughter
, Shilpi Somaya Gowda
Runemarks
,Joanne Harris
Chicklit/Romance/Historical Romance Bookbox
(Lost)
BOOKRINGS I HOST:
Of Duchesses, Princesses & Other Ladies of Quality: The Historical Romance Bookbox
CLOSED! BOX ARRIVED HOME SAFELY!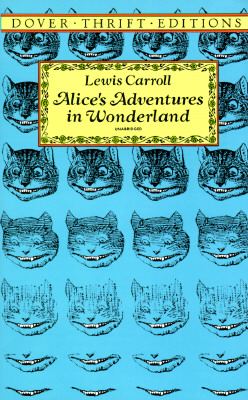 You're Alice's Adventures in Wonderland!

by Lewis Carroll

After stumbling down the wrong turn in life, you've had your mind
opened to a number of strange and curious things. As life grows curiouser and curiouser,
you have to ask yourself what's real and what's the picture of illusion. Little is coming
to your aid in discerning fantasy from fact, but the line between them is so blurry that
it's starting not to matter. Be careful around rabbit holes and those who smile to much,
and just avoid hat shops altogether.


Take the Book Quiz
at the Blue Pyramid.