jennannej
Age 43
Joined Sunday, February 29, 2004
Recent Book Activity
| Statistics | 4 weeks | all time |
| --- | --- | --- |
| books registered | 13 | 2,186 |
| released in the wild | 20 | 1,938 |
| controlled releases | 1 | 192 |
| releases caught | 2 | 126 |
| controlled releases caught | 0 | 20 |
| books found | 0 | 270 |
| tell-a-friend referrals | 0 | 256 |
| new member referrals | 0 | 19 |
| forum posts | 3 | 1,876 |
Extended Profile
Y'all! I'm super excited, because as of March 2017, I am the steward of brand spanking new Little Free Library! I've wanted one for years and am super excited to have one. I find myself releasing most frequently in LFLs, both my own and others, and doing a bit less wild releasing.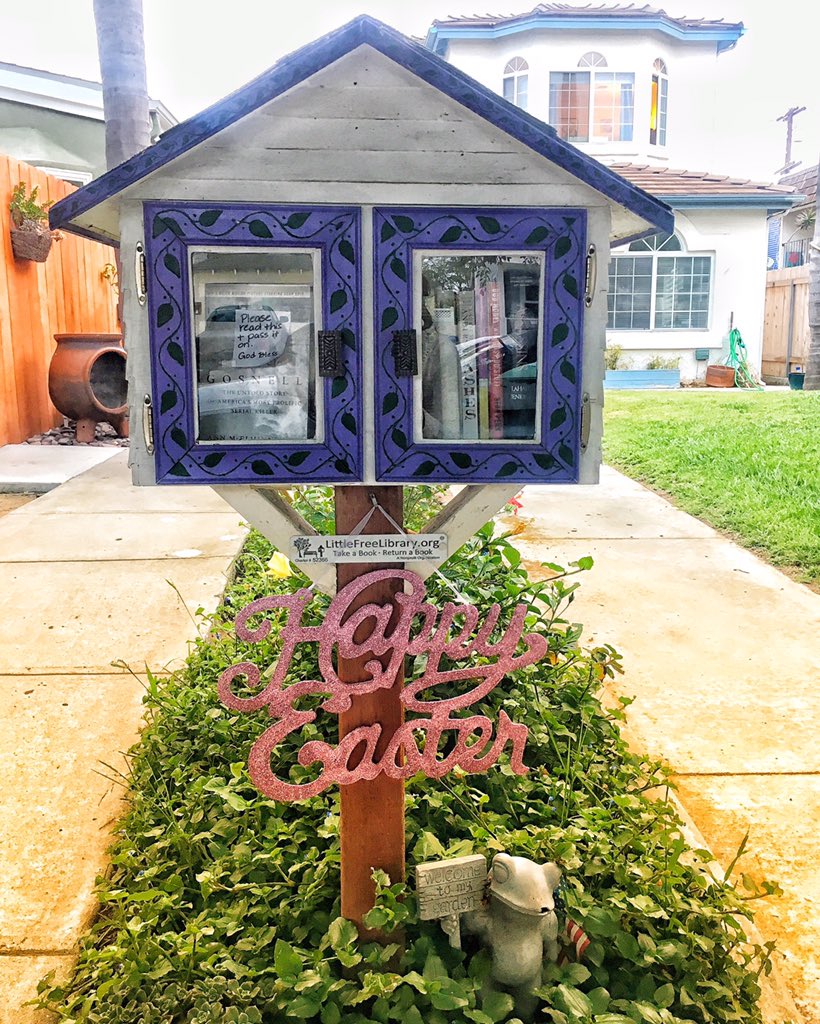 ********************************************************************************
I tweet as
@photogjenn.
I love to travel, but I try to pack light. Books are great to have along on a long trip abroad, but a little heavy to tote around, so I give my books away as a I go, leaving them at hostels or giving them to friends. I did this long before I joined bookcrossing!
Since joining bookcrossing, I'm always hoping for a great catch. I love the randomness of wild releasing. As soon as a book has been read, I leave it somewhere or pass it on to a friend.
"I read old novels. The reason is simple: I prefer proper endings. Marriages and deaths, noble sacrifices and miraculous restorations, tragic separations and unhoped-for reunions, great falls and dreams fulfilled; these, in my view, constitute and ending worth the wait. They should come after adventures, perils, dangers and dilemmas, and wind everything up nice and neatly. Endings like this are to be found more commonly in old novels than new ones, so I read old novels." --The Thirteenth Tale, Diane Setterfield
Catches:
Zen and the Art of Motorcycle Maintenance
Winter in Madrid
Web of Dreams
Unbroken
Tsotsi
True Grit
To Live Again
Time And Again
Thistles and Violets
They Called Her Mrs Doc
The Romance of Tristan
The Road
The Red Tent
The Power Of One
The Persian Pickle Club
The Other Boleyn Girl
The No. 1 Ladies Detective Agency
The Miracle Worker
The Memory Keeper's Daughter
The Measure of the Years
The Love Goddess' Cooking School
The Little House in the Highlands
The Light in the Forest
The House of Mirth
The Hound of the Baskervilles
The Headmaster's Papers
The Guardian
The Grave Maurice
The Golden Ball
The Girl with the Dragon Tattoo
The Girl With the Botticelli Eyes
The Gift
The Gang That Couldn't Shoot Straight
The Fringe of Heaven
The Fifth Child
The Fall of an Eagle
The Enchanted April
The Doorbell Rang
The Death of Vishnu
The Dean's Watch
The Days of Perky Pat
The Country Cousin
The Calling of Emily Evans
The Bandit of Hell's Bend
The Air We Breathe
Sweet Revenge
Sons and Lovers
Snow Flower and the Secret Fan
Slow Waltz in Cedar Bend
Sisterhood of the Traveling Pants
Silas Marner
Siddhartha
She's Come Undone
Shattered Silk
Seven Ancient Wonders
Secrets of the Tsil Cafe: A Novel With Recipes
Searching for Caleb
Scarlet Feather
Lame city?
Sapphira and the Slave Girl
Sammy the Seal
Rules of Engagement
Rocky Mountain Moving Picture Association
Rhine Journey
Return to Harmony
Remarkable Creatures
Rejection Syndrome
Reading "Lolita" in Tehran
Prospero's Children
POSSESSION
Picture of Dorian Gray
Peyton Place
Pagan Holiday: On the Trail of Ancient Roman Tourists
Our Kind: A Novel in Stories
Open House
One Hundred Years of Solitude
One City
Once A Warrior
Old School
Native Son
Nathaniel's Nutmeg: Or the True and Incredible Adventures of the Spice Trader Who Changed the Course of History
Nantucket in Color
My Traitor's Heart
Murder on the Rocks
Murder in the Queen's Armes
Morality for Beautiful Girls
Monster
Mommie Dearest : Joan Crawford
Miracles: A Preliminary Study
Mansfield Park
Man Who Lost the War
Madame Tussaud: A Novel of the French Revolution
Love, Rosie
Love Comes Softly
Lost and Found
Little House on the Freeway
Life, the Universe and Everything
Legacies: A Chinese Mosaic
Land of Beginning Again
King Solomon's Carpet
Kate Remembered
Jinxed
Ingrid Bergman (Pyramid Illustrated History of the Movies)
The Hiding Place
Hey, Whipple, Squeeze This: A Guide to Creating Great Ads, Second Edition
Heaven
Heartsongs
Heartburn
Heart of Darkness
Hanover Place
Guinness Book of World Records: 1973
Green Hills of Africa
Great Plains
Goodnight, Nebraska
Good Omens
God's Smuggler
God Is An Englishman
Glenda's Story
Girl in Times Square
Girl in the Mirror
Gifts of the Wild: A Woman's Book of Adventure