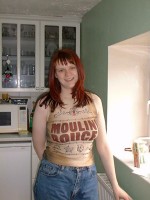 heathwitch
Age 39
Joined Friday, January 30, 2004
Recent Book Activity
| Statistics | 4 weeks | all time |
| --- | --- | --- |
| books registered | 0 | 225 |
| released in the wild | 0 | 13 |
| controlled releases | 0 | 0 |
| releases caught | 0 | 2 |
| controlled releases caught | 0 | 0 |
| books found | 0 | 41 |
| tell-a-friend referrals | 0 | 385 |
| new member referrals | 0 | 17 |
| forum posts | 0 | 18 |
Extended Profile
I've always read -- always, always. It doesn't matter what it is, I'll read it. I've read the Yellow Pages. I've read the Complete Oxford English Dictionary (twice). I read shampoo bottles, cereal packets, junk mail -- you name it, I'll read it. I've read a bunch of other stuff -- novels, plays, poetry, nonfiction -- as well, and you can see which books I own on my Bookshelf. My favourite genre is fantasy (particularly dragons!), and my favourite subjects are Witchcraft and the Occult, Marine Biology, English studies, Web design, and cat breeding/showing.
In case you're wondering, I'm a
www.heathwitch.com"
target="_blank">Witch living in England who happens to own an Internet company. I am owned by three cats -- one moggie, one Somali and one Norwegian Forest cat kitten -- and I have an MA in Creative Writing.
Available Books
There's a number of Available books on my Bookshelf. Unless otherwise stated, they're available to anyone and I don't mind what happens to them once you've read them -- keep them, pass them on, wild release them, I don't mind. Some are "available on loan only", meaning I want them back at some point, but these are clearly marked in the journal entries.
Trades and RABCKs
I'm open to both giving and receiving RABCKs, and of course trades are always possible -- just ask :)
Shipping Preferences
I will happily ship anywhere in the world, just ask.
BookRings and BookRays (etc) I'm Running
- PM me if you want to join!
www.bookcrossing.com/---/book_-Thorsons-Way-of-Wicca-Vivianne-Crowley"
target="_blank">Thorsons Way of Wicca by Vivianne Crowley
www.bookcrossing.com/---/3553988"
target="_blank">The Lost Souls' Union by Suzanne Power
My Wish List: