grovalskii
Age 52
Joined Tuesday, July 21, 2009
Recent Book Activity
| Statistics | 4 weeks | all time |
| --- | --- | --- |
| books registered | 1 | 195 |
| released in the wild | 1 | 54 |
| controlled releases | 0 | 331 |
| releases caught | 0 | 27 |
| controlled releases caught | 0 | 303 |
| books found | 2 | 309 |
| tell-a-friend referrals | 0 | 0 |
| new member referrals | 0 | 5 |
| forum posts | 1 | 791 |
Extended Profile
Bio
Growing up, I spent most of the school vacations at my grandmother's bookstore. I ended up doing an apprenticeship in that bookstore to become a bookseller. Now I work in IT, but I never lost my love for books. I am fluent in both English and German. At the moment, I prefer reading books in English, but I also read in German, of course. I read a lot of historical fiction, especially medieval English and Welsh history. Also some mystery. And I love reading novels that are placed in other cultures. But there is so much more out there to read, and I'm open for almost anything. It's great to sometimes read a book that I would never have bought for myself but someone gave to me.
HGG/SGG/all sorts of buddies
For my christmas buddys (and other gift exchanges): If you are looking for something else but books to give to me, I love tea, I like to knit and crochet (though I don't have much time for it), I like "typical items" from other countries, And I play the piano. I am always happy about piano sheet music for 4 hands (my kids both have been playing for many years, too). My husband and I like doing puzzles together, like crossword, word searches, Sudoku, etc. Really, I'm not too picky. :-)
My Birthday Buddy is Releanna! My kids (aka
denglish
and
dperickson02
) are also part of bookcrossing.
I am a member of the 1001 library, but the library does not seem to work very well. I never got a request for my 1001 books.
Rings/Rays I previously hosted:
A Year in the Merde (Stephen Clarke)
The Tenth Circle (Jodi Picoult)
Plain Truth (Jodi Picoult)
All the Pretty Horses (Cormac McCarthy)
Island Beneath the Sea (Isabel Allende)
Sushi for Beginners (Marian Keyes)
(it looks like this book got lost. I got a new copy and am sending it out again)
The Giver (Lois Lowry)
-> my contribution to the Favourite Book Roundabout 2011
Shanghai Girls (Lisa See)
Brooklyn (Colm Toibin)
Day of the Triffids
-> Favourite Book Roundabout 2013
Island Beneath the Sea (Isabel Allende)
The Forgotten Garden (Kate Morton)
Ignorance (Milan Kundera)
-> my contribution to the Favourite Book Roundabout 2014
Norwegian Wood (Haruki Murakami)
The Boy in the Striped Pyjamas (John Boyne)
By the way, I also trade books through BookMooch. If interested,
here
is my bookmooch inventory.
Visitor Counter: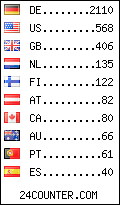 flag counter