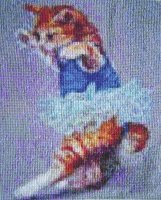 futurecat
Joined Saturday, February 8, 2003
Recent Book Activity
| Statistics | 4 weeks | all time |
| --- | --- | --- |
| books registered | 0 | 5,514 |
| released in the wild | 0 | 5,472 |
| controlled releases | 0 | 726 |
| releases caught | 0 | 989 |
| controlled releases caught | 1 | 566 |
| books found | 0 | 1,595 |
| tell-a-friend referrals | 0 | 502 |
| new member referrals | 0 | 134 |
| forum posts | 0 | 2,954 |
Extended Profile
Christchurch Meetups

A small but active group of Christchurch Bookcrossers meet once a month for lunch and to exchange books. If you'd like to join us, check out the Conventions and Meetings Forum for details.
We're also always willing to set up an impromptu meetup for visiting Bookcrossers.
What I've been reading lately
My profile picture is a cross-stitch I created, based on "
Cat Dancing
" by Robin Wood (original image
© Robin Wood
and used with permission).