freddymace
Age 49
Joined Monday, January 30, 2006
Recent Book Activity
| Statistics | 4 weeks | all time |
| --- | --- | --- |
| books registered | 0 | 93 |
| released in the wild | 0 | 17 |
| controlled releases | 0 | 0 |
| releases caught | 0 | 1 |
| controlled releases caught | 0 | 0 |
| books found | 0 | 1 |
| tell-a-friend referrals | 0 | 33 |
| new member referrals | 0 | 2 |
| forum posts | 0 | 6 |
Extended Profile
I recently moved, so if I had set up a trade with you, please be patient. I did pack the majority of my books to take to the new house with me versus putting them in storage, but finding them and my mailing envelopes is the holdup. I WILL get them out to you as soon as I get unpacked and orgazined.
The picture in my profile is by an artist named Nancy Noel. She does a line of Amish children and a line of Angels that are both fantastic. This particular picture is one of my favorites. It shows two sisters sharing a book. It reminds me of me and my older sister as we are both avid readers. To me family and reading are two very important things in life.
A little about me. I'm a single mom of a very busy 7 year old. I don't have a lot of free time but when I do you can usually find me with a book in my hand. I've always been a reader. Seems to run in my family. My grandfather read constantly - usually two or three books at a time. As I got older, we found we both liked the same kind of books - mysteries, war stories, westerns - so we used to talk books all the time. My mom was always reading when I was a kid and I guess between the two of them I developed my love of it. I'll read anything - from truckin magazines to cereal boxes. The worst thing in the world is to be stuck somewhere with nothing to read. I rarely go anywhere without a book in my purse. I also find that I have trouble going to bed at night if I haven't finished a book i've started. Therefore, i'm often sleep deprived.
I rarely buy new books since I read them so fast. So, almost all of my books are used - with some being in really good shape and others showing a good deal of use. If you see anything you want, please send me a message - I'm more than willing to share most of my books with anyone who will appericate them. I try not to register books I want to keep or haven't read, so if you see something on my bookshelf you want, it means I've probably already read it and it's can be yours for the asking. If I send you a book, I don't want it back - it's yours to do with as you wish when you finish with it.
images.quizilla.com/---/1077668974_nalitylion.jpg" border="0" alt="lion">
"Let's get going now!"
Roaaar, you're a lion. Yay. You can tend to be a
little bossy sometimes, but thats okay...you're
a great leader that is driven by what you
believe in, is not afraid of a challenge, and
won't give up without a fight. In a
relationship, you should avoid a Golden
Retriever. The Retriever's passive personality
would get on your nerves. Instead, look for a
practical Beaver or an energetic Otter.
so...what ARE you?
brought to you by
Quizilla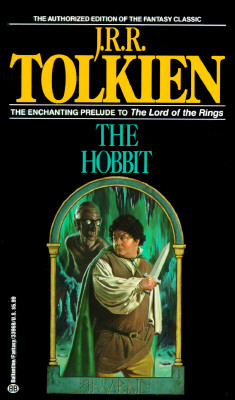 You're The Hobbit!

by J.R.R. Tolkien

All you wanted was a nice cup of tea when some haggard crazy old man
came into your life and told you it was time to do something with yourself. Now you're
all conflicted about whether to stick with your stay-at-home lifestyle or follow this
crazy person into the wild. While you're very short and a little furry, you seem to be
surrounded by an even greater quantity of short folks lately. Try not to lose your ring,
but keep its value in perspective!


Take the Book Quiz
at the Blue Pyramid.