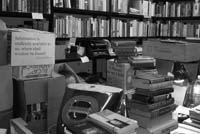 dapilade
Joined Friday, December 13, 2002
Recent Book Activity
| Statistics | 4 weeks | all time |
| --- | --- | --- |
| books registered | 0 | 47 |
| released in the wild | 0 | 46 |
| controlled releases | 0 | 0 |
| releases caught | 0 | 6 |
| controlled releases caught | 0 | 0 |
| books found | 0 | 3 |
| tell-a-friend referrals | 0 | 224 |
| new member referrals | 0 | 1 |
| forum posts | 0 | 0 |
Extended Profile
Da Pilade used to be a tiny bookshop in Firenze, Italy, specialised in world literature, mostly in English, German, and Italian.
In the meantime I've moved to Vienna, Austria, and the bookshop has become an online-business only, which you can visit
here
.
Una volta, Da Pilade era una piccola libreria nel centro di Firenze. Nel fratempo mi sono trasferita inAustria, a Vienna per la precisione. Venducchio sempre qualche libro -
qui!
- e ho ricomminciato anche a lasciarli liberi!
My Wish List