crimson-tide
Joined Friday, September 12, 2003
Recent Book Activity
| Statistics | 4 weeks | all time |
| --- | --- | --- |
| books registered | 3 | 3,424 |
| released in the wild | 5 | 1,945 |
| controlled releases | 7 | 970 |
| releases caught | 0 | 295 |
| controlled releases caught | 7 | 773 |
| books found | 13 | 1,156 |
| tell-a-friend referrals | 0 | 55 |
| new member referrals | 0 | 71 |
| forum posts | 19 | 2,218 |
Extended Profile
Thanks for taking the time to visit my bookshelf.

"The truly cultured are capable of owning thousands of unread books
without losing their composure or their desire for more."
~ ~ Gabriel Zaid



------------------------------------------------------------------------------



I read a wide variety of books; even so, not all the books here on my shelf reflect my taste in reading. I often buy cheap books at garage sales etc with the specific aim of releasing them into the wild, and I'm also often given books by others to register for release.

For other books in my personal collection that are not yet registered on BookCrossing see my library catalogue on LibraryThing




"To read is to live more and to live better."
~ ~ Carlos Ruiz Zafon





------------------------------------------------------------------------------




My BookCrossing Wish List

This is not meant to be a 'gimme' list, but a collection of books I think look
interesting and would be happy to read one day if they happened along.
And it is a deliberately long list - to help you folks out there who play along
on the tag games, exchanges, sweeps and all those other fun things
. . . where a decent sized wishlist makes life so much easier.
My address buddy is jeniwren.
So please contact me if you'd like her address for a surprise RABCK
- and she would be happy to give you my address if you wish to surprise me . . . ;-)
------------------------------------------------------------------------------
Accurate Release Statistics
: as at 19th January 2021.
1964 wild releases - all wild releases are true wild releases.
1126 early controlled releases made by journal entry only (when that was the only option).
970 later controlled releases through the system.
So my total release number is now 4060.
NB . . . sometimes my wild releases have been caught before I can do an 'official' release note - that's why 'my' wild release number is higher than the BC one on my profile.
Catch Rate:
332 catches from 1964 wild releases ------->
16.9%
Countries my books have travelled to after leaving me:

I'm a member of the Kiva BookCrossing Team

Please join us!
LIBRARYTHING BINGO DOG FOR 2021
1. Commonwealth by Ann Patchett
2.
3.
4.
5.
6.
7.
8.
9.
10.
11.
12. Red, White & Royal Blue by Casey McQuiston
13. Packing for Mars (January GenreCat)
14.
15. Truckers by Terry Pratchett
16.
17. Notes on a Scandal by Zoe Heller
18. Monsignor Quixote by Graham Greene
19.
20.
21. This Census-Taker by China Mieville
22.
23.
24.
25.
LIBRARYTHING BINGO DOG FOR 2020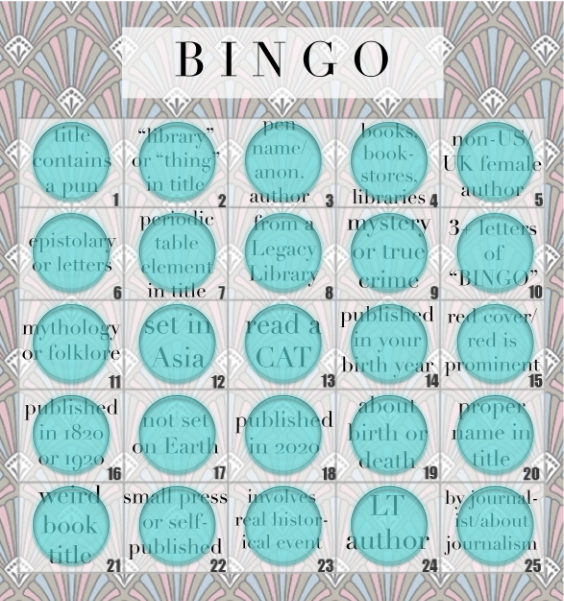 1. The Well of Lost Plots by Jasper Fforde
2. The Swimming-Pool Library by Alan Hollinghurst
3. Silas Marner by George Eliot
4. The Bookman's Wake by John Dunning
5. The Harp in the South by Ruth Park (Australia)
6. Ella Minnow Pea by Mark Dunn
7. The Silver Donkey by Sonya Hartnett
8. The End of the Affair by Graham Greene
9. Raven Black by Ann Cleeves
10. Things We Didn't See Coming by Steven Amsterdam
11. Norse Mythology by Neil Gaiman
12. An Artist of the Floating World by Kazuo Ishiguro
13. The Thousand Autumns of Jacob de Zoet by David Mitchell
14. Lucky Jim by Kingsley Amis
15. V Is for Vengeance by Sue Grafton
16. The Mysterious Affair at Styles by Agatha Christie (1920)
17. The Martian by Andy Weir
18. Blues of Autumn by Richard Adamson
19. Lincoln in the Bardo by George Saunders
20. Mara and Dann by Doris Lessing
21. A Visit from the Goon Squad by Jennifer Egan
22. A Small Sacrifice by Ellen Hart
23. Wild Swans by Jung Chang
24. Night Work by Laurie R. King
25. On Doubt by Leigh Sales