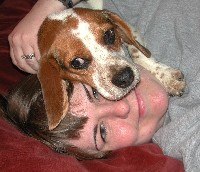 catharsisqueen
Age 49
Joined Tuesday, October 21, 2003
Recent Book Activity
| Statistics | 4 weeks | all time |
| --- | --- | --- |
| books registered | 0 | 50 |
| released in the wild | 0 | 2 |
| controlled releases | 0 | 0 |
| releases caught | 0 | 0 |
| controlled releases caught | 0 | 0 |
| books found | 0 | 2 |
| tell-a-friend referrals | 0 | 23 |
| new member referrals | 0 | 1 |
| forum posts | 0 | 8 |
Extended Profile
Hi there, all you BookCrossers!
I am a massage therapist and graphic designer living in Arkansas. I have a lovely husband, a brilliant 11-year old stepdaughter, two wonderful dogs and two fun cats.

I am happy to trade - or RABCK for a friend, but in the U.S. only, please.

I love anything about massage (except sexually-focused) or alternative medicene, interesting cookbooks, nonfiction, modern art, "Oprah-approved" and graphic design. Also go for new agey stuff, personal growth (cutting edge), lefty politics, cultural exploration/learning.

Wish List-
Aromatherpy books
Reflexology books
Shiatsu or Reiki books
Any cookbooks by James Peterson

Lovely day to you...