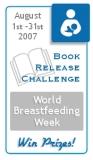 anozira86
Age 54
Joined Sunday, July 23, 2006
Recent Book Activity
| Statistics | 4 weeks | all time |
| --- | --- | --- |
| books registered | 0 | 96 |
| released in the wild | 0 | 57 |
| controlled releases | 0 | 0 |
| releases caught | 0 | 4 |
| controlled releases caught | 0 | 0 |
| books found | 0 | 5 |
| tell-a-friend referrals | 0 | 177 |
| new member referrals | 0 | 23 |
| forum posts | 0 | 65 |
Extended Profile
I'm participating in the World Breastfeeding Week Release Challenge August 1-31, 2007
The 2nd Annual World Breastfeeding Week Book Release Challenge is
upon us and will be held from August 1-31, 2007. Last year more than
150 books were "released into the wild" from all over the world;
including the USA, Holland, Portugal and more. This year our goal is
to more than double that number.
Participate and you might win one of these great books:
THE NO CRY SLEEP SOLUTION by Elizabeth Pantley
THE NO CRY SLEEP SOLUTION FOR TODDLERS AND PRESCHOOLERS by Elizabeth Pantley
GENTLE BABY CARE by Elizabeth Pantley
MAMA KNOWS BREAST by Andi Silverman
NEAR MAMA'S HEART by Colleen Newman
A GIFT FOR BABY by Jan Hunt
and lots more . . .
If you want to participate in the WBW Book Release Challenge and you are new to Bookcrossing, here is what you do....
1.
Join bookcrossing
, it is FREE, spam-free, and completely PRIVATE! Visit
www.bookcrossing.com/join
, complete the brief form, and start registering and releasing books right away!
2.
Register
the books you want to release for the challenge. Your book will get a unique tracking number.
3.
Tag
that book! You can download free labels at
www.bookcrossing.com/labels
4.
Release
that book! Leave it for a stranger to find, or give it to a friend, then watch where it goes forever.
5.
Post
your journal entry to this forum and you might win some great prizes!:
Forum
Thank you for promoting World Breastfeeding Week in your community!
by.lilypie.com/ODQrm7.png"
alt="Lilypie 6th to 18th Ticker" border="0" width="400" height="80" />
by.lilypie.com/22tDm7.png"
alt="Lilypie 6th to 18th Ticker" border="0" width="400" height="80" />
Get a
Free Counter