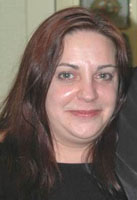 Sherria
Age 52
Joined Wednesday, June 25, 2003
Recent Book Activity
| Statistics | 4 weeks | all time |
| --- | --- | --- |
| books registered | 0 | 668 |
| released in the wild | 0 | 300 |
| controlled releases | 0 | 2 |
| releases caught | 0 | 76 |
| controlled releases caught | 0 | 0 |
| books found | 0 | 83 |
| tell-a-friend referrals | 0 | 258 |
| new member referrals | 0 | 21 |
| forum posts | 0 | 2,198 |
Extended Profile


Wow, this place is GREAT, isn't it? I'm so grateful to the person who told me about it (thanks Pixx!). I've met wonderful people, discovered fabulous new authors, and shared books with people from all over the world. How wonderful is THAT?

I'm a Canadian currently living in Connecticut, in the NYC suburbs. I love it here - small town living with all the conveniences of a larger city and the wonder of New York - theatre, symphony, SoHo people watching, wonderful restaurants, opera, broadway, and shopping without equal - only an hour away. My job gives me the opportunity to travel throughout the country and I've enjoyed exploring many other places, but I can't imagine living anywhere other than right where I am.

I rarely watch television, and I rarely watch movies. Instead, I prefer to get lost in a good book. I've been an avid reader since I was very young. I remember my first trip to the library, and the thrill of a new library card in my Xmas stocking every year. I remember quiet mornings sitting at the table with my father, the two of us reading while the rest of the household slept. Books have always been an important part of my life. Perhaps that's why I had such a hard time with the concept of setting my books free, but once I started I was totally hooked.

My bookshelf isn't necessarily an accurate indication of my reading tastes. Friends have always given me books that they picked up at library/yard sales, etc, because they knew I was an avid reader. Now they give me books to release too!