Releanna
Age 58
Joined Wednesday, October 03, 2007
Recent Book Activity
| Statistics | 4 weeks | all time |
| --- | --- | --- |
| books registered | 0 | 402 |
| released in the wild | 0 | 159 |
| controlled releases | 0 | 524 |
| releases caught | 0 | 54 |
| controlled releases caught | 0 | 501 |
| books found | 0 | 478 |
| tell-a-friend referrals | 0 | 85 |
| new member referrals | 0 | 1 |
| forum posts | 0 | 5,735 |
Extended Profile
hi
everyone!


I live in Vienna, Austria, together with my husband and our two cats, Mika and Ronja.

Books and reading have been the most important constant in my life since I started reading at the age of 4.

The genres have changed over the years, at the moment I read mostly Fantasy (but I don't like Wolfgang Hohlbein) and SF, funny books, mysteries and history books

Some of my favorite authors are: Terry Pratchett, Tad Williams, Christopher Moore, Neil Gaiman, Charles DeLint, Carl Hiaasen ... - please don't send me any books by those authors, as I have most of them already
besides reading I like movies, meeting friends, animals (especially penguins - which I also collect - and cats), vegetarian food, travelling, music (all different kinds, recent favorites are Kaizers Orchestra, Gogol Bordello, Shantel, QUOTSA, New Model Army, Type O' Negative, System of a Down, Manhattan Transfer, Jamie Cullum, Korpiklaani,......), ...
You can find a (growing) part of my permanent library at Goodreads
there is also a lot of my wishlist:Goodreads

my fantastic birthday buddies are grovalskii and lizzyblack (they have my address if you'd like to send a surprise

I'm also up to exchanging other things, for example typical things of Austria for typical things of other countries, like chocolate, tea, waffles, but also non-food. Just PM me and we can work something out :)

For all kinds of exchanges:
* flavored teas and coffees
* Niederegger Marzipan Rooibostee,
* Monty Bojangles truffles,
* chocolate (except really dark one and whole nuts) and other sweets are always welcome - but please nothing with meat/meat-byproducts, as I'm vegetarian.
* paper crafting materials
* also postcards, pictures etc. of your home-town or -country. I also love to hear about cultures, countries, history etc. and specialties of your region are most appreciated :)
* and I collect penguins (no live ones, of course) and like all kinds of animals. So if you make a donation to your favorite charity and tell me about it, that is a great present, too!
* ah yes, and wishlist-books *g*
---
Countries I've already travelled to:
Your Dominant Intelligence is Linguistic Intelligence
www.blogthingsimages.com/---/linguistic.gif" height="100" width="100">



You are excellent with words and language. You explain yourself well.

An elegant speaker, you can converse well with anyone on the fly.

You are also good at remembering information and convincing someone of your point of view.

A master of creative phrasing and unique words, you enjoy expanding your vocabulary.



You would make a fantastic poet, journalist, writer, teacher, lawyer, politician, or translator.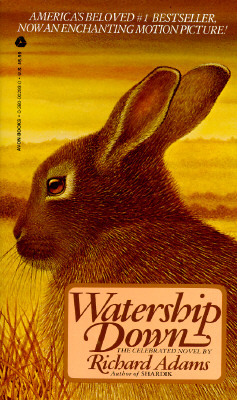 You're Watership Down!

by Richard Adams

Though many think of you as a bit young, even childish, you're
actually incredibly deep and complex. You show people the need to rethink their
assumptions, and confront them on everything from how they think to where they
build their houses. You might be one of the greatest people of all time. You'd
be recognized as such if you weren't always talking about talking rabbits.


Take the Book Quiz
at the Blue Pyramid.