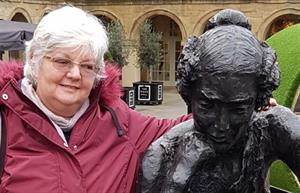 ReetPetite
Joined Saturday, March 08, 2003
Recent Book Activity
| Statistics | 4 weeks | all time |
| --- | --- | --- |
| books registered | 0 | 1,310 |
| released in the wild | 19 | 1,542 |
| controlled releases | 0 | 136 |
| releases caught | 7 | 632 |
| controlled releases caught | 0 | 87 |
| books found | 12 | 916 |
| tell-a-friend referrals | 0 | 42 |
| new member referrals | 0 | 14 |
| forum posts | 1 | 1,225 |
Extended Profile
I was at the Loughborough Uncon 22nd - 24th September 2017
2017.bcukunconvention.co.uk/
I was at the Birmingham Uncon 23rd - 25th September 2016
I was at the Oxford Convention 2015 10th- 12th April 2015
I'm Rita & live in Beeston in Nottingham. Married with one son. Love to read. Big King Arthur fan, loved Bernard Cornwell's Warlord trilogy. Other fave authors; Bill Bryson, Ian Rankin, Kathy Reichs, Armistead Maupin, Douglas Adams, Jean Auel and Thomas Eidson. Will read anything.
Also love TV; Buffy, Angel, Firefly, Dexter and CSI. I really loved
www.bookcrossing.com/---/book_Regency-House-Party-Lucy-Jago"
>Regency House Party .
If you receive books from me in trade or rabck, I have no problems with you keeping them in your PC (personal collection).;
I've set up a shelf for the OBCZ in Beeston:
The Bean OBCZ
I'm a member of
Postcrossing
I'm also a Bookmoocher
Bookmooch
What kind of bookcrosser are you

Your Result: Obsessive releaser

You release, release, release. Discretion is not your middlename anymore. Buying grocery's, going to the dentist, a sunny day in the park, on holiday; every step you take, you take a book to go with you to be released.

ring in bundles
Talk of the toy
Playfull RBACKer
Thematic dropper
Love to meet
lucky lurker
strange looking bystander
What kind of bookcrosser are you
Quiz Created on GoToQuiz