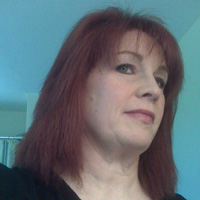 RedwoodRed
Age 59
Joined Wednesday, April 03, 2002
Recent Book Activity
| Statistics | 4 weeks | all time |
| --- | --- | --- |
| books registered | 0 | 559 |
| released in the wild | 0 | 119 |
| controlled releases | 0 | 0 |
| releases caught | 0 | 10 |
| controlled releases caught | 0 | 0 |
| books found | 0 | 4 |
| tell-a-friend referrals | 0 | 125 |
| new member referrals | 0 | 6 |
| forum posts | 0 | 4 |
Extended Profile
I have been a fan of fantasy (
Tolkien, Tad Williams
) and science fiction (
Heinlein, Niven
) since the early '70's. I usually have one book going (being read) at any given time and feel naked without something to read.
I have many boxes filled with books that I've refused to let go, but with this site, I think that they will bring more people joy if allowed to fly. Recently, I have enjoyed hunting for books at yard sales. This is something I didn't enjoy before, and right now I can't understand why I felt that way. Oh well. I either buy them to read or to sell on eBay (user name:
redwoodred
) or to just release. I really have a difficult time letting any book pass through my hands without reading it first, but I'll be honest... I currently have hundreds of paperbacks, hardcovers and periodicals waiting for me to read them, and if they are really that special, they will find their way into my possession again, right? I think that that is a Zen attitude...
I'm also an avid
Geocacher
, and my family and I placed a geocache filled with
Book Crossing-registered books
. That cache was, sadly, pillaged, but not before quite a few folks could go there and get a book or two. Many folks in other places have done something similar since, and I'm glad it caught on. If you'd like more information on Geocaching (another very addicting hobby/sport), visit
www.geocaching.com
, or our Geocaching website,
GeoGadgets
.
BREAKING NEWS:
We are now living in beautiful SW Maine! It took us 15 days of travel to get here (pulling two UHaul trailers - with LOTS of books!), but we're here now. Hopefully the community is more Bookcrossing oriented than CC was.