RazFaz
Age 17
Joined Sunday, November 30, 2003
Recent Book Activity
| Statistics | 4 weeks | all time |
| --- | --- | --- |
| books registered | 0 | 1,494 |
| released in the wild | 3 | 2,338 |
| controlled releases | 4 | 555 |
| releases caught | 1 | 1,143 |
| controlled releases caught | 7 | 480 |
| books found | 5 | 1,219 |
| tell-a-friend referrals | 0 | 150 |
| new member referrals | 0 | 15 |
| forum posts | 0 | 3,766 |
Extended Profile
Es geht uns mit Büchern wie mit Menschen: Wir machen zwar viele Bekanntschaften, aber wenige erwählen wir zu unseren Freunden. (Ludwig Feuerbach, deutscher Philosoph)
We regard books as people: We have many acquaintances but choose only few to be our friends.
Pour nous les livres sont comme les hommes:Nous en connaissons beaucoup, mais nous nous lions d'amitié avec quelques-uns seulement.
Hallo,
als Büchernarr und Leseratte kann ich mich nur sehr, sehr schwer von büchern trennen. Doch mit Bookcrossing fällt es mir das etwas leichter. Meine Lieblingsbücher verweilen jedoch gerne unregistriert in meinen Bücherregalen, da sie doch immer wieder gerne von mir gelesen oder an Freunde verliehen werden. Bookcrossing verbindet auf geniale Weise Lesefreude mit Bücherfreunden. Außerdem habe ich dank BC viele neue Autoren und deren Bücher kennengelernt - und ganz viele netter BCer. BC macht einfach Spaß!!
Für wichtel: meine Vorlieben: Bücher (natürlich)- am liebsten intelligente Krimis und witzige roman (s. meine wishlist) .Ichfreue mich über "kriminelle" Neuentdeckungen, wie ich sie oft durch BC finde. Dazu passt feiner grüner Tee oder auch leckerer Schwarztee pur oder mit natürlichen Frucht/ Gewürzaromen, Espresso (Bohnen), trockener Wein, dunkle Schokolade (je herber desto besser *g*) , Trockenfrüchte oder BC-Aufkleber. Bitte keine staubfänger. ;-)
You can make me happy with: books (of course) - preferably smart detective stories and funny novel (see my wishlist) . I am happy about "criminal" new discoveries, as I often find them at Bookcrossing. Serve with fine green tea or delicious black tea Pur or with natural fruit / spice flavors, espresso (beans), dry wine, dark chocolate (get fond of dark Tim Tams), dried fruits or BC stickers. Please no dust collectors. ;-)
I'm collecting the Phryne Fisher (want to read the novels again in line) and the Masie Dobbs series for my pc.
Wer an unseren Treffen in Karlsruhe und Umgebung interessiert ist und zum Besuch kommen möchte, kann sich gerne per pm bei mir melden oder schaut ins
Das Karlsruher Meet-up-Buch
.

Nicht alle Bücher auf meinem BC-Shelf habe ich gelesen, aber die meisten ...

Ab 2014 versuche ich mal, folgendes Bewertungsschema zugrunde zu legen:

*: grauenhaft (eigentlich nicht lesbar)
**: schrecklich, langweilig
***: schlecht, kaum besser als nix (schlecht geschrieben oder grobe fehler)
****: mit Einschränkungen lesbar
*****: kann man lesen -muss man aber nicht
******: kann man gut lesen (eher durchschnittlich)
*******: lesenswert, vorsichtig empfehlenswert
********: gut, empfehlenswert
*********: sehr gut
**********: ausgezeichnet, wunderbar, außergewöhnlich, (potenzielles) Lieblingsbuch


Ganz herzlichen dank an Wyando (*megaknuddel*)für meine BC-Statistik

www.bookcrossers.de/shelf/?...
target="buch">Statistik
Achtung/Attention:
** Mein Bücherregal enthält Bücher zum Freilassen und spiegelt nicht unbedingt meinen eigenen Geschmack wieder.**
** My bookshelf contains books intended for release and does not necessarily reflect my own tastes. **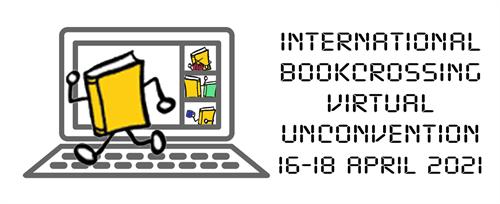 BookCrossing Anniversary Convention Athens 2016
Anniversary Bookscrossing Convention Melbourne 2014
BooksCrossing Anniversary Convention Dublin 2012
BooksCrossing Anniversary Convention Amsterdam 2010
BookCrossing Anniversary Convention, London, 2008