Llyren
Age 38
Joined Wednesday, September 16, 2009
Recent Book Activity
| Statistics | 4 weeks | all time |
| --- | --- | --- |
| books registered | 0 | 770 |
| released in the wild | 0 | 586 |
| controlled releases | 0 | 345 |
| releases caught | 0 | 253 |
| controlled releases caught | 0 | 315 |
| books found | 0 | 404 |
| tell-a-friend referrals | 0 | 16 |
| new member referrals | 0 | 4 |
| forum posts | 0 | 696 |
Extended Profile
Index: Reading · About me · Ringe / Boxen · Harry Potter · Thank You

---
"Even when reading is impossible, the presence of books acquired produces such an ecstasy that the buying of more books than one can read is nothing less than the soul reaching towards infinity...
We cherish books even if unread, their mere presence exudes comfort, their ready access reassurance."
- A. E. Newton
---
Über mich / About me


Ich bin ein riesen Fantasy- und Science-Fiction-Fan, habe allerdings in letzter Zeit auch angefangen, Sachbücher zu ausgewählten Themen zu lesen. Ein weiteres Faible sind Bücher mit Tieren in der Hauptrolle, insbesondere, wenn es sich dabei um Wölfe handelt.
I am an enormous fan of fantasy and science-fiction novels but I have recently begun to read more non-fiction in selected areas. Another faible of mine are animal books, especially wolves.

Mein größtes anderes Hobby neben Büchern sind Fremdsprachen. Deshalb sind auch Bücher in Originalsprache immer herzlich willkommen, besonders, wenn es sich dabei um Englisch, Französisch oder (mit Einschränkungen auch) Spanisch handelt. Allerdings arbeite ich auch an meinen Arabisch-, Japanisch- und Finnischkenntnissen, und wer weiß, was als nächstes kommt:-)
My other main hobby next to books are languages, which is why books in other languages are always welcome, especially in English, French or (a bit less proficiently) Spanish. Currently I am also working on my Japanese, Arabic and Finnish skills and who knows what might come next:-)

Wenn Du etwas unter meinen AVLs findest, das Dich interessiert: Nur keine Scheu:-) Auch meine TBR oder PCs verleihe ich im Normalfall, solange ich sie wieder zurück bekomme... Fragen kostet nichts!
Zu Büchertausch und Rabck bin ich immer gern bereit, natürlich auch weltweit. Und falls mir jemand etwas schicken möchte: Meine Adresse findet sich auf rabck.com.
If you find something on my available list you are interested in, feel free to ask! If you want something from my TBR-list, I might lend it to you, provided I get it back:-)
I'm always willing to trade or rabck, internationally of course as well. And for those who want to send something to me: My address can be found on rabck.com.

PMs beantworte ich in der Regel innerhalb von ein paar Tagen. Im Zweifel schicke eine Mail an Llyren (at) fantasymail (punkt) de
I answer to PMs normally within a few days. If in doubt, send a mail to Llyren (at) fantasymail (dot) de


Ringe / Rays / Boxen



Lesen / Reading

Leseaktivitäten: / Reading activities
Goodreads-Profile

2014 gelesen / Read in 2014
Meyer, Marissa - The Lunar Chronicles (2) - Scarlet
Goodman, Alison - Eon (2) - The Necklace of the Gods
Meyer, Marissa - The Lunar Chronicles (1) - Cinder
Goodman, Alison - Eon (1) - The Two Pearls of Wisdom
Monette, Sarah & Bear, Elizabeth - Iskryne World (1) - A Companion to Wolves
Raven, Lynn - Der Kuss des Kjer
Scamander, Newt - Fantastic Beasts and where to find them
Whisp, Kennilworthy - Quidditch through the ages
Williams, Tad - Der brennende Mann
Williams, Tad - Osten Ard (4) - Der Engelsturm
Armstrong, Kelley - Women of the Otherworld (2) - Rückkehr der Wölfin
Armstrong, Kelley - Women of the Otherworld (1) - Nacht der Wölfin
Sakurazaka, Hiroshi - All You Need is Kill
Wrede, Patricia C. - The Enchanted Forest Chronicles (1) - Dealing with Dragons
Pratchett, Terry - Guards! Guards
Dashner, James - Maze Runner (1) - The Maze Runner
Armstrong, Kelley - Darkness Rising (2) - The Calling
Armstrong, Kelley - Darkness Rising (3) - The Rising
Jensen, Danielle L. - Malediction Trilogy (1) - Stolen Songbird
Armstrong, Kelley - Darkness Rising (1) - The Gathering
Wilson, C. L. - Weathermages of Mystral (1) - The Winter King
Schmitt, Eric-Emmanuel - Vom Sumo, der nicht dick werden konnte
Sanderson, Brandon - The Emperor's Soul
Snyder, Maria V. - Avry of Kazan (3) - Taste of Darkness
Snyder, Maria V. - Avry of Kazan (2) - Scent of Magic
Snyder, Maria V. - Avry of Kazan (1) - Touch of Power
Vandermeer, Jeff - Southern Reach (1) - Annihilation
Bracken, Alexandra - Never Fade
Bracken, Alexandra - The Darkest Minds
Ee, Susan - Penryn and the End of Days (1) - Angelfall
Forsyth, Mark - The Elements of Eloquence: How to Turn the Perfect English Phrase
McCullough, Kelly - Fallen Blade (1) - Broken Blade
Kress, Nancy - After the Fall, Before the Fall, During the Fall
Aster, Christian von - Karawane der Diebe
Bund, Kerstin - Glück schlägt Geld - Generation Y: Was wir wirklich wollen
Kristoff, Jay - The Lotus War (1) - Stormdancer
Datlow, Ellen & Windling, Terri - Black Thorn, White Rose
Weber, David - Honor Harrington (1) - On Basilisk Station
Colfer, Chris - The Wishing Spell
Albom, Mitch - The Five People You Meet in Heaven
Parks, Richard - Yamada Monogatari: Demon Hunter
Turgeon, Carolyn - Godmother. The Secret Cinderella Story
Yovanoff, Brenna - The Replacement
Pinborough, Sarah - Poison
Pinborough, Sarah - Charm
Viehl, S. L. - Stardoc
Dokey, Cameron - Belle
Nimoy, Leonard - I am not Spock
Pinborough, Sarah - Beauty
Hoëcker, Bernhard u.a. - Neues aus Geocaching
Moestl, Bernhard - Die Kunst, einen Drachen zu reiten
Gardner, Craig Shaw - The Cylons' Secret
Huff, Tanya - Confederation (1) - Valor's Choice
Roth, Veronica - Divergent Trilogy (1) - Divergent
Berg, Carol - Rai-kirah (1) - Transformation
Wells, Dan - Partials
Monette, Sarah & Bear, Elizabeth - Iskryne World (2) - The Tempering of Men
Monette, Sarah & Bear, Elizabeth - Iskryne World (1) - A Companion to Wolves
Wilson, C. L. - Tairen Soul (2) - Herrin von Licht und Schatten
Wilson, C. L. - Tairen Soul (1) - Im Bann des Elfenkönigs
Weber, David - Star Kingdom (1) - A Beautiful Friendship

2013 gelesen / Read in 2013 (42)
Mer, Lilach - Winterkind
Roth, Veronica - Divergent Trilogy (2) - Insurgent
Butcher, Jim - Die Dunklen Fälle des Harry Dresden (2) - Wolfsjagd
Bradbury, Ray - The Halloween Tree
Carlisle, Kate - Homicide in Hardcover
Roth, Veronica - Divergent Trilogy (1) - Divergent
Houston, Ivan J. & Cohn, Gordon - Black Warriors: The Buffalo Soldiers of World War II
Brotherton, Marcus - We Who Are Alive and Remain: Untold Stories from the Band of Brothers
Macinnis Gill, David - Die Mars-Verschwörung
McGuire, Seanan - October Daye (1) - Rosemary and Rue
Gier, Kerstin - Liebe geht durch alle Zeiten (2) - Saphirblau
Gier, Kerstin - Liebe geht durch alle Zeiten (3) - Smaragdgrün
Gier, Kerstin - Liebe geht durch alle Zeiten (1) - Rubinrot
Clare, Cassandra - The Mortal Instruments (1) - City of Bones
Howey, Hugh - I, Zombie
Maberry, Jonathan - Benny Imura (4) - Fire and Ash
Maberry, Jonathan - Benny Imura (3) - Flesh and Bone
Maberry, Jonathan - Benny Imura (2) - Dust and Decay
Macinnis Gill, David - Das Mars-Labyrinth
Grant, Mira - The Newsflesh Trilogy (1) - Feed
Recht, Z. A. - Morgenstern (1) - Die Jahre der Toten
Ketchum, Jack - The Girl Next Door
Irvine, Alex - Pacific Rim
Patton, Brett - Mecha Corps: A Novel of the Armor Wars
Johnson, Jean - Theirs not to reason why (1) - A Soldier's Duty
Joyce, William - The Guardians of Childhood (2) - E. Aster Bunnymund and the Warrior Eggs at the Earth's Core
Joyce, William - The Guardians of Childhood (3) - Toothiana, Queen of the Tooth Fairy Armies
Novik, Naomi - Die Feuerreiter Seiner Majestät (5) - Drachenwacht
Novik, Naomi - Die Feuerreiter Seiner Majestät (4) - Drachenglanz
Novik, Naomi - Die Feuerreiter Seiner Majestät (1) - Drachenbrut
Gaiman, Neil - Sandman: Traumjäger
Joyce, William - The Guardians of Childhood (1) - Nicholas St. North and the Battle of the Nightmare King
Alexander, Larry - Shadows in the Jungle: The Alamo Scouts Behind Japanese Lines in World War II
Hale, Shannon - The Books of Bayern (1) - The Goose Girl
Butcher, Jim - Die Dunklen Fälle des Harry Dresden (1) - Sturmnacht
Wilson, C. L. - Tairen Soul (2) - Herrin von Licht und Schatten
Dobelli, Rolf - Die Kunst des klaren Denkens. 52 Denkfehler, die Sie besser anderen überlassen
Dobelli, Rolf - Die Kunst des klugen Handelns: 52 Irrwege, die Sie besser anderen überlassen
Wilson, C. L. - Tairen Soul (1) - Im Bann des Elfenkönigs
Franklin, Robert "Doc Joe" - Medic! How I Fought World War II with Morphine, Sulfa and Iodine Swabs
Malarkey, Don - Easy Company Soldier
Takami, Koushun - Battle Royale

2012 gelesen / Read in 2012 (94)
Barbery, Muriel - L'Elégance du Hérisson
Nimoy, Leonard - I am Spock
Brotherton, Marcus - Shifty's War
Hohlbein, Wolfgang - Magog
Koskimaki, George E. - D-Day with the Screaming Eagles
Cashore, Kristin - The Seven Kingdoms (1) - Graceling
Bradley, Alan - Flavia de Luce (1) - Mord im Gurkenbeet
Winters, Dick - Beyond Band of Brothers: The War Memoirs of Major Dick Winters
Guarnere, William & Heffron, Edward - Brothers in Battle, Best of Friends
Ambrose, Stephen E. - Band of Brothers
Williams, Tad - Osten Ard (3) - Die Nornenkönigin
Alexander, Larry - Biggest Brother: The Life Of Major Dick Winters, The Man Who Led The Band of Brothers
Johnson, Kij - The Fox Woman
Rubin, Jay - Making Sense of Japanese
Owen, James A. - Die Chroniken des Imaginarium Geographica (1) - Wo Drachen sind
Owen, James A. - Die Chroniken des Imaginarium Geographica (2) - Die Suche nach dem roten Drachen
Westerfeld, Scott - Behemoth. Im Labyrinth der Macht
Singh, Simon - Fermats Letzter Satz
Ivey, Eowyn - The Snow Child
Funke, Cornelia - Reckless - Steinernes Fleisch
Ness, Patrick & Dowd, Siobhan - Sieben Minuten nach Mitternacht
Valentine, Genevieve - Mechanique: A Tale of the Circus Tresaulti
Beagle. Peter S. - Tamsin
Rushdie, Salman - Die bezaubernde Florentinerin
O'Brien, Robert C. - Mrs. Frisby and the Rats of NIMH
Valente, Catherynne M. - The Girl Who Circumnavigated Fairyland in a Ship of Her Own Making
Swann, Leonie - Glennkill
Schwindt, Peter - Libri Mortis (1) - Flüsternde Schatten
Josephs, Rudy - Starfleet Academy (2) - Die Grenze
Winchester, Simon - The Surgeon of Crowthorne
Isau, Ralf - Die Dunklen
Kiernan, Celine - Moorehawke-Trilogie (1) - Schattenpfade
Maberry, Jonathan - Rot and Ruin
Zimmer Bradley, Marion - Darkover (18) - Die Weltenzerstörer
Zimmer Bradley, Marion - Darkover (16) - Retter des Planeten
Forsyth, Mark - The Etymologicon. A Circular Stroll Through the Hidden Connections of the English Language
Keyes, Daniel - Flowers for Algernon
Silverberg, Robert - Sunrise on Mercury
Lode, Christoph - Pandaemonia (2) - Die Stadt der Seelen
Verschiedene - Legenden - Das Geheimnis von Otherland
Cernohuby, Stefan - Der Fluch des Colorado River
Wilson, C. L. - Tairen Soul (5) - Das betörende Lied des Elfenkönigs
Wilson, C. L. - Tairen Soul (4) - Königin der Seelen
Grahame, Kenneth - The Wind in the Willows
Gaiman, Neil - Stardust
Wilson, C. L. - Tairen Soul (3) - Die finstere Macht der Tairen Soul
Wilson, C. L. - Tairen Soul (2) - Herrin von Licht und Schatten
Wilson, C. L. - Tairen Soul (1) - Im Bann des Elfenkönigs
Collins, Suzanne - The Hunger Games (3) - Mockingjay
Tsu, Sun - Wahrhaft siegt, wer nicht kämpft
Sniegoski, Thomas E. - The Fallen (3) - End of Days
Eschbach, Andreas - Die Haarteppichknüpfer
Sepúlveda, Luis - Historia de una gaviota y del gato que le enseñó a volar
Berg, Carol - Rai-kirah (1) - Tor der Verwandlung
Frost, Julian - Last Days on Earth
Meißner, Tobias O. - Im Zeichen des Mammuts (4) - Brücke der brennenden Blumen
Meißner, Tobias O. - Barbarendämmerung
Price, Lissa - Starters
Collins, Suzanne - The Hunger Games (2) - Catching Fire
Guillou, Jan - Kreuzritter (1) - Der Kreuzritter, Aufbruch
Nix, Alexander - Nibelungen (2) - Das Drachenlied
Lode, Christoph - Pandaemonia (1) - Der letzte Traumwanderer
Collins, Suzanne - The Hunger Games
Trodler, Dagmar - Die Waldgräfin
Capote, Truman - Frühstück bei Tiffany
Süskind, Patrick - Die Taube
Barba, Rick - Starfleet Academy (1) - Die Delta-Anomalie
Isau, Ralf - Das Museum der gestohlenen Erinnerungen
Brooks, Max - World War Z - An Oral History of the Zombie War
Koontz, Dean R. - Schutzengel
Ihimaera, Witi - Whalerider
Bickle, Laura - Anya Kalinczyk (1) - Flammenzorn
Snyder, Maria V. - Avry of Kazan (1) - Touch of Power
Meyer, Kai - Dark Reflections (1) - The Water Mirror
Meißner, Tobias O. - Im Zeichen des Mammuts (3) - Das vergessene Zepter
Meißner, Tobias O. - Im Zeichen des Mammuts (1) - Die dunkle Quelle
Meißner, Tobias O. - Im Zeichen des Mammuts (2) - Die letzten Worte des Wolfs
Fardell, John - The 7 Professors of the Far North
Riggs, Ransom - Miss Peregrine's Home for Peculiar Children
Lackey, Mercedes - Last Herald Mage (3) - Magic's Price
Lackey, Mercedes - Last Herald Mage (2) - Magic's Promise
Lackey, Mercedes - Last Herald Mage (1) - Magic's Pawn
Bellem, Stephan R. - Die Wächter Edens
Lackey, Mercedes - Queen's Own (3) - Arrow's Fall
Lackey, Mercedes - Vows and Honor (2) - Oathbreakers
Lackey, Mercedes - Queen's Own (2) - Arrow's Flight
Lackey, Mercedes - Queen's Own (1) - Arrows of the Queen
Hohlbein, Wolfgang - Das Buch
Cortez, Donn - Closer
Honisch, Ju - Das Obsidianherz
Meißner, Tobias O. - Die Soldaten
Hanff, Helene - 84, Charing Cross Road
Card, Orson Scott - The Ender Quartet (1) - Ender's Game
Brooks, Max - The Zombie Survival Guide

2011 gelesen / Read in 2011
(Dez 101)Williams, Tad - Osten Ard (2) - Der Abschiedsstein
(Dez 100)Cline, Ernest - Ready Player One
(Dez 99)Pullman, Philip - His Dark Materials (3) - Das Bernsteinteleskop
(Dez 98)Neumeier, Rachel - Der Greifenmagier (1) - Herr der Winde
(Dez 97)Sniegoski, Thomas E. - The Fallen (2.2) - Reckoning
(Dez 96)Sniegoski, Thomas E. - The Fallen (2.1) - Aerie
(Dez 95)Armstrong, Kelley - Women of the Otherworld (1) - Nacht der Wölfin
(Nov 94)London, Jack - Call of the Wild & White Fang
(Nov 93)Westerfeld, Scott - Midnighters (1) - Die Erwählten
(Nov 92)Weeks, Brent - Night Angel Trilogy (1) - The Way of Shadows
(Nov 91)Jeier, Thomas - Die Sehnsucht der Cheyenne
(Nov 90)Ende, Michael - Momo
(Nov 89)MacLeod, Charlotte - Kelling (3) - Madam Wilkins' Palazzo
(Okt 88)Williams, Tad - Osten Ard (1) - Der Drachenbeinthron (reread)
(Okt 87)Kern, Claudia - Sissi – Die Vampirjägerin – Scheusalsjahre einer Kaiserin
(Okt 86)Weiler, Andreas - Der Sternenfänger
(Okt 85)Novik, Naomi - Die Feuerreiter Seiner Majestät (3) - Drachenzorn
(Okt 84)Novik, Naomi - Die Feuerreiter Seiner Majestät (2) - Drachenprinz
(Okt 83)Novik, Naomi - Die Feuerreiter Seiner Majestät (1) - Drachenbrut
(Okt 82)Pratchett, Terry - Nur du kannst die Menschheit reiten
(Okt 81)Pratchett, Terry - Nur du kannst sie verstehen
(Okt 80)Pratchett, Terry - Nur du hast den Schlüssel
(Okt 79)Claudel, Philippe - Der Junge, der in den Büchern verschwand
(Okt 78)Schweikert, Ulrike - Die Erben der Nacht (5) - Vyrad
(Okt 77)Olsberg, Karl - Glanz
(Okt 76)MacLeod, Charlotte - Kelling (2) - Der Rauchsalon
(Okt 75)Moers, Walter - Die 13 1/2 Leben des Käpt'n Blaubär
(Sep 74)Wise, William - Christopher Maus. Aus den Aufzeichnungen eines kleinen Abenteurers
(Sep 73)Lee, Harper - To Kill a Mockingbird
(Sep 72)Fitzek, Sebastian - Der Seelenbrecher
(Sep 71)Graham, Patrick - Das Evangelium nach Satan
(Sep 70)Brennan, Marie - Doppelgänger
(Sep 69)Brennan, Marie - Hexenkrieger
(Sep 68)Ward, James M. - Der Herr der Drachenflotte (2) - Magier der Drachenfregatte
(Sep 67)Ward, James M. - Der Herr der Drachenflotte (1) - Der Magierkadett
(Aug 66)Marsden, Simon - Geistersuche
(Aug 65)Coelho, Paulo - The Alchemist
(Aug 64)Coelho, Paulo - Veronika beschließt zu sterben
(Aug 63)Lowry, Lois - The Giver
(Aug 62)Schwartz, Richard - Das Geheimnis von Askir (1) - Das Erste Horn
(Aug 61)Eschbach, Andreas - Der Letzte seiner Art
(Aug 60)Jackson Braun, Lilian - Die Katze, die Postbote spielte
(Aug 59)Seignolle, Claude - Marie, die Wölfin
(Aug 58)Westerfeld, Scott - Leviathan (1) - Leviathan
(Aug 57)Sullivan, Michael J. - Riyria Revelations (1) - The Crown Conspiracy
(Aug 56)Beckett, Samuel - En attendant Godot
(Aug 55)Malle, Jean - Au revoir, les enfants
(Aug 54)Catherine Turney - Miranda, die Hexe
(Aug 53)Claudia Kern - Der verwaiste Thron (1) - Sturm
(Aug 52)Markus Zusak - The Book Thief
(Aug 51)Richelle Mead - Blaues Blut
(Aug 50)Richelle Mead - Blutschwestern
(Jul 49)Marion Zimmer Bradley - Glenraven
(Jul 48)Melina Gerosa Bellows - Wunschgeflüster
(Jul 47)Gail Carriger - Soulless
(Jul 46)Alan Dean Foster - Skywalkers Rückkehr
(Jul 45)Becca Fitzpatrick - Engel der Nacht
(Jul 44)Gesa Schwartz - Grim. Das Erbe des Lichts
(Jul 43)Thomas E. Sniegoski - Leviathan
(Jul 42)Thomas E. Sniegoski - The Fallen
(Jun 41)Kelley Armstrong - Höllenglanz
(Jun 40)Lewis Carroll - Through the Looking-Glass
(Jun 39)Jasper Fforde - Irgendwo ganz anders
(Jun 38)Markus Heitz - Der Krieg der Zwerge
(Jun 37)Kelley Armstrong - Seelennacht
(Jun 36)Charlaine Harris - Das Falsche Grab
(Jun 35)Lilach Mer - Der Siebte Schwan
(Jun 34)Ally Condie - Die Auswahl. Cassia & Ky 01
(Jun 33)Kelley Armstrong - Schattenstunde
(May 32)Walter Moers - Wilde Reise durch die Nacht
(May 31)Charlotte MacLeod - Die Familiengruft
(May 30)Lian Hearn - Across the Nightingale Floor
(May 29)Yamamoto Tsunetomo - Hagakure. Das Buch des Samurai.
(May 28)Bernhard Moestl - Shaolin. Du musst nicht kämpfen, um zu siegen.
(May 27)Garth Nix - Schwarzer Montag
(May 26)Lewis Carroll - Alice's Adventures in Wonderland
(May 25)Joan Aiken - Fanny und Scylla oder Die zweite Frau
(Apr 24)Carlos Ruiz Zafón - Das Spiel des Engels
(Apr 23)Patrick Rothfuss - The Name of the Wind
(Apr 22)Glenn Meade - Der Zweite Messias
(Mar 21)Henri Loevenbuck - Die Stimme der Wölfe / Le Louvetier
(Mar 20)Philip Hawley - Infektion
(Mar 19)Greg Bear - Blutmusik
(Mar 18)Nahoko Uehashi - Das Lied der Bestien
(Mar 17)Annette Curtis Klause - Blood and Chocolat
(Mar 16)Gero von Randow - Das Ziegenproblem
(Feb 15)Ulrike Schweikert - Dracas
(Feb 14)Gabriel García Márquez - Chronik eines angekündigten Todes
(Feb 14)Gabriel García Márquez - crónica de una muerte anunciada
(Feb 13)Sergej Lukianenko - Wächter der Nacht
(Feb 12)Anne McCaffrey - Wilde Talente
(Feb 11)Guy G. Kay - Die Fürsten des Nordens
(Jan 10)James Patterson - Das Ikarus-Gen
(Jan 09)James Patterson - Der Tag, an dem der Wind dich trägt
(Jan 08)Hiccup Horrendous Haddock III - How to Train your Dragon
(Jan 07)Andreas Leffler - Das Bushido-Prinzip
(Jan 06)Spider Robinson - Melancholy Elephants
(Jan 05)Shelley Freydont - Tödliches Sudoku
(Jan 04)Lilian Jackson Braun - Die Katze, die in den Ohrensessel biss
(Jan 03)Lilian Jackson Braun - Die Katze, die rückwärts lesen konnte
(Jan 02)Wolfgang Hohlbein - Die Eisprinzessin
(Jan 01)Kristin Falck - Die Hüter der Wolken

2010 gelesen / Read in 2010
(Dez)Shannon Hale - The Book of a Thousand Days
(Dez)Mikkel Birkegaard - Die Bibliothek der Schatten
(Dez)Ralf Isau - Pala und die seltsame Verflüchtigung der Worte
(Dez)Jasper Fforde - Es ist was faul
(Nov)Jean-Christophe Grangé - Das schwarze Blut (Audio)
(Nov)Brandon Mull - Fablehaven
(Nov)John Irving - Garp und wie er die Welt sah
(Nov)Bob Shaw - Brandmuster
(Nov)Peter Thannisch - Winnetou unter Werwölfen
(Oct)Drei Haselnüsse für Aschenbrödel (Audio)
(Oct)Peter Høeg - Fräulein Smillas Gespür für Schnee
(Oct)Dietrich Garstka - Das schweigende Klassenzimmer
(Sep)Robert Musil - Die Verwirrungen des Zöglings Törless
(Sep)Ernest Hemingway - The Importance of Being Earnest
(Sep)Janice Hardy - Die Heilerin
(Sep)Cornelia Funke - Tintentod
(Sep)Bertina Henrichs - Die Schachspielerin
(Sep)Cassandra Clare - City of Glass
(Sep)Cassandra Clare - City of Ashes
(Sep)Cassandra Clare - City of Bones
(Sep)Jasper Fforde - Im Brunnen der Manuskripte
(Aug)Jasper Fforde - In einem anderen Buch
(Aug)Wolfgang Hohlbein - Töchter des Drachen
(Aug)Alex Flinn - Beastly
(Jul)Sarah Baines - Die Spur der Wölfin
(Jul)Manfred Kluge - 18 Gänsehautstories
(Jul)John Christoper - Der Untergang der Dreibeinigen Monster
(Jul)John Christoper - Das Geheimnis der Dreibeinigen Monster
(Jul)John Christoper - Dreibeinige Monster auf Erdkurs
(Jul)Gesa Schwartz - Grim, Das Siegel des Feuers
(Jul)Gerd Ruebenstrunk - Arthur und die Vergessenen Bücher
(Jul)Das Schwert des Goldschmieds (Audio)
(Jun)Anonymus - Das Buch ohne Namen
(Jun)Wolfsfährte (Audio)
(Jun)Peter V. Brett - Das Lied der Dunkelheit (Audio)
(Jun)Bodo Mrozek - Das Lexikon der Bedrohten Wörter II
(Jun)Diane Setterfield - Die Dreizehnte Geschichte
(May)Necroscope 1. Das Erwachen (Audio)
(May)Terry Pratchett - Ab die Post (Audio)
(May)Philip Pullman - Das Magische Messer
(May)Das Glück schaut um die Ecke: Weisheitsgeschichten
(May)Mercedes Lackey - Arrows of the Queen
(Apr)Jasper Fforde - Der Fall Jane Eyre
(Apr)J. Gregory Keyes - Deadly Relations
(Apr)Der seltsame Fall des Benjamin Button (Audio)
(Apr)Susan Polis Schutz - I Want to Laugh, I Want to Cry
(Mar)Charlotte Bronte - Jane Eyre
(Mar)Mineko Iwasaki - Die wahre Geschichte der Geisha
(Mar)Cave Canem (Audio)
(Feb)Terry Pratchett - Mort
(Feb)Arthur Golden - Die Geisha
(Feb)Alfred Andersch - Sansibar oder der letzte Grund
(Jan)Douglas Adams - The Restaurant at the End of the Universe
(Jan)Douglas Adams - The Hitch-hiker's Guide to the Galaxy
(Jan)Richard Adams - Watership Down

2009 als BookCrosser gelesen / Read as bookcrosser in 2009
Antoine de Saint-Exupéry - Le Petit Prince
Philip Pullmann - Der Goldene Kompass
Toby Bishop - Die Wolkenreiter 1. Schule der Lüfte
Robin McKinley - Beauty
Trudi Canavan - Priester. Zeitalter der Fünf
Erin Hunter - Into the Wild (Warriors)
Ulrike Schweikert - Pyras
Marjorie M. Liu - Shadow Touch
Robin McKinley - Atem der Nacht

Meine Sammlung erster Harry Potter-Bände in verschiedenen Sprachen (Ergänzungen sind immer willkommen *grins*): /

My collection of first Harry Potter books in different languages (additions are always welcome *grin*)
Ἅρειος Ποτὴρ καὶ ἡ τοῦ φιλοσόφου λίθος (Ancient Greek)
هاري بوتر وحجر الفيلسوف (Arabic)
Harry Potter eta Sorgin Harria (Basque)
Harry Potter ha Maen ar Furien (Breton)
Хари Потър и Философският камък (Bulgarian)
Harry Potter i la pedra filosofal (Catalan)
哈利·波特与魔法石 (Chinese (Simplified))
哈利波特—神秘的魔法石 (Chinese (Traditional))
Harry Potter a kámen mudrců (Czech)
Harry Potter a kámen mudrců (Czech)
Harry Potter og De Vises Sten (Danish)
Harry Potter en de Steen der Wijzen (Dutch)
Harry Potter and the Philosopher's Stone (English)
Harry Potter and the Sorcerer's Stone (English (GA))
Harry Potter à l'école des sorciers (French)
Harry Potter e a pedra filosofal (Galician)
Harry Potter und der Stein der Weisen (German)
הארי פוטר ואבן החכמים (Hebrew)
हैरी पॉटर और पारस पत्थर (Hindi)
Harry Potter og viskusteinninn (Icelandic)
Harry Potter agus an Órchloch (Irish)
Harry Potter e la Pietra Filosofale (Italian)
ハリー・ポッターと賢者の石 (Japanese)
Harrius Potter et Philosophi Lapis (Latin)
Harijs Poters un Filozofu akmens (Latvian)
Harry Potter un de Wunnersteen (Low German)
Den Harry Potter an den Alchimistesteen (Luxembourgish)
Ο Χάρι Πότερ και η Φιλοσοφική Λίθος (Modern Greek)
Harry Potter i Kamień Filozoficzny (Polish)
Harry Potter e a Pedra Filosofal (Portuguese)
Harry Potter şi Piatra Filozofală (Romanian)
Гарри Поттер и философский камень (Russian)
Harry Potter in Kamen modrosti (Slovene)
Harry Potter y la Piedra Filosofal (Spanish)
Harry Potter y la Piedra Filosofal (Spanish)
Harry Potter och de vises sten (Swedish)
Harry Potter ve Felsefe Taşı (Turkish)
Harri Potter a Maen yr Athronydd (Welsh)

Ein großes Dankeschön geht an: /

A big thank you to:
hakkalina for A Clockwork Orange
winkide für Shogun
disneyfreaksam for Stardust!
hakkalina for The Flight of the Silver Turtle!
hakkalina for The Seven Professors of the Far North!
krimtango für Der Letzte seiner Art!
sunnycokes für Glennkill
Stepnina für das Book of Limericks!
kasy für ein Paket SF-Romane!
-JeanLi- für einen Karton voller galaktischer SF!
kathy1985 für Die Vermessung der Welt!
Pebbletool für Tödliches Sudoku!
Vielen Dank an Oedde für eine altfranzösische Grammatik und als Überraschungsbuch Good Omens auf Polnisch!
Danke an Landmaid für Das Stille Mädchen von meiner Wishlist!
Danke an sternenwolf für Wolf Totem!
Thank you to shnedwards for Le Bon Usage and a French phrase book!
A great thank you to nediamnori87 for the Hitch-hiker's guide to the galaxy!
A thank you to hakkalina for my first wings!
Eine Reihe ganz toller Leute im Rahmen des I've never won a Sweepstake-EU"-Sweepstakes.
Einen Schuhkarton voller Fantasy/Science-Fiction-Bücher von airyaa *freu*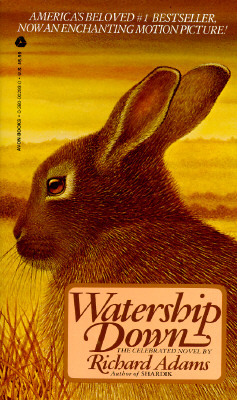 You're Watership Down!

by Richard Adams

Though many think of you as a bit young, even childish, you're
actually incredibly deep and complex. You show people the need to rethink their
assumptions, and confront them on everything from how they think to where they
build their houses. You might be one of the greatest people of all time. You'd
be recognized as such if you weren't always talking about talking rabbits.


Take the Book Quiz
at the Blue Pyramid.