LadyTrinity
Age 32
Joined Thursday, December 02, 2004
Recent Book Activity
| Statistics | 4 weeks | all time |
| --- | --- | --- |
| books registered | 0 | 99 |
| released in the wild | 0 | 64 |
| controlled releases | 0 | 37 |
| releases caught | 0 | 12 |
| controlled releases caught | 0 | 29 |
| books found | 0 | 73 |
| tell-a-friend referrals | 0 | 75 |
| new member referrals | 0 | 4 |
| forum posts | 0 | 257 |
Extended Profile
Update Jan. 6th 2010;
I've been hospitalized for the past half year and still is due to Post Traumatic Stress and I don't know yet when I will be "out in the free" yet. I'm at the moment unable to join bookrings/rays. I'm sorry for the delay for the bookrings and rays I've joined and with the help of GronnLivsstil hopefully most of them will be travelling again soon.
I'm one of those bookish nerds. I love to read and to discover new writers. I can't count how many books I've read throughout the years, but it must be a four digit number.
As I'm running an Etsy shop and am an interior architect, I'm in desperate need of knitting/crocheting/interior books, so if you have any in your BC bookshelf that you want to keep moving, please feel free to send them to me (I've got a profile on rabck.com).
My main interests (except literature) are journalism, photography, music, movies and politics.
I update my wishlist often and I'm registered at rabck.com (with an updated address). Please feel free to send me any of the books on my wishlist.
I'm into writing myself, even though it's as a freelance journalist and writing from time to time in various zines.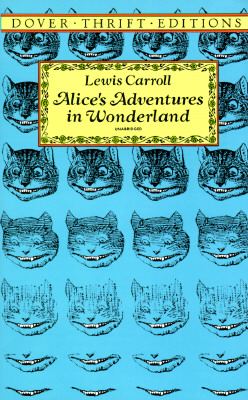 You're Alice's Adventures in Wonderland!

by Lewis Carroll

After stumbling down the wrong turn in life, you've had your mind
opened to a number of strange and curious things. As life grows curiouser and curiouser,
you have to ask yourself what's real and what's the picture of illusion. Little is coming
to your aid in discerning fantasy from fact, but the line between them is so blurry that
it's starting not to matter. Be careful around rabbit holes and those who smile to much,
and just avoid hat shops altogether.


Take the Book Quiz
at the Blue Pyramid.