Krissa33
Age 64
Joined Monday, March 25, 2013
Recent Book Activity
| Statistics | 4 weeks | all time |
| --- | --- | --- |
| books registered | 0 | 1,630 |
| released in the wild | 0 | 1,745 |
| controlled releases | 0 | 333 |
| releases caught | 0 | 299 |
| controlled releases caught | 0 | 315 |
| books found | 0 | 703 |
| tell-a-friend referrals | 0 | 1 |
| new member referrals | 0 | 11 |
| forum posts | 29 | 10,695 |
Extended Profile
Mise à jour / update janvier 2020
Depuis juillet 2017, je n'ai plus d'adresse fixe, je ne peux donc pas recevoir ni livres ni autre chose. Si vous voulez m'envoyer un courrier et/ou un colis, demandez-moi une adresse poste restante, et selon le pays, ça fonctionne ;-)
Pour me suivre sur les routes d'Europe:
Ambre et Krissa sur Youtube
Seit Juli 201 7 habe ich keine feste Adresse mehr, und kann deshalb auch keine Post bekommen. Wenn Ihr mir was schicken wollt, dann fragt mich nach einer postlagernd-Adresse, und je nach Land funktionniert das dann auch ;-)
OBCZ à Bordeaux:
Paul's Place,
76 rue Notre Dame, 33000 Bordeaux
Bonjour !
Les livres de ma bibliothèque sur
bookcrossing
ne représentant pas forcément mes goûts.
Mes lectures préférées :
Policiers et polars (avec beaucoup de suspense), fantasy (j'adore les créatures étranges, les magiciens et les monstres), science-fiction (avec beaucoup de robots et technologiques), histoires drôles, romans historiques et tout ce qui a un rapport avec l'histoire.
Infos persos: En fait, j'aime pratiquement tout sauf: réglisse, Anis, Agrumes, parfums fruités - et je ne bois pas de thé!
Je lis en français, en allemand, et quand j'ai beaucoup de courage aussi en anglais.
Hallo !
Die Bücher in meiner bookcrossing-Bibliothek entsprechen nicht unbedingt meinem Geschmack !
Meine Lieblingslektüre :
Krimis (muss spannend sein!), Fantasy (ich liebe seltsame Kreaturen, Zauberer und Monster), Science-Fiction (mit vielen Robotern und Technik), lustige Geschichten, historische Romane und alles was mit Geschichte zu tun hat.
Ich lese auf französich, deutsch und wenn ich mutig bin auch auf englisch.
Wichtel-Infos: eigentlich mag ich alles, ausser: Lakritze, Anis, Zitrusfrüchte, fruchtige Düfte - und ich trinke keinen Tee!
Mes auteurs préférés / meine Lieblingsautoren (liste non exhaustive...)
A. J. Cronin
Agatha Christie
Amin Maalouf
Antoine Choplin
Dan Brown
Danielle Steel
Frank Tallis
Harold Robbins
John Grisham
Juliette Benzoni (j'ai pratiquement tout ses livres...)
Ken Follett
Louis Bromfield
Mary Higgins Clark et sa fille Carol
Ngaio Marsh
Noah Gordon
Peter Mayle
René Barjavel
Robin Hobb
Robert Ludlum
Robert van Gulik
Roger Jon Ellory
Sidney Sheldon
Terry Goodkind (j'ai toute la série de l'épée de vérité)
Terry Pratchett
Je note mes livres comme suit:
1 * J'ai abandonné au bout de quelques pages
2 ** Je suis arrivé à mi-chemin
3 *** J'ai terminé, mais avec difficulté
4 **** J'aurais pu m'épargner ça
5 ***** Bonne expérience de lecture avec quelques faiblesses
6 ****** Agréable à lire, mais ne laisse pas une impression durable
7 ******* M'a donné un bon moment de lecture
8 ******** Difficile de lâcher
9 ********* J'aurais plaisir à le relire
10 ********** Génial! J'ai besoin de mon propre exemplaire
Ich bewerte gelesene Būcher wie folgt:
1 * Ich hab's nach ein paar Seiten aufgegeben
2 ** Hab's ungefähr bis zur Hälfte geschafft
3 *** Ich habe mich durchgequält
4 **** Das hätte man sich sparen können
5 ***** Lese-Erlebnis mit einigen Schwachstellen
6 ****** Nett zu lesen, hinterlässt aber keinen bleibenden Eindruck
7 ******* Hat mir eine gute Lesezeit beschert
8 ******** Hab es kaum aus der Hand legen können
9 ********* Würd ich wieder lesen - überdurchschnittlich
10 ********** Spitze! Davon habe/brauche ich ein eigenes Exemplar
"Plant trees! They give us two of the most crucial elements for our survival : oxygène and books"
À. Whitney Brown
« Un livre est une fenêtre par laquelle on s'évade. »
Julien Green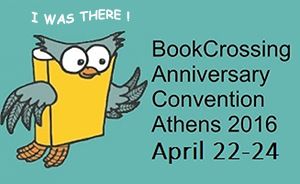 Pays que j'ai visité/in diesen Ländern war ich schon


visited 22 states (9.77%)
Create your own visited map of The World