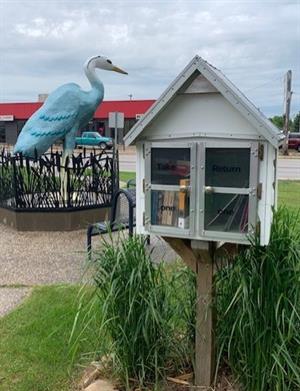 KarenBC
Age 60
Joined Monday, December 13, 2004
Recent Book Activity
| Statistics | 4 weeks | all time |
| --- | --- | --- |
| books registered | 140 | 45,960 |
| released in the wild | 44 | 17,136 |
| controlled releases | 104 | 12,771 |
| releases caught | 2 | 957 |
| controlled releases caught | 5 | 360 |
| books found | 1 | 240 |
| tell-a-friend referrals | 0 | 66 |
| new member referrals | 0 | 99 |
| forum posts | 5 | 3,058 |
Extended Profile
Thanks for checking out my profile!
Home is a rural area, that is a 30 minute drive outside of the city of Prince George, British Columbia (BC) Canada - hence the BC in my bookcrossing ID!
Since I DO live in a rural area with a bit of space, that means I can have all sorts of interesting creatures. geese, chickens and rabbits! As well as a Sammy, a miniature donkey.
I'm a "canning" fanatic - though you might call it "bottling" if you are in the UK! I do up jams, vegetables, juice, meat, all kinds of things.
Some sites that I can highly recommend:
Better World Books
www.betterworldbooks.com
Updated April 2021 - I'm signing up for some wishlist exchanges & the like...and apparently I need a wish list! What to add, what to add??
Spices for Cooking & Baking - curry & other interesting ones.
Tea Towels - the touristy ones are fun
Tea - I really like black tea like Yorkshire Gold, Tetley, Red Rose
German Books - for my mom's elderly neighbour. That neighbour shares them with her circle of pals.
Books with Train themes - the OBCZ that I stock is in a train station.(*The OBCZ has to be closed right now due to Covid - so I'm saving up books for when it's able to be open)
Trucker Books - for my brother.
Little books Ladybird Children's Classics - I collect books this size.
View Master Discs of any kind
Labels/Release Supplies - especially ones you've created!
Books - I've updated my book wish list! ~ And it's growing like crazy - thanks to other BookCrosser's Wishlists! I keep spotting interesting books on their lists - and saying to myself "Self - that sounds like a great read! Must remember to look for it."
The "keeper of my address" is Diane-Fraser if you are looking for it.
And Thank you for looking for it!