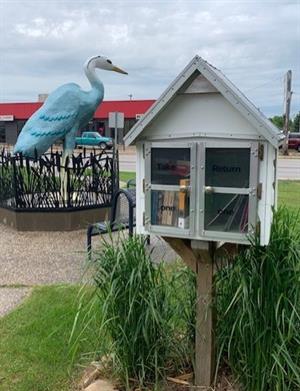 KarenBC
Age 60
Joined Monday, December 13, 2004
Recent Book Activity
| Statistics | 4 weeks | all time |
| --- | --- | --- |
| books registered | 569 | 51,298 |
| released in the wild | 192 | 19,660 |
| controlled releases | 99 | 15,391 |
| releases caught | 3 | 977 |
| controlled releases caught | 4 | 408 |
| books found | 0 | 243 |
| tell-a-friend referrals | 0 | 66 |
| new member referrals | 0 | 99 |
| forum posts | 12 | 3,119 |
Extended Profile
Thanks for checking out my profile!
Home is a rural area, that is a 30 minute drive outside of the city of Prince George, British Columbia (BC) Canada - hence the BC in my bookcrossing ID!
Since I DO live in a rural area with a bit of space, that means I can have all sorts of interesting creatures. geese, chickens and rabbits! As well as a Sammy, a miniature donkey.
I'm a "canning" fanatic - though you might call it "bottling" if you are in the UK! I do up jams, vegetables, juice, meat, all kinds of things.
Some sites that I can highly recommend:
Better World Books
www.betterworldbooks.com
Updated November 2021 - I'm signing up for some wishlist exchanges & the like...and apparently I need a wish list! What to add, what to add??
Spices for Cooking & Baking - curry & other interesting ones.
Tea Towels - the touristy ones are fun
Tea - I really like black tea like Yorkshire Gold, Tetley, Red Rose
Trucker Books - for my brother.
Little books Ladybird Children's Classics - I collect books this size.
View Master Discs of any kind
**Labels/Release Supplies - especially ones you've created! - This really should be at the TOP of my wish list. Why? Well...I've had 2 wonderful donations of books. One was a pickup LOAD of mostly cookbooks - the boxes came right up to the top of the box of the truck.
And the "biggie best" - nigh onto 300 BOXES of books - on all sorts of subjects. Have had to store these in the wood shed on pallets and covered with a tarp. Do you know how much space 300 boxes takes up? I bring in 5 boxes at a time to go through. With no peeking beforehand, so it's a surprise when the tape is ripped off. I've been ordering releasing supplies from the BC store! But any help with labels is so appreciated.
We have almost 30 LFLs (Little Free Libraries) in the city nearest me - they benefited from the book donations too!
Books - I've updated my book wish list! ~ And it's growing like crazy - thanks to other BookCrosser's Wishlists! I keep spotting interesting books on their lists - and saying to myself "Self - that sounds like a great read! Must remember to look for it."
The "keeper of my address" is Diane-Fraser if you are looking for it.
And Thank you for looking for it!