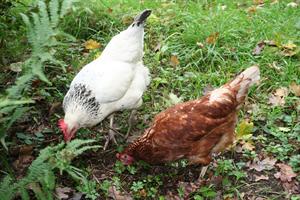 KaKo27
Age 53
Joined Monday, February 28, 2005
Recent Book Activity
| Statistics | 4 weeks | all time |
| --- | --- | --- |
| books registered | 0 | 134 |
| released in the wild | 0 | 56 |
| controlled releases | 0 | 14 |
| releases caught | 0 | 15 |
| controlled releases caught | 0 | 11 |
| books found | 0 | 86 |
| tell-a-friend referrals | 0 | 19 |
| new member referrals | 0 | 1 |
| forum posts | 0 | 296 |
Extended Profile
Ich stamme aus der Oberlausitz und kam im Jahr 2000 der Liebe wegen nach England, wo ich nun gluecklich mit Herrn KaKo zusammenlebe. Mittlerweile haben wir auch ein kleines KaKochen, das sich auch schon gerne Buecher ansieht.
Ich habe, seit ich wusste wie, gerne und viel gelesen, gerne ist geblieben, aber aus viel ist leider weniger geworden.
Ueber Bookcrossing las ich 2005 in der Zeitung. Neugierig geworden, sah ich mir die Website an und war begeistert. Eine riesige internationale Bibliothek, ohne dass man sich aus dem Haus bewegen muss (ausser um Buecher auf die Post zu bringen).
Durch Bookcrossing habe ich schon Etliches gelesen, was ich sonst nicht unbedingt entdeckt haette, und man hat die Moeglichkeit sich ueber das Gelesene auszutauschen.
Ich registriere nur Buecher, die entweder ich oder Herr KaKo gelesen haben oder zumindest zu lesen versucht haben. Alle Buecher sind international verfuegbar.
I am from Germany, near Dresden and came to live in England with the love of my life in 2000. Mr KaKo and me are happy and have meanwhile got a little KaKolet, who is also already interested in looking at books.
Since I've known how, I have always loved reading, lots of books. Now the quantity is not so great anymore, but I could not be without books.
When I learned first about Bookcrossing through a newspaper article in 2005, I was excited. An International library on your fingertips, without having to leave the house, ever (well, only to bring books to the Post Office). Through Bookcrossing I discovered books, I would not have come across otherwise, met interesting people, and in the Forum one can exchange thoughts about books.
I only register books, which I or Mr KaKo have read or at least attempted to read. All books are available internationally.
Every now and then I come across a book I would like to read. That's why I am starting my wishlist now.
Thank you very much, Cliff1976.
My Wish List
Books I read in 2006
--------------------
The Time Traveler's Wife by Audrey Niffenegger
Das Buch in dem die Welt verschwand von Wolfgang Fleischhauer
Das kalte Laecheln des Meeres von Andrea Camilleri
Early One Morning by Robert Ryan
Anne of Green Gables by L M Montgomery
Iceberg by Clive Cussler
Und Piccadilly Circus liegt nicht in Kumla von Hakan Nesser
Die Handpuppe von Inger Frimansson
Worst Fears by Fay Weldon
Small Island by Andrea Levy
Das Kindheitshaus von Annelies Schulz
Echo einer Winternacht von Val McDermid
Die Vermessung der Welt von Daniel Kehlmann
From Here to Maternity by Mel Giedroyc
Dead Simple by Peter James
The Last Lighthouse Keeper by Alan Titchmarsh
Der Schwarm von Frank Schaetzing
Quentins by Maeve Binchy
Maximilian Kaiser von Mexico von Joan Haslip
Rebecca by Daphne du Maurier
Good Looking Dead by Peter James
Until I find you by John Irving
Der Tote im Schnee von Kjell Eriksson
Murder on the Timetable by JM Allen
The Song of a Dark Angel by Paul Doherty
Fallen Angels by Bernard Cornwell
Never Go Back by Robert Goddard
Cold Harbour by Jack Higgins
Spy in Chancery by Paul Doherty
This Other Eden by Ben Elton
The Leper of Saint Giles by Ellis Peters
2007
-----
Stalking Horse by John Francome
A Short History of Tractors in Ukrainian by Marina Lewicka
Deception Point by Dan Brown
The Great Gatsby by F. Scott Fitzgerald
The Lighthouse by P.D. James
Picnic at Hanging Rock by Joan Lindsay
Under Orders by Dick Francis
Vor dem Frost von Henning Mankell
Der Leibarzt von Ralph Guenther
Harry Potter and the Deathly Hallows by J. K. Rowling
Traitor's Kiss by Gerald Seymour
The Naming of the Dead by Ian Rankin
Blue Shoes and Happiness by Alexander McCall-Smith
Well-Schooled in Murder by Elizabeth George
Wampeters Foma & Granfalloons by Kurt Vonnegut
Ines meines Herzens von Isabelle Allende
Two Caravans by Marina Lewycka
2008
----
Radetzkymarsch von Joseph Roth
Die Farbe der Hoffnung von Susan Madison
Krieg und Frieden von Lew Tolstoi
On Chesil Beach by Ian McEwan
Wong Chu and the Queen's Letterbox by T.A.G. Hungerford
Snobs by Julian Fellowes
Restoration by Rose Tremain
Not Dead Enough by Peter James
The Bad Mother's Handbook by Kate Long
Die Puppenspieler von Tanja Kinkel
Die Kartause von Parma von Stendhal
Half of a Yellow Sun by Chimamanda Ngozi Adichie
The Magician's Death by Paul Doherty
Die Kinder des Kapitaens Grant von Jules Verne
Dinner for Two by Mike Gayle
The Woman in White by Wilkie Collins
Name to a Face by Robert Goddard
There is an Occupation by Miriam Mahy
Catch 22 by Joseph Heller
Ladylike von Ingrid Noll
Ratrace by Dick Francis
Man and Boy by Tony Parsons
Wie durch ein dunkles Glas von Donna Leon
The Shadow of the Wind by Carlos Ruiz Zafon
Original Sin by P.D. James
2009
----
Like Water for Chocolate by Laura Esquirel
The 13 Clocks by James Thurber
Eine kurze Geschichte vom Glueck von Thommie Bayer
Milchgeld von Volker Kluepfel/Michael Kobr
Seegrund von Volker Kluepfel/Michael Kobr
Wind des Suedens von Patricia Shaw
The Lollipop Shoes by Joanne Harris
First Love, Last Rites by Ian McEwan
Found Wanting by Robert Goddard
The Miracle at Speedy Motors by Alexander McCall Smith
Der zweite Kuss des Judas von Andrea Camillieri
Schlagzeilen von Robert Richardson
Vernon God Little by DBC Pierre
The Bonesetter's Daughter by Amy Tan
Die Farbe des Schicksals von Fruttero & Lucentini
Der Club der gruenen Witwen von Marte Cormann
Saure Trauben fuer Puntacavallo von Jean Mazarin
The Virgin in the Ice by Ellis Peters
Dead Tomorrow by Peter James
Mr. MacGregor by Alan Titchmarsh
Das Maedchen seiner Traeume von Donna Leon
Piece of My Heart by Peter Robinson
Jenseits von Mombasa von Frank Coates
Cover Her Face by P.D. James
44 Scotland Street by Alexander McCall Smith
Losing You by Nicci French
Die geheimnisvolle Minusch von Annie M.G. Schmidt
Slaughterhouse-Five by Kurt Vonnegut
Erntedank von Volker Kluepfel/Michael Kobr
2010
----
Rauhnacht von Volker Kluepfel/Michael Kobr
One Thing Leads to Another by Jamie Holland
Die Rote von Alfred Andersch
The Guernsey Literary and Potato Peel
Pie Society by Mary Ann Shaffer/Annie Barrows
Spiel der Teufel von Andreas Franz
Take No Farewell by Robert Goddard
Part of the Furniture by Mary Wesley
Atonement by Ian Mc Ewan
Todesrosen von Arnaldur Indradason
Lorna Doone by R. D. Blackmore
Der Koch von Martin Suter
Die Stimmen des Abends von Natalia Ginzburg
The Confession of Brother Haluin by Ellis Peters
Die Mücke im Bernstein von E.G. Stahl
Doors open by Ian Rankin
We are all made of Glue by Marina Lewycka
Come Together by Josie Lloyd and Emlyn Rees
Petropolis von Anya Ulinich
Exit Music by Ian Rankin
Painting the Darkness by Robert Goddard
The Elegance of the Hedgehog by Muriel Barbery
The First Casualty by Ben Elton
Gentlemen & Players by Joanne Harris
North and South by Elisabeth Gaskell
Die unfreiwilligen Reisen des Mister Goodnight von Leslie Thomas
Der Nobelpreis von Andreas Eschbach
2011
____
The Truth by Peter James
Das geheime Abendmahl von Javier Sierra
Dreamer by Peter James
Frau Ella von Florian Beckerhoff
Fallers grosse Liebe von Thommie Bayer
Long Time Coming by Robert Goddard
Die Kirschenkönigin von Justus Pfaue
The Post Mistress by Sarah Blake
The Master Butchers Singing Club by Louise Erdrich
The Scent of Lavender by Elizabeth Elgin
Teufelsfrucht von Tom Hillenbrand
The Reluctant Fundamentalist by Mohsin Hamid
Brideshead Revisited by Evelyn Waugh
Wintersonne von Rosamunde Pilcher
N is for Noose by Sue Grafton
Die Dienstagsfrauen von Monika Peetz
The Giraffe and the Pelly and Me by Roald Dahl
The Hanging Valley by Peter Robinson
The Waxman Murders by Paul Doherty
Arctic Drift by Clive Cussler
Animal Instincts by Alan Titchmarsh
Niedertracht: Ein Alpenkrimi von Jörg Maurer
RIP Tide by Stella Rimington
The Paper Moon by Andrea Camilleri
Breakfast at Tiffany's by Truman Capote
A Partisan's Daughter by Louis de Bernieres
2012
____
Blood Count by Robert Goddard
Arabel's Raven by Joan Aiken
Schiffsmeldungen von Annie E. Proulx
Kristin Lavranstochter von Sigrid Undset
The Whaleboat House by Mark Mills
The Prime of Miss Jean Brodie by Muriel Spark
Shroud for the Archbishop by Peter Tremayne
Fantastic Mr Fox by Roald Dahl
A Tale of Two Cities by Charles Dickens
James and the Giant Peach by Roald Dahl
An Equal Music by Vikram Seth
Der Räuber Hotzenplotz von Otfried Preußler
Jamaica Inn by Daphne du Maurier
Gloria! Ein Papstkrimi von Johanna Alba und Jan Chorin
Salmon Fishing in the Yemen by Paul Torday
Into the Blue by Robert Goddard
Snow Falling on Cedars by David Guterson
The Lost Luggage Porter by Andres Martin
The Hundred-Year-Old Man who
Climbed out of the Window
and Disappeared by Jonas Jonasson
Northern Lights by Philip Pullman
The Subtle Knife by Philip Pullman
Der Feind im Schatten von Henning Mankell
2013
------
The Amber Spyglass by Philip Pulman
Was wir nicht haben brauchen Sie nicht von Dieter Moor
Urlaub mit Papa von Dora Heldt
Sansibar oder der letzte Grund von Alfred Andersch
Oh Dear Sylvia by Dawn French
Dead Like You by Peter James
Fish Change Direction in Cold Water by Pierre Szalowski
Plötzlicher Todesfall von J. K. Rowling
Tales of Burning Love by Louise Erdrich
Schutzpatron von Volker Klüpfel/Michael Kobr
Bei Hitze ist es wenigstens nicht kalt von Dora Heldt
Winterkartoffelknödel von Rita Falk
Schweinskopf al dente von Rita Falk
Moonfleet by John Meade Falkner
The Colour by Rose Tremain
Dampfnudelblues von Rita Falk
Föhnlage von Jörg Maurer
In the Skin of a Lion by Michael Oondatje
Good Night, Mr Tom by Michelle Magorian
Grießnockerlaffäre von Rita Falk
Lieber einmal mehr als mehrmals weniger von Dieter Moor
The Information Officer by Mark Mills
The Cook by Wayne Macauley
2014
------
The Secret Garden by Frances Hodgson Burnett
Bretonische Verhältnisse von Jean-Luc Bannalec
Sauerkrautkoma von Rita Falk
The Golden Acorn by Catherine Cooper