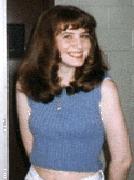 Carla79
Age 43
Joined Saturday, June 26, 2004
Recent Book Activity
| Statistics | 4 weeks | all time |
| --- | --- | --- |
| books registered | 0 | 266 |
| released in the wild | 0 | 26 |
| controlled releases | 0 | 2 |
| releases caught | 0 | 16 |
| controlled releases caught | 0 | 2 |
| books found | 0 | 19 |
| tell-a-friend referrals | 0 | 27 |
| new member referrals | 0 | 0 |
| forum posts | 0 | 52 |
Extended Profile
I'm 28 years old and I live in North Carolina. I absolutely love reading and have since I was a little girl reading to my daddy (it wasn't the other way around for very long)


July 2008...

My boyfriend built be a bookshelf unit so I will finally be able to get all my books out of boxes! That means I will be registering (and hopefully releasing) a ton of books over the next few days!

I'm also working on building a collection of adolescent literature because I will be graduating from college in May with a degree to teach middle school English. Any suggestions for my collection will be greatly appreciated!