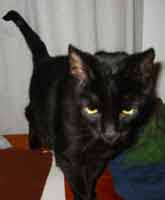 Blue-Ink
Age 44
Joined Friday, February 14, 2003
Recent Book Activity
| Statistics | 4 weeks | all time |
| --- | --- | --- |
| books registered | 0 | 34 |
| released in the wild | 0 | 41 |
| controlled releases | 0 | 0 |
| releases caught | 0 | 30 |
| controlled releases caught | 0 | 0 |
| books found | 0 | 13 |
| tell-a-friend referrals | 0 | 169 |
| new member referrals | 0 | 3 |
| forum posts | 0 | 2,046 |
Extended Profile
A few books on my shelf are labelled pc.
Initially I blustered at the existence of this option, but I've come around. I've used this as an indication of the novels I dearly love, and also to blatantly impose my opinions on the rest of you BookCrossers
:-D
These PCs are available for the occasional boomerang.