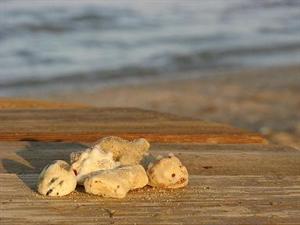 AllSmile
Joined Monday, August 14, 2006
Recent Book Activity
| Statistics | 4 weeks | all time |
| --- | --- | --- |
| books registered | 0 | 170 |
| released in the wild | 0 | 120 |
| controlled releases | 0 | 59 |
| releases caught | 0 | 8 |
| controlled releases caught | 0 | 53 |
| books found | 0 | 71 |
| tell-a-friend referrals | 0 | 1 |
| new member referrals | 0 | 0 |
| forum posts | 0 | 134 |
Extended Profile
Hallo zusammen,
es ging etwas turbulent zu in den letzten Monaten aber nun habe ich hoffentlich wieder mehr Zeit für Bookcrossing.
Gelesen wird von mir so ziemlich alles das mir in die Finger fällt.
Am liebsten lese ich auf englisch (meistens Krimis und ChickLit) aber natürlich auch auf deutsch. Ich bin einfach der Meinung, das einige Gags in der deutschen Übersetzung einfach nicht so gut rüberkommen oder mir liegt einfach mehr der britisch-schwarze Humor. :-)
Hallo everybody,
Things have been a bit busy in the last months. Sorry if I let some of you down. Now I hope to find more time for bookcrossing.
I read almost everything that comes my way. I prefer reading in English ( mostly ChickLit + Crime) but I also (of course) read german books.
I also have a lot of other hobbies, for example travelling and cooking.

Bookrings I´m hosting:
www.bookcrossing.com/---/7642286"
target="buch">Every Boy´s Got One by Meg Cabot (EU only)
1.Tregossip
2.solskinn
3.penelopewanders
4.UlrikeW
5.zinat1
......... and back to my shelf. Or contact me if you want to participate.

Challenges I am taking part in:
www.bookcrossing.com/---/6626532"
target="forum">The Ultimate Challenge 2010

Bücher die ich in letzter Zeit gelesen habe: / Books I recently read:

- The Wonder Spot, Melissa Bank
- Under the Duvet, Marian Keyes *
- Further under the Duvet, Marian Keyes *

November 2009
- 31 Dream Street, Lisa Jewell
- Careless in Red, Elizabeth George

Dezember 2009
- Das verleugnete Grab
- Stray Kat Waltz
- Be Careful What You Wish For
- Wen die Götter küssen, Lesley Lokko
- Endstation Venedig: Commissario Brunettis zweiter Fall, Donna Leon

Januar 2010
- A Place Called Here, Cecilia Ahern
- Babyville, Jane Green
- Venezianische Scharade: Commissario Brunettis dritter Fall, Donna Leon
- Vendetta: Commissario Brunettis vierter Fall, Donna Leon
- Acqua alta: Commissario Brunettis fünfter Fall, Donna Leon
- Sanft entschlafen: Commissario Brunettis sechster Fall, Donna Leon
- Prey, Michael Crichton
- Cover Her Face, PD James

Februar 2010
- The Final Days, Alex Chance
- What to do when someone dies, Nicci French
- Een Buur op Kur, Ejnar Kjer
- Max un Moritz. Een Geschicht van twee Lümmels un wat se utfräätn hemm, Gottfried Winter
- Plattdütsch Kunterbunt 3 För jeden Anlaat wat up echt humorig "Platt", Ernst-August Schlömer
- Fatal Remedies, Donna Leon
- Stimme der Angst, Cathy Vasas-Brown
- Das Wunschspiel, Patrick Remond
- Kryptum, Agustín Sánchez Vidal
- The Front, Patricia Cornwell
- All You Need Is Love, Carole Matthews

March 2010
- The My Life Is A Toilet Instruction Book, Gretel Killeen
- Noble Radiance, Donna Leon
- Wilful Behaviour, Donna Leon
- Deal Breaker, Harlan Coben
- Persuader, Lee Child
- The Magician´s Tale, David Hunt
- Lipstick Jungle, Candace Bushnell
- Honeymoon, James Patterson and Howard Roughan
- Böse Stimmen, Nancy Geary
- Menschensöhne Arnaldur Indridason

reading right now:






Books I really, really liked will be marked with a star *

Bücher die ich einfach irre lustig und gut finde: / Books I find irresistible and extremely funny:

- Snap Happy, Fiona Walker
- Every Boy's Got One, Meg Cabot