Make a Journal Entry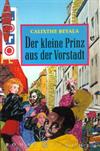 You're currently not logged in to BookCrossing.com
. If you continue now your Journal Entry will be shown under the name of "Anonymous Finder". If you want to later track your book (and optionally receive an email when someone else makes a Journal Entry for this book) you need to log in first. If you don't have a BookCrossing account yet, you can sign up right away. It's a matter of seconds and you can write your Journal Entry immediately afterwards.
What do you want to do?
5 journalers for this copy...
---
Journal Entry
2
by
cappuccino21
at
Petershagen, Nordrhein-Westfalen Germany on Wednesday, November 19, 2014
Released 4 yrs ago (11/19/2014 UTC) at Petershagen, Nordrhein-Westfalen Germany
CONTROLLED RELEASE NOTES:
Reist per Post. Ich wünsche dem Finder viel Spaß beim Lesen!
---

Die Bücher sind da und ich freue mich sehr :-)

Vielen Dank für´s schicken
---

Released 1 yr ago (10/29/2017 UTC) at Solingen, Nordrhein-Westfalen Germany
CONTROLLED RELEASE NOTES:
Das Buch reist in der Afrika Box durch das Land.

Gute Reise und lass mal wieder von dir hören :-)
---
---
Ja, ein ganz lebendiges munteres Buch mit viel Witz, ein Junge der teils noch kindlich-naiv ist, aber teilweise schon erwachsene Gedanken hat und als Kind eben vielerorts bei den Erwachsenen scheinbar unbeachtet dabei sein und beobachten kann.
Vielleicht sind das auch ein bißchen zu viele Themen in dem dünnen Buch, weil gar so viele Probleme Frankreichs angesprochen werden...
---
Journal Entry
7
by
birgit2604
at
Schwäbisch Hall, Baden-Württemberg Germany on Monday, July 02, 2018
Aus der Afrika Kiste entnommen, gelesen und wieder hineingesteckt, so dass es weiterreisen kann.
---

Journal Entry
8
by
book-a-billy
at
München, Bayern Germany on Saturday, July 07, 2018
Dieses Buch steigt bei mir aus 83deas Afrikabox aus.
---