Make a Journal Entry
You're currently not logged in to BookCrossing.com
. If you continue now your Journal Entry will be shown under the name of "Anonymous Finder". If you want to later track your book (and optionally receive an email when someone else makes a Journal Entry for this book) you need to log in first. If you don't have a BookCrossing account yet, you can sign up right away. It's a matter of seconds and you can write your Journal Entry immediately afterwards.
What do you want to do?
6 journalers for this copy...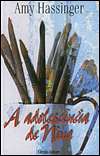 Ousado, sensível. A obra de estreia de Amy Hassinger visita a adolescência de forma inesperada. Nina, a sua protagonista, tenta manter a família unida depois da morte do irmão. A mãe deixou de pintar, o pai entregou-se à bebida. Culpada, confusa, inquieta, Nina tem ainda esperança de recuperar os pais. Oferece-se então como modelo e a mãe começa a retratá-la nua. A nudez do seu corpo revela as transformações que a tornam cada vez mais uma mulher, cada vez menos uma criança.
Na contracapa:
Aos 15 anos, Nina vê-se enredada nas malhas do desgosto dos pais devido à morte acidental do seu irmão mais novo. Desejosa por perservar a união da familia, apercebe-se de que a pintura da mãe é a única forma de arrancá-la ao desespero. Frente à insistência de Nina, a mãe regressa ao estúdio, onde dá inicio a uma serie de retratos nus da filha, quadros que serão uma crónica da lenta transformação de um corpo de rapariga no de uma mulher. Quando as obsessivas pinturas são expostas - contra a vontade do pai-, Nina será forçada a lidar com o despertar da sua sexualidade frente a um vasto publico. Com a tensão na familia prestes a explodir, o retrato intitulado NINA: ADOLESCÊNCIA provocará uma situação que pode perfeitamente conduzir à sua ruína... ou servir de catalizador, capaz de levar a familia a superar, por fim, a tragédia.
Lista:
01. lftt (Praia da Mira) <--ESTA AQUI
02. silvia-pco (Murtosa)
03. pipmts (Lisboa)
---
Já chegou há uns dias... Já nem eu sei há quantos, mas como não trazia BCID e as PMs andavam em férias natalícias, só pude entrar em contacto com a Melrita hoje e fazer a journal entry. Espero não demorar muito a ler, mas entretanto, irei dando notícias.
Obrigada, Melrita, pela partilha e pela paciência ;)
---
Acabei! Gostei particularmente da primeira parte do livro, achei a história mais completa e bem desenvolvida. Do meio para o fim pareceu-me mais "a despachar", mas pode ter sido impressão minha...
Obrigada pela partilha e segue para a silvia-pco assim que for possível.
---
Chegou, juntamente com o "Querida Corsária". Vai ficar aqui muito descansadinho até eu lhe poder pegar =) Vou tentar ser breve.

25Março - Vou começar a lê-lo hoje... Desculpem a demora.

31Março - É uma história bonita, um pouco triste também. Foi uma boa companhia :)
Segue PM para a pimpts!!

11Abril - Já seguiu para a pimpts!
---
---
Uma leitura muito agradável, agradeço imenso a oportunidade de participar neste bring.

Não me parece um livro muito marcante, sendo uma leitura mais ou menos leve, mas sem ser desprovida de sentido.

Ainda não tive tempo para enviar PM ao próximo na lista, mas vou enviar já já!:)

[Edit] Gafe! O próximo da lista é ainda desconhecido, porque sou a última da bray! Nem tinha reparado. Penso oferecer este livro a uma nova Bookcrosser ou libertá-lo. :)[End of Edit]

Mais uma vez, muito obrigada!
---
Chegou há 3 dias pela mão da pipmts, obrigada por te teres lembrado de mim, gostei particularmente ate porque é a minha primeira aventura no BC. Que faço com ele depois não sei, mas de certeza não vai ficar a acumular pó na minha estante, vai chegar a alguém em breve, mais 2 viagens para casa e está lido. Obrigada pip a quem contribui para me fazer chegar o livro;)
---
Acabei ja há uns dias, confesso, mas não tenho tido muito tempo para vir até aqui.
Algo perturbador, muito ousado, não se pode dizer que seja bonito, mas fez-me pensar durante algumas horas, o que é bom.
Gostei.
Amanhã segue para casa de uma grande amiga, vamos ver se a convenço a tornar-se Bookcrosser.
Obrigada pela leitura;)
Baiia
---
Chegou de casa da amiga Elsa que gostou bastante desta leitura. Está disponível para novas viagens.
---
Released 10 yrs ago (1/5/2009 UTC) at Lisboa - City, Lisboa (cidade) Portugal
CONTROLLED RELEASE NOTES:
CONTROLLED RELEASE NOTES:

Oferecido em RABCK à sombrArredia. Espero que gostes!
---
---