Make a Journal Entry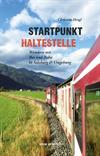 You're currently not logged in to BookCrossing.com
. If you continue now your Journal Entry will be shown under the name of "Anonymous Finder". If you want to later track your book (and optionally receive an email when someone else makes a Journal Entry for this book) you need to log in first. If you don't have a BookCrossing account yet, you can sign up right away. It's a matter of seconds and you can write your Journal Entry immediately afterwards.
What do you want to do?
5 journalers for this copy...
Vielen Dank an den Verlag für dieses Buch!

Wandern mit Bus und Bahn
in Salzburg & Umgebung:
- 50 Touren
- detaillierte Routenbeschreibung
- mit Kartenausschnitten
- Wissenswertes entlang der Routen


Dieses schöne Wanderbuch wird demnächst als Patenbuchring reisen
---

Bitte einsteigen!

Die Bus- oder Bahntür öffnet sich – und schon beginnt das Wandererlebnis. Meist sitzen da schon Gleichgesinnte, die gerne ihre Erfahrungen, Ziele und Erlebnisse austauschen. Neben der unterhaltsamen und entspannten Anreise ergeben sich durch das Unterwegssein ohne Auto ganz neue und reizvolle Möglichkeiten – denn der Ausgangspunkt der Tour muss nicht zwingend deren Endpunkt sein. Zahlreiche Routenvorschläge nutzen diesen Vorteil: vom Rauriser Tal geht es ins Gasteiner Tal, vom Gasteiner Tal in das Großarltal oder von Großarl dem Kapellenweg folgend zurück in den Talschluss nach Hüttschlag. Oder man wandert von Mattsee über den Buchberg nach Obertrum, von Elixhausen nach Anthering, von Hof nach Faistenau. Selbst einige Skitourenziele sind mit den "Öffis" besser erreichbar als mit dem Pkw. Der Unternehmungslust sind keine Grenzen gesetzt!
https://pustet.at/de/buecher.cp/startpunkt-haltestelle/994

Die Buchpatin ist priemo

wer liest (bzw wandert) mit?
- eligi (gelesen)
- priemo (gelesen)
- fannynatalie (gelesen)
- rebilis (gelesen)
-
- zurück zu priemo! (Buchpatin)

später mal fürs Salzkammerguttreffen reserviert


und nicht vergessen liebe Mitleserinnen und Mitleser,
der Verlag freut sich über aussagekräftige Journaleinträge/Rezensionen!

---

ein kompaktes Buch randvoll mit herrlichen Wandertouren im Salzburger Land!

Durchs Schifahren kenne ich schon die Gebiete um Bad Gastein und Gaissau, beim Zeller See und in Bad Gastein verbrachte ich bereits Wanderurlaube.

Und hier werden noch so viele weitere lohnenswerte Ziele beschrieben. Das Besondere an diesem Buch ist, dass An-und Abreise immer mit einem öffentlichen Verkehrsmittel erfolgen (stressfrei und gut für die Umwelt). Die Wegstrecken sind so gut dargestellt, dass man bereits beim Lesen die Umgebung zu sehen glaubt :-)
Zu jeder Wanderung gibts eine kleine Karte mit eingezeichneter Wanderroute und die zahlreichen Fotos vermitteln den Leserinnen und Lesern die Schönheit der Landschaft.

Liebe Bookcrosser freut euch auf diesen Lesegenuss!
---
Dieses Buch war heute in der Bücherschachtel die ich von Eligi am Ikeaparkplatz übernommen habe, vielen Dank
---
Ein wunderschönes Buch, die Idee über die Erreichbarkeit der Ausgangspunkte und vom Ziel wieder zurück mit Öffis finde ich genial, möchte ich später,wenn das Buch wieder zurück bei mir ist, gerne ausprobieren.
Besonders gefreut hat mich das Wiedersehen mit der Rumingmühle (S.67 Foto) waren wir doch im September 2020 beim Salzkammerguttreffen dort. So ein schönes, buntes Buch in Händen ist dzt. die beste Art zu reisen
Und somit macht sich das Buch auf die Reise nach Wien zu Fannynatalie
---

Journal Entry
6
by

fannynatalie

at
Wien Bezirk 08 - Josefstadt, Wien Austria on Wednesday, April 21, 2021
Das wunderbare Buch ist gut bei mir angekommen. Danke für die Möglichkeit, wenigstens per Buch im schönen Salzburg zu wandern.

22.4.2021: Herrliche Routen und Bilder und einiges gelernt! Ich wusste z.B. nicht, dass ein Wagen in früheren Zeiten von bis zu 20 Ochsen gezogen wurde. Wie hat man die wohl alle in der Spur und bei Laune gehalten?
Am liebsten würde ich gleich losstarten, obwohl ich bei den ersten beiden Routen noch skeptisch war. Gleich zu Beginn bei Route 1 wird Trittsicherheit gefordert und bei Route 2 vor teilweise unmarkierten Wegen gewarnt. Die Unsicherheit, ob das Buch für mich richtig sei, hat sich aber bald gelegt, und einige Routen kannte ich sogar schon. Ein schöner Impulsgeber, die Region wieder einmal zu bereisen und zu bewandern!
---

Journal Entry
7
by

fannynatalie

at
Wien Bezirk 08 - Josefstadt, Wien Austria on Friday, April 23, 2021
Released 9 mos ago (4/23/2021 UTC) at Wien Bezirk 08 - Josefstadt, Wien Austria
CONTROLLED RELEASE NOTES:
Reist weiter zu rebilis.
---
Danke, fannynatalie. Das Buch war heute in der Post.
---
Released 8 mos ago (5/18/2021 UTC) at Wien Bezirk 06 - Mariahilf, Wien Austria
CONTROLLED RELEASE NOTES:
Das Buch wird heute zur Post gebracht. Es geht an priemo.
---
Kam heute in einem schönen Paket per Post zu mir, danke Rebilis fürs Schicken.
---