Make a Journal Entry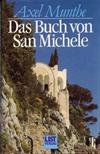 You're currently not logged in to BookCrossing.com
. If you continue now your Journal Entry will be shown under the name of "Anonymous Finder". If you want to later track your book (and optionally receive an email when someone else makes a Journal Entry for this book) you need to log in first. If you don't have a BookCrossing account yet, you can sign up right away. It's a matter of seconds and you can write your Journal Entry immediately afterwards.
What do you want to do?
2 journalers for this copy...
reb032015x072019
Der schwedische Arzt Axel Munthe erzählt von seinem Jugendtraum, sich auf Capri eine Villa zu bauen, von den Jahren harter beruflicher Tätigkeit, bis er sein Ziel endlich erreicht, und von den nicht nur glücklichen Stunden, die er dort verbringt. Mit seinem 'Buch von San Michele', das in fast 30 Sprachen übersetzt wurde und eine Gesamtauflage von über 25 Millionen erreichte, schrieb Axel Munthe eines der meistgelesenen Erinnerungsbücher des letzten Jahrhunderts...

Axel Munthe, am 31. Oktober 1857 in Oskarshamm im schwedischen Götaland geboren, studierte Medizin an der Universität Uppsala und in Paris. Bald suchten europäische Könige und amerikanische Millionäre seinen Rat. Erst siebzigjährig, auf Capri lebend, schrieb er sein Werk "Das Buch von San Michele". Munthe starb am 11. Februar 1949 in Stockholm.

Axel Munthe, einer der berühmtesten Ärzte seiner Zeit, lernt als Student während der Ferien San Michele kennen, eine kleine Kapelle auf Capri, hoch über der Bucht von Neapel. Der Wunsch, hier zu leben, geht erst viele Jahre später in Erfüllung.

---
Journal Entry
2
by
diMaro1912
at
Karlsruhe, Baden-Württemberg Germany on Friday, November 22, 2019
Released 2 mos ago (11/22/2019 UTC) at Karlsruhe, Baden-Württemberg Germany
CONTROLLED RELEASE NOTES:

Lieber Finder!
Ich bin ein Buch auf Reisen und bin gerade dabei, neue Freunde zu finden. Über einen Eintrag wo und wie Du mich gefunden hast, ob Du mich lesen willst und dann weiterreisen lässt, oder ob Du mich behältst, würde ich mich sehr freuen.
Viel Spaß beim Lesen!
Das ist anonym und kostenlos, und macht ganz viel Spaß. :-)


---
Danke dass du mir das Buch beim Treffen mitgebracht hast
---