Make a Journal Entry
You're currently not logged in to BookCrossing.com
. If you continue now your Journal Entry will be shown under the name of "Anonymous Finder". If you want to later track your book (and optionally receive an email when someone else makes a Journal Entry for this book) you need to log in first. If you don't have a BookCrossing account yet, you can sign up right away. It's a matter of seconds and you can write your Journal Entry immediately afterwards.
What do you want to do?
2 journalers for this copy...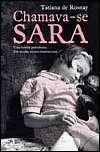 Julia Jarmond, uma jornalista americana casada com um arquitecto francês, investiga uma página negra da história francesa recente: a rusga através da qual a Polícia Francesa, na madrugada do dia 16 de Julho de 1942, levou mais de 8 000 judeus franceses para o recinto desportivo do Vélodrome d'Hiver, para que aí ficassem até serem deportados para os campos de concentração. Descobrindo, horrorizada, o calvário de todas aquelas pessoas que, durante dias, sem água nem alimentos, ficaram a aguardar a deportação, Julia interessa-se, em particular, pelo destino de Sara, uma menina entre as mais de 4 000 crianças que ali estiveram. Sara, acreditando que estava a proteger Michael, o seu irmão mais novo, fechara-o à chave num armário, prometendo-lhe que iria buscá-lo depois. E depois não conseguiu. Em Paris, em 2002, Julia, enquanto percorre o passado de Sara, a rusga, a deportação, acaba por ter de reavaliar o seu próprio lugar naquele país, naquele casamento e naquela vida.
---
RABCK de Mestrado
Anda á roda dia 7 de Agosto
---
Já o tenho :) OBrigadada Wicca
---