Make a Journal Entry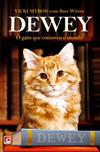 You're currently not logged in to BookCrossing.com
. If you continue now your Journal Entry will be shown under the name of "Anonymous Finder". If you want to later track your book (and optionally receive an email when someone else makes a Journal Entry for this book) you need to log in first. If you don't have a BookCrossing account yet, you can sign up right away. It's a matter of seconds and you can write your Journal Entry immediately afterwards.
What do you want to do?
6 journalers for this copy...
Que influência pode um animal ter? Em quantas vidas pode um animal tocar? Como é possível que um gato abandonado transforme uma pequena biblioteca, salve uma tipica cidade americana e se torne famoso em todo o mundo?... Conheçam a história de Dewey Readmore Books...

Ring Abril 09
Lista de Inscritos:

1º- felicidade
2º- DharamInderKaur
3º - SombrArredia
4º - gata
5º - Melrita
6º- Pierrot-Moon -> está aqui!
7º- Ladiii
8º- tarsys
9º- mmangel
10º- piolha
e volta a casa...
---
Embora não tenha sido fácil, finalmente o Dewey seguiu viagem para a felicidade. Espero que desta vez chegue são e salvo.
Peço imensa desculpa pelo atraso no envio (o livro andou meio perdido nas mudanças, desculpem...).

Beijinhos a todos espero que gostem...
---
Finalmente chegou! Teve um pequeno atraso, mas agora já está de volta à sua viagem por boookring!
Em breve darei noticias da sua leitura e continuará a sua viagem.

Obrigada pelo envio!
---
Gosto muito de animais, sobretudo de gatos, por isso, gostei de ler este livro, ainda para mais sendo verídico. Em certas alturas achei um pouco aborrecido e repetitivo, mas li com gosto.

Segue para o próximo assim que tenha a morada.

Obrigada pela partilha!

---
Já cá o tenho .) e fartou-se a miar na caixa de correio lol
---
Bemmmm...Adorei o livro!!!!
Que história linda, fogo!!
Obrigada pela partilha :)
Fui logo espereitar no Youtube
e aqui está:
http://www.youtube.com/watch?v=0jGpvvLmwbs&NR=1

Agora estou à espera que a Gata me dê luz verde p eu lhe enviar o livro:)
---
já chegou, e começo a ler ainda esta semana!
obrigada
---

gostei muito, muito, muito!
sou suspeita, porque me derreto com quaisquer relatos de peripécias de gatos, mas gostei mesmo bastante, obrigada pela oportunidade!
segue viagem logo que possível!
nota: contactei a Melrita e, por coincidência, ela está neste momento a ler o Dewey! Pediu para passar à frente.
---
Já chegou.
Obrigada pela partilha.
---
Journal Entry
10
by
Pierrot-Moon
at
sent to another BookCrosser, Bookring -- Controlled Releases on Wednesday, March 24, 2010
Released 9 yrs ago (3/24/2010 UTC) at sent to another BookCrosser, Bookring -- Controlled Releases
CONTROLLED RELEASE NOTES:
CONTROLLED RELEASE NOTES:

Um livro muito simpático e ternurento, tal como o define o título. Ajuda a descontrair e a pensar que muita gente só teria a ganhar se pudesse usufruir da companhia de um animal.
Já li o livro há bastante tempo mas só agora foi possível fazer seguir o BookRing porque a Ladiii já o leu e não obtive notícias da Tarsys.

mmangel, cuida bem do gatinho! ;)
---
É uma linda história esta do gato que comoveu o mundo. Comoveu-me a mim também e inspirou-me. Mais uma vez os animais a mostrarem-nos que somos tão pequenos, mas podemos fazer tanto...
O livro andou perdido, mas agora já vai seguir. Peço desculpas a todos.
---
b-a-r-b-a-r-a, já mandei várias mensagens. Tenho este livro comigo, quero devolver-to. Podes enviar a morada para o receberes de volta? Obrigada.
---