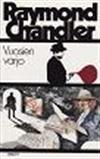 Vuosien varjo
3 journalers for this copy...
WSOY, 1989. - Alkuteos: Playback, ©1958. - 191 s.

http://kirjasampo.fi/fi/kulsa/http%253A%252F%252Fwww.yso.fi%252Fonto%252Fkaunokki%2523ateos_41467 (24.6.2011):

"Tanssilattialla piehtaroi puolisen tusinaa pari hurjasti ja hillittömästi kuin nivelreumatismia poteva yövartija."

Kovaksi keitetyn dekkarin uranuurtaja Raymond Chandler kirjoitti vuosina 1939-1958 seitsemän rikosromaania, joiden keskushahmona oli hänen tunnettu yksityisetsivänsä Philip Marlowe. Pääteoksensa Pitkien jäähyväisten (1953) jälkeen hän piti viiden vuoden tauon ennen kuin julkaisi viimeiseksi jääneen dekkarinsa Vuosien varjo (1958, suomeksi 1961)

Romaani on taattua, tiukkaa Chandleria. Siinä on jännitystä, yllättäviä käänteitä ja huoletonta huumoria kuten kaikissa dekkaristin legendaarisissa teoksissa.
(takakansi lyhennettynä v. 2003 painoksesta)
---
Journal Entry
2
by
sumako
at
Kuopio, Pohjois-Savo / Norra Savolax Finland on Saturday, September 03, 2011
Released 7 yrs ago (9/5/2011 UTC) at Kuopio, Pohjois-Savo / Norra Savolax Finland
CONTROLLED RELEASE NOTES:
Jännitystä ja huumoria elämään!
---

Voip'olla että tätä en ole lukenutkaan. Jos olen, mitään ei tule mieleen. Ja kuitenkin Raymond Chandler oli mielidekkarini nuoruudessani. Sainkohan koskaan käsiin muita kuin Syvä uni, Näkemiin kaunokaiseni, Nainen järvessä ja Pitkät jäähyväiset?
Kiitos tästä kirjasta, Sumako!
---

Mies jo luki kirjan ja piti lukemastaan. Kai se on minun vuoroni sitten...
---

Kesti aikansa ennen kuin minun vuoroni tuli. En tosiaan ollut lukenut tätä ennen. En tiedä onko tätä tarinaa filmattu, mutta näin tämän aivan kuin filminauhana lukiessani. Lopusta pidin erityisesti.
This is my book #49 in the
Reduce Mount TBR 2018
-challence by Dove-i-libri.
---

Released 1 yr ago (4/21/2018 UTC) at Tampere, Pirkanmaa / Birkaland Finland
CONTROLLED RELEASE NOTES:

Kirja lähtee Tampereen miittiin tarjolle.
Lukuiloa!
---
Kukaan ei napannut kirjaa miitistä matkaansa. Jätin sen sitten Rautatieasemalle Café Branderin eteen.
Mukavia lukuhetkiä!
Book #53 in the
2018 Keep Them Moving
-challence by Booklady331
---
Hetki sitten nappasin rautatieasemalta käsiini. Täytynee lukea.
---