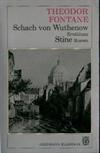 Schach von Wuthenow
Registered by

RoseOfDarkness

of
Baruth/Mark
,
Brandenburg
Germany on 6/6/2011
2 journalers for this copy...
Journal Entry
1
by

RoseOfDarkness

from
Baruth/Mark
,
Brandenburg
Germany on Monday, June 6, 2011
Ein Regimentsoffizier und eigentlich überzeugter Junggeselle steht in freundschaftlichem Verhältnis zu der schönen verwitweten Frau Carayon und deren Tochter Victoire, die ihre Schönheit auf Grund von Blatternnarben jedoch verloren hat. Obwohl Wutenows Neigung eigentlich mehr der schönen Mutter gilt, beginnt er ein Verhältnis mit der Tochter. Als eine Karikatur über ihn und die beiden Damen in Umlauf kommt, er jedoch seines Ehrenkodex wegen Victoire heiraten muss, nimmt das Unheil seinen Lauf... Insgesamt ein gelungenes Buch, dass aber teilweise wegen der ausschweifenden Passagen über das Militär schwer zu lesen ist. Jedoch ist es Fontane gelungen, die Gesellschaft Preußens zur Zeit des Wilhelminischen Kaiserreichs detailliert zu beschreiben, und Historisches und Erfundenes geschickt zu mischen.
---
Journal Entry
2
by

RoseOfDarkness

at
Wunschlistenverkuerzung, A RABCK -- Controlled Releases on Wednesday, May 2, 2012
Released 11 yrs ago (5/12/2012 UTC) at Wunschlistenverkuerzung, A RABCK -- Controlled Releases
CONTROLLED RELEASE NOTES:
Wunschlisten Buch für Urfin.
Kommt mit nach Berlin (Uncon) für den Wunschlistentisch.
Lieber Finder - auf ein Wort:
Wenn du dich bei Bookcrossing anmelden willst, kann es passieren, dass du sehr schnell Freundschaftsanfragen und/oder "Begrüßungsmails" von anderen Bookcrossern bekommst. Diese Funktionen laufen rein über die Internetseite als "personal message" - deine e-mail-Adresse kann niemand sehen!
Du kannst diese Funktionen gleich nach deiner Anmeldung abschalten, wenn du "Profil bearbeiten" anklickst und dort deine Einstellungen nach eigenem Beliebem vornimmst.
Bei Fragen zu Bookcrossing kannst du dich gerne (durch personal message) an mich wenden.
Es ist aber auch ganz einfach nur einen anonymen Eintrag zu machen.
Einfach den Button
"Nein danke, ich möchte lieber völlig anonym bleiben"
anklicken.
Der versteckt sich unter den 3 Feldern Twitter/Goodreads/Facebook.
Die deutschsprachigen Bookcrosser tauschen sich übrigens in einem öffentlichen Forum aus, in dem jeder Interessierte auch unregistriert mitlesen kann:
Forum
Forum Austria
Außerdem empfehle ich Dir bei Fragen die Supportseite
Supportseite
Welcome to BookCrossing. Thanks for taking the time to visit the site. Please make a journal entry to let me know that you have found this book, you may do this anonymously or you may join. There is no charge to join this site, if you are like myself from time to time you may donate to help support Bookcrossing; but it is not mandatory. If you are new to BookCrossing and choose to join, please indicate that you were referred by RoseOfDarkness. Membership is free and your name and e-mail address is not shared with anyone else and it will never be sold. BookCrossing is a a world-wide group of people who love books and wish to share them with others.
Please enjoy this book, if it is not your genre pass it along to someone else or wild release it.
In this way we promote literacy and at the same time we can watch our book continue on
it's journey.
"Kindness is a language which the deaf can hear and the blind can read."
Mark Twain
---
Danke :o)
Habe das Buch gestern vom Fensterbrett im A&O mitgenommen. Inclusive CD :o- staun!
und den Wunsch eben gleich als Erfüllt markiert.
---